Champions Luncheon Honors AIA's best of 2016-17
May 15, 2017 by Jose Garcia, AZPreps365
---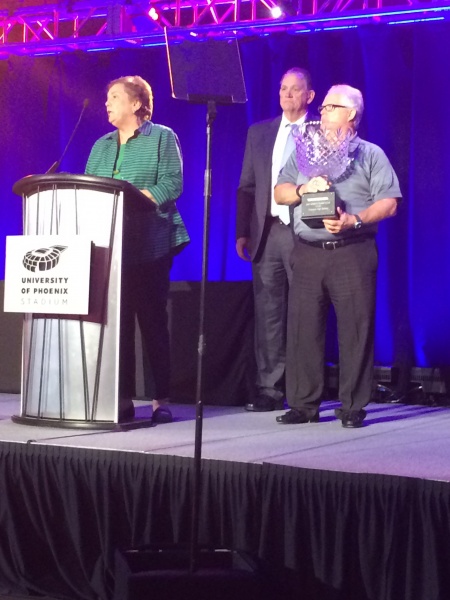 (Thatcher's Carol McAtee and Don Conrad accept the Arizona Interscholastic Asscociation's Directors Cup from AIA executive director Dr. Harold Slemmer (middle) during the AIA's annual Champion Luncheon at University of Phoenix Stadium. Photo by Jose Garcia/azpreps365.com)
Tyler Matthews raised his arms and captured the hearts of the crowd when he crossed the stage at University of Phoenix Stadium.
The Chino Valley High student's excitement was palpable as he received one of Monday's awards — Unified Sports Athlete of the Year — during the Arizona Interscholastic Association's Champions Luncheon. The luncheon honors some of the state's brightest and inspirational athletes as well as administrators, coaches and schools that excel at producing well-rounded student athletes.
Matthews participated in the AIA sanctioned Unified Sports programs for students with and without intellectual disabilities. His championship smile spoke for every award recipient Monday.
The biggest award a school can receive annually from the AIA is the Directors Cup, which recognizes a school that encourages their students to focus on academic success and community service.
This year's recipient of the Directors Cup was Thatcher High School.
"It is an honor to work at such a school," Thatcher's prinicpal Carol McAtee said. "Our students are committed to be the best they can be. They watch out for each other and have an amazing faculty who supports all of them."
The other top award, Student of the Year, is given to a male and female athlete.
Verrado High's Maverick Gamez and Jade Goodwill of Window Rock were named the 2017 Student of the Year winners. Along with the award, the students were also presented with $5,000 scholarship checks.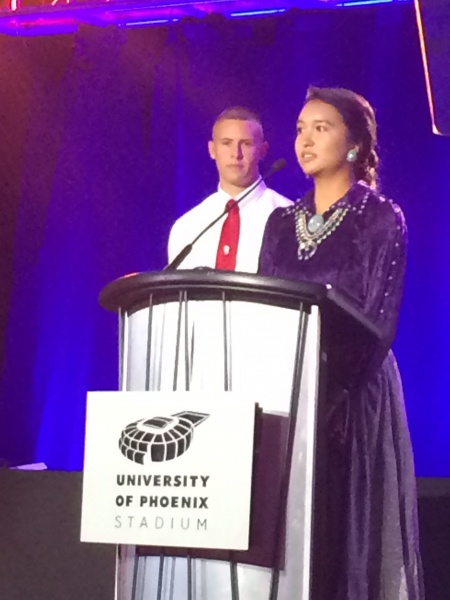 (Students of the Year, Window Rock's Jade Goodwill and Verrado's Maverick Gamez. Photo by Jose Garcia/azpreps365.com)
Luncheon Award Winners
Tony Komadina for leadership, advocacy for girls athletic programs
1-3A
Catalina
4-6A
Pueblo
22nd annual leadership in girls athletics
Sandra Novak, Tucson Unified School District
Dr. Voie Stuart Chase Coy Scholar Activity Award
1-3A girls
Ravelle Fredrickson, Desert Christian
1-3A boys
Isaiah Knight
4-6A girls
Brynn Hiatt, Mesa Mountain View
4-6A boys
James Quijada, Rio Rico
Scholar Athlete
1-3A girls
Megan Timmer, Valley Christian
4-6A girls
Jordyn Spencer, Perry High
1-3A boys
Jacob Matsumoto, Tempe Prep
4-6A boys
Zachary Ryan Bohnenkamp, Canyon del Oro
Skip Bryant Media Award
Tom Kioski, cameraman Cox 7
Coach of the Year
1-3A
Jenda Ballard, Chino Valley
4-6A
Karen Self, Seton Catholic
Unified Sports
Coach of the Year
Travis Haley, Buckeye Union High School District
Unified Student Partner of the Year
Isaiah Tsosie, Washington High
Unified Sports Athlete of the Year
Tyler Matthews, Chino Valley
Glen Treadaway Sportsmanship
1A Hayden High School
2A Glendale Prep
3A Tanque Verde
4A Yuma
5A Lake Havasu
6A Tolleson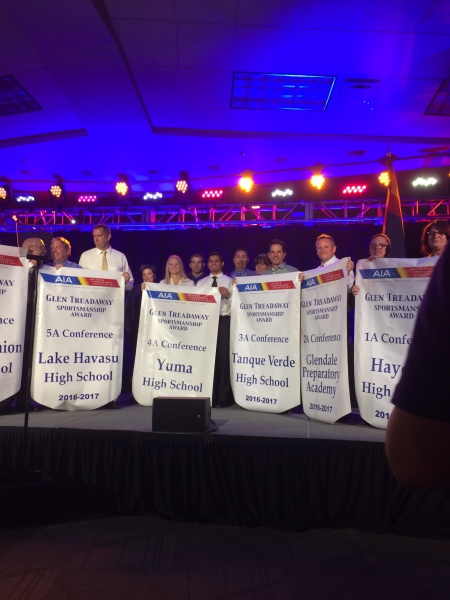 (Sportsmanship award winners.)
Better Business Ethical Athlete (Each student also received $1,000 scholarships.)
Whitney Weaver, Mesa Mountain View
Charles Walker, Desert Edge
---