Gila River Arena unveils new hall of fame case
June 7, 2017 by Jose Garcia, AZPreps365
---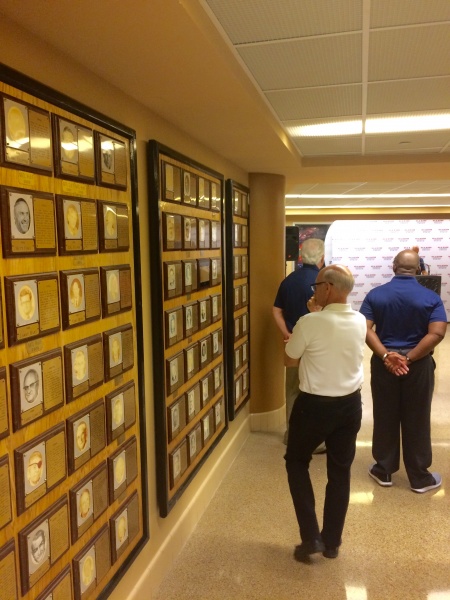 The city of Glendale and Gila River Arena opened their doors to become the next home of the Arizona High School Athletic Coaches Hall of Fame display case.
The case was unveiled on the southeast portion of Gila River Arena's main concourse Wednesday. Glendale city officials, Gila River Arena leadership and AHSAC members and family were present to show off the case with its 205 members.
O.K. Fulton, Agua Fria's basketball coaching legend and one of the charter members of the AHSAH hall of fame, also was present.
"We didn't give up," AHSAC's Rich Hoyt said during the presentation.
AHSAC searched for quite some time for a location to house its display case since folks stopped visiting Arizona Veterans Memorial Coliseum, the original home of the hall of fame case, regularly. A conversation between hall of fame member Bobby Gonzalo (Peoria High) and childhood friend Ian Hugh, Glendale's vice mayor, sparked the relocation of the case.
From there, 3G Construction, which donated lumber and material to build the new display, and Cactus' building trades class teacher Rich Smart and his students went to work constructing the display. The city of Glendale presented a check to Smart's class Wednesday.
In the end, it took a lot of determined people to spearhead the hall of fame case move to a prime location.
For more information on the AHSAH's hall of fame members, go here.
---