GIrls hoops: Mesquite tops Valley Vista for Lady X title
June 10, 2017 by Les Willsey, AZPreps365
---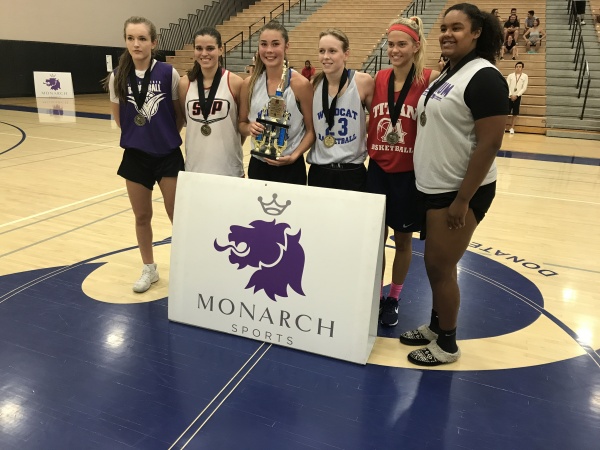 Lady X Invitational all-tournament team. From left Valley Vista's Taylor Chavez, Seton Catholic's Kendall Krick, Mesquite's Shaylee Gonzales, Mesquite's Lindsey VanAllen, Arcadia's Bryce Nixon and Millennium's Alaina Diggs. (AZPreps365 photo)
After squeaking by hard-working Arcadia in the semifinals on Saturday afternoon, Mesquite's girls basketball team ended up having similar difficulties with Valley Vista in the championship game of the 4th annual Lady X Invitational. A matchup, by the way, of last year's 5A champ (Mesquite) and 6A champ (Valley Vista).
What it took was more determined defense in the second half and that allowed top-seed Mesquite to explode past No. 3 Valley Vista the final 20 minutes for a decisive 58-46 win at Mesquite High.
"We were up 10 or 12 on Arcadia early and had to scramble at the end," Mesquite coach Candice Gonzales said of the Wildcats' 48-43 win over Arcadia. "We finally started playing smart defense against Valley Vista before the half. That makes the difference for us. When we play together defensively, we're unstoppable."
Led by seniors to be Shaylee Gonzales and Lindsey VanAllen, Mesquite turned an 18-9 deficit with six minutes left in the first half into a 45-31 advantage with nine minutes left to play. That lead reached 19 before Valley Vista made a bit of a run late, but never cut the deficit below double digits. Mesquite actually led 24-22 at intermission and its ascent continued from the first possession of the second half.
Gonzales led all scorers with 24 points and VanAllen added 22. VanAllen sank four 3s among her points while Gonzales had a pair of steals at midcourt early in the second half that led to easy layups the Wildcats are so accustomed to converting. There isn't a tandem in the state that gets up and down the floor like Gonzales and VanAllen. Gonzales was named tournament MVP and VanAllen joined her teammate on the all-tourney squad.
"Our youth showed in the second half," Valley Vista assistant coach Justin Maass, who was subbed for head coach Rachel Matakas for the tournament "We have a couple of freshmen in there. We'll work on it, and get better."
Valley Vista was more balanced in its scoring and led by senior-to-be standout Taylor Chavez. Chavez tallied 18 points and earned a spot on the all-tournament team. Clarissa Rodarte and Jenna Isai each finished with 10.
In the third-place game, Seton Catholic's Kendall Krick scored with one second left to give the Sentinels a 38-37 win over Arcadia. Krick and Arcadia's Bryce Nixon, also seniors-to-be, were selected to the all tournament team. Rounding out the six-member was Millennium junior-to-be Alaina Diggs.
Arcadia's performance was perhaps the surprise of the tournament. The Titans reached the 5A quarterfinals last year. Coach Ives Machiz was grateful for the chance to compete in the tournament.
"We got to play some of the top teams," Machiz said. "Last year we didn't play in many close games. That hurt us when we did have a couple. We learned a lot, and played well I thought."
Final records for the eight teams in the two-day tourney: Mesquite 4-0, Valley Vista and Millennium 3-1, Seton and Arcadia 2-2, Red Mountain and Mountain Pointe 1-3 and Page 0-4.
---