NFHS honors Dr. Slemmer
July 3, 2017 by Jose Garcia, AZPreps365
---
The first day as the Arizona Interscholastic Association's retired executive director got off to a good start for Dr. Harold Slemmer.
The National Federation of State High School Associations recognized Dr. Slemmer's 18-year run at the AIA during its annual summer meeting in Rhode Island. On Saturday, Dr. Slemmer was one of 15 high school leaders who received the NFHS Citation, one of the highest honors the NFHS awards.
More from NFHS
Dr. Slemmer is retiring this summer after 18 years as executive director of the Arizona Interscholastic Association (AIA), and is the longest-serving director in the history of the AIA.
Among his accomplishments, Slemmer partnered with Phoenix's Barrow Neurological Institute to help the AIA introduce Brainbook – the nation's first and most comprehensive concussion program for high school students. He also started "Pursuing Victory with Honor," a sportsmanship and character development program that led to his appointment to the Arizona's Governor's Commission on Character Education. Slemmer subsequently delivered speeches on character and ethics in more than 20 states.
Under Slemmer's recommendation, guidelines for Unified Sports were added to the AIA's bylaws and promoted throughout the state. He also helped in the creation and continuing development of two AIA websites that promote AIA activities and act as an administrative online hub for member schools.
At the national level, Slemmer served on the NFHS Board of Directors from 2010 to 2014, culminating with a term as the NFHS Board of Directors president. He was also a member of the 2002-2005 NFHS Strategic Planning Committee.
Prior to becoming AIA's executive director, Slemmer was a teacher at Tempe (Arizona) Union High School District before being tapped to open Mountain Pointe High School. While at Mountain Pointe, the school was recognized by Business Week for Instructional Innovation in Character Education and was named one of America's Best Schools by Redbook Magazine. He served as Mountain Pointe's principal for nine years before joining the AIA.
During his teaching career, Slemmer was awarded the Tempe Diablo Administrative Excellence Award, the Distinguished Arizonan Award and North Central Accreditation's Circle of Excellence.
A Pennsylvania native, Slemmer played football at Arizona State University, earning a bachelor's degree in 1975, a master's degree in physical education and athletic administration in 1976 and a doctorate in education leadership in 1986.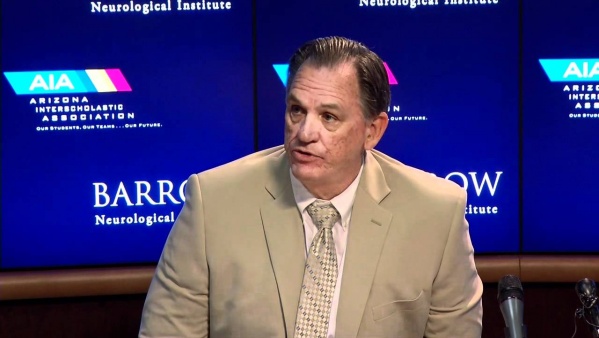 (Dr. Harold Slemmer)
---