Football: Highland tops Corona in dual of new coaches
August 18, 2017 by Les Willsey, AZPreps365
---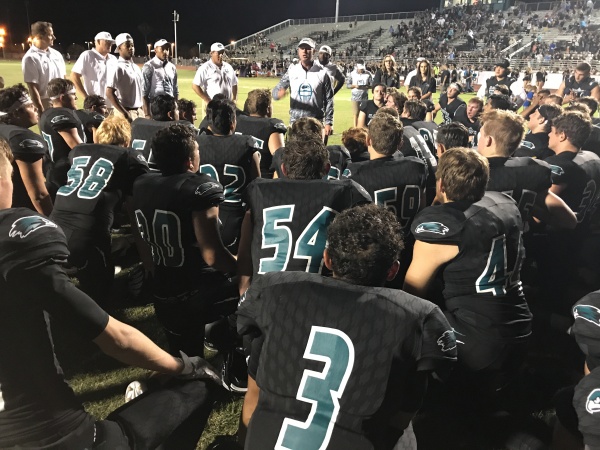 Highland coach Brock Farrel chats with his team following win over Corona. (AzPreps365 photo)
Not every coach who makes his debut is going to win and that certainly was the case when Highland's new mentor Brock Farrel and his debuting counterpart at Corona del Sol, Jon Becktold, collided in their teams 2017 opener on Friday night.
Highland began the Farrel era with a better-than-average first half that carried the Hawks to a 29-13 victory over Corona in the season opener for the 6A Central Region foes at Highland.
Highland chose to crank out most of its offense via the ground among senior Jacob Wood, junior Kohner Cullimore and in a complementary relief role, junior Dayton Huffman. The trio combined for 264 yards rushing -- 171 unofficially belonging to Wood on 14 carries. Wood scored one TD -- the game's first at the the 4:05 mark of the first period on a 25-yard run. That began what ended up a 20-0 halftime advantage for Highland
Cullimore scored Highland's other three TDs on a pair of first-half runs and a 96-yard kickoff return to open the second half.
Cullimore rushed for 46 yards, caught two passes for 61 and cemented his day with sure tackling in what had to be double digits in tackles from his free safety spot. Highland was busy defending the passing of Aztecs quarterback Ryan Helt all evening. Helt passed 68 times (40 completions) for 365 yards, two TDs and two interceptions.
Helt's main targets were Kobee Marion, Brandon Gavel, Ricky Pearsall and Jaren Reval. Marion and Gavel each hauled in short TD receptions.
"The first half was definitely better than the second," Farrel said. "Our defense did a good job, but they should have had more interceptions. We missed a lot of opportunities that way and kept them on the field in the second half with our turnovers."
Highland lost three fumbles in the second half and failed to recover a squib kick after Corona's first TD late in the third period. It made the offensive performance uneven overall.
"But a win is a win," Farrel said. "A win is always good. They are hard to come by."
Farrel was quick to note the strength of the Highland's kicking game -- which boils down to junior Austin McNamara. McNamara recorded six touchbacks on his six kickoffs. He also punts and did that twice -- a 45-yarder downed at the CDS 5 in the first quarter and a 58-yard boot downed at Corona's 9 in the final 2:30 of the first half. McNamara easily knocked home a 41-yard field goal in the final period for Highland's final points.
"He's a real weapon," Farrel said. "He was tremendous hang time and allows us to to have great coverage."
Oddly, the Farrel-Becktold matchup was the fourth in as many seasons for them. The first two were in 2014 and 2015 with Farrel at Shadow Mountain and Becktold at Washington. They met last year with Farrel at Shadow and Becktold at Greenway. Farrel, with Friday's win, has a 3-1 edge in their battles.
---