FOOTBALL: Ironwood Ridge outlasts Marana 42-35
August 19, 2017 by Andy Morales, AZPreps365
---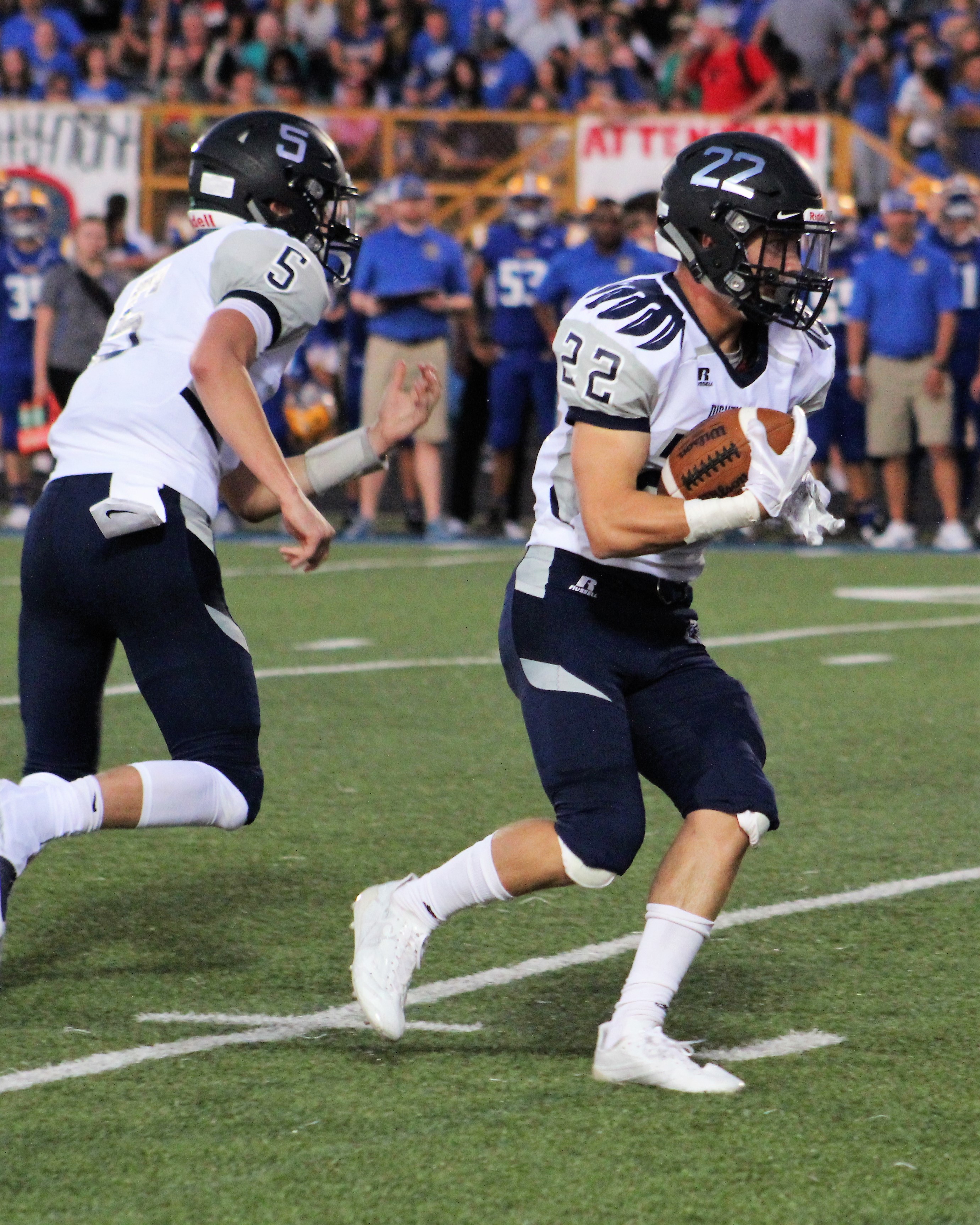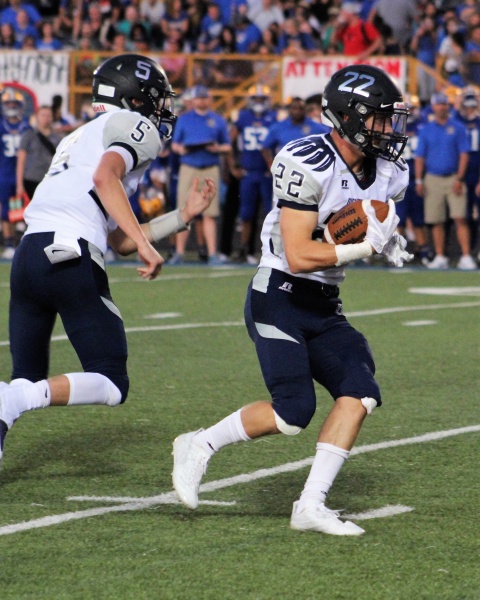 Nick Brahler led Ironwood Ridge with 246 yards rushing and four touchdowns. (Andy Morales/AZPreps365.com)
Ironwood Ridge outlasted Marana 42-35 in a wild contest Friday night that lived up to its billing as the "Game of the Week" from Southern Arizona. This marquee matchup featured some of the best talent from the 5A ranks with junior QB Trenton Bourguet and senior receiver Teon Simmons leading the Tigers and senior RB Nick Brahler and senior QB Heath Beemiller guiding the Nighthawks. The game delivered as promised.
Marana (0-1) lived off the arm of Bourguet (15-28 for 363 yards) but senior RB Zach Roberts (12-25) paced the Tigers to a 14-0 lead in the first quarter thanks to a couple of 1-yard plunges set up by excellent defense.
Ironwood Ridge (1-0) stopped Marana in the opening drive but the Tigers returned the favor, forcing the Nighthawks into a long fourth down. Bourguet collected 67 yards of passing in the next drive with sophomore Alfred Ebunoha pulling in a 28-yard pass and then junior Diego Miranda came up with a 27-yard grab. A 14-yard toss to Miranda set the ball up at the one and Roberts cashed in for his first score.
The Nighthawks took over deep in Tiger territory thanks to a long kickoff return from junior Andrew Cook. With the ball at the 21, Brahler took five snaps in a row to set up a third-and-goal at the 3-yard line. Junior RB Nathan Grijalva gained one yard on the next carry to set up a fourth down but the Tigers jumped offsides twice to move the ball to the 6-inch mark.
Beemiller threw a pass on the next play but senior Noah Pallanes was stopped short of the end zone and the Tigers took over on downs and drove 98 yards to set Roberts up again.
Bourguet hit Miranda on a 37-yard play to move the ball to midfield but a bad snap cost Marana 18 yards to set up a third-and-21 at the their own 35. Bourguet came right back and hit Ebunoha on a 54-yard strike to move the ball to the 11 and a 10-yard pass to junior Tariq Jordan followed.
The second quarter belonged to Ironwood Ridge with Beemiller hitting Cook on a 44-yard pass to set up Brahler on a 1-yard touchdown run of his own to cut the lead down to 14-7. Pallanes came up big on defense and he intercepted Bourguet twice in the quarter with the second takeaway setting up a 35-yard strike from Beemiller to Cook to make it 14-13 with 4.1 seconds left in the half with the extra point failing.
The Tigers committed seven turnovers at Ironwood Ridge last year, causing an almost impossible hole to climb out of, but the two interceptions in the first half in this contest did minor damage, especially since the Nighthawks fumbled the ball away on the opening kick of the second half.
The turnover led to a 27-yard strike from Bourguet to Simmons to increase the Tiger lead to 21-13 with 9:43 left in the third but the Nighthawks came right back and a 42-yard run by Grijalva was followed by a 38-yard scoring run from Brahler to make it 21-20.
Brahler finished with 246 yards rushing on 36 carries but he only had 50 yards in the first half.
"I felt the game shift in the second half," Brahler explained. "We started moving the ball and we were getting more confident."
Bourguet came right back once again and he found Timmons on a 55-yard pass to give Marana a 28-20 lead with 8:34 left in the third. Beemiller also started to pick up steam and he found Cook on a 17-yard play to tie the game up 28-28 with Brahler coming through on a 2-point conversion with 4:47 left in the third.
Bourguet scored on an 8-yard run only moments later to put the Tigers back up 35-28.
"I can't say it's just one guy," Brahler added. "Our line came through and everything I got was because of them. We are a unit, not just one player."
Brahler came up with 66 yards on the next drive and he capped it off with a 42-yard dash to tie the game back up 35-35 in the final seconds of the third.
Sophomore Cameron Drescher came up with an interception to stall the Tigers in the beginning of the fourth but the Nighthawks gave the ball right back on downs. The Tigers drove down field again but the Nighthawk defense forced three straight incompletions to take the ball back on downs at their own 29 with 5:50 left in the game.
It became the Brahler show from there.
Brahler carried the ball 11 times for 46 yards in what turned out to be the game-winning drive, including a 6-yard run on fourth down near midfield. His 7-yard scoring run came with 54.8 seconds left in the game.
The Tigers were hampered by a dropped pass deep in Nighthawk territory with 20 seconds left but Beemiller sealed the win with an interception.
Ironwood Ridge plays in the Southern Region and will have to deal with teams such as Cienega, Mountain View and Sahuaro so the win over Marana was huge as far as power-points are concerned. Marana, on the other hand, went 4-0 in the Sonoran Region last year and the Tigers look to repeat to earn the automatic berth to the state playoffs again.
The loss to Ironwood Ridge, as head coach Andy Litten pointed out to his players after the game, serves as a path to move forward rather than an obstacle to a successful season.
"We had a chance to win the game without the turnovers," Litten told his players. "We have to fix some things as a team. We are one of the best teams in the state and so are they, we might see each other again in the playoffs. We have to show up early tomorrow and get back to work."
Bourguet finished with 363 yards passing with two TDs, Roberts had 25 yards rushing and two TDs, Rene Valenzuela had 70 yards rushing, Simmons had 84 yards receiving with two TDS, Miranda pulled down 85 yards receiving while Ebunoha had 82 yards receiving. Jordan added 51 yards receiving and Jesus Valenzuela had 52. Bryant Williams came up with a fumble recovery for Marana.
Brahler had his 246 yards rushing and four TDs while Beemiller threw for 132 yards and two TDs. Grijalva had 58 yards rushing and Cook pulled down 108 yards receiving and two TDs.
Ironwood Ridge travels to Sunnyslope next week and Marana hosts Cienega. The Nighthawks beat Sunnyslope 33-0 last year and Cienega beat Marana 52-20.
In other action from Southern Arizona, Cholla QB Jordan Porter ran for three TDS and passed for five more to pace the Chargers to a 59-21 win at Douglas while Salpointe standout Bijan Robinson rushed for 4 TDs and added a punt return for a score to help defeat St. Mary's 47-6.
Catalina broke an 0-13 streak by defeating Rio Rico 31-0 but Buena is now on a 22-game losing streak after the Colts lost to Tucson 29-12 at home.
---