Mesquite's Weber reigns on two courts
August 24, 2017 by Les Willsey, AZPreps365
---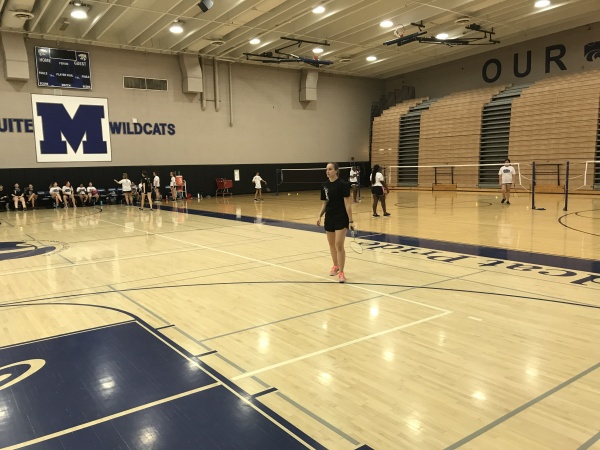 Mesquite's Natalie Weber awaits defense of her D-II badminton title on Wednesday at Mesquite. (AzPreps365 photo)
Natalie Weber knows every plank, irregularity, every inch of the gym floor at Mesquite High School.
The senior has spent three years in that building fall and winter. A good portion of summers as well.
She is ready for a fourth playing both badminton and basketball for the Wildcats. She's a champion in both sports. And she wants a repeat of her junior year. A year that resulted in winning the singles title in Division II badminton followed three-plus months later as a reserve on the school's first-ever female sport team titleist. Weber and Mesquite opened the 2017 season with a 9-0 win over ASU Prep Academy. Weber swept her opponent in singles.
"This will be a different year, but I want it to be like last year," Weber said. "It's different in that there is pressure to win. I can feel that already. It's not like my freshman and sophomore year."
Weber breezed to the 2016 singles title last November winning all five of her state matches in two sets. Her finish bettered older sister, Allison, and Allision's fourth-place finish in 2012. as the best in school history. Allison is now an assistant to long-time head coach Mark Hanna.
Hanna heard from Allison that her younger sister was on the way to Mesquite. Hanna found out quickly when Natalie prepared for her freshman year in the summer of 2014, he was getting a good athlete.
"Natalie is the more athletic of the two," Hanna said, jokingly with his assistant in hearing distance, who nodded her head in agreement. "I was excited to get southpaw. A lefty. She's climbed the ladder fast."
Natalie Weber played junior varsity her freshman year, but got a taste of varsity play in 2014 in team doubles. By the dawn of her sophomore year, Natalie rose to singles No. 1 right away.
"She's the perfect athlete," Hanna said. "If you had 20 of her you'd never lose. She's been very loyal to basketball. She's had a lot of draw on her time to do both. She's shuffled it very well."
Natalie's sophomore year was a solid one, but brought a crushing defeat at state in the second round of singles that has served as a motivational moment ever since.
Weber split two sets with Westwood's Aitzya Alvarez in the round of 16, winning the second to force a third. Weber stormed to a 9-0 lead in the third set only to see it slip away in a 13-10 defeat. Alvarez went on to finish third at state.
In winning the D-II singles final last year, Weber won the first set with Sunnyslope's Aimee Clifford handily. Next thing you know she's down 4-0 in the second.
"That was a little bit of a panic moment," Weber said. " I thought about what had happened before. I wasn't going to let it happen again. I got myself together, and finished it."
Badminton has been the sport of relaxation in Weber's two-sport high school life. But each year has brought a more serious tone to the competition. As a senior most athletes are more invested in what happens since it's their final go-round.
Same for Weber. She's averaged between two and four points a game mostly as a reserve for Candice Gonzales and the juggernaut hoops team. Despite the limited role thus far in hoops it's more important than ever to Weber to go out as a champion in both sports.
"It's a mindset now of knowing you can go far and going for it," Weber said. "Pressure is there, but it adds to the challenge."
---