Volleyball: Bradshaw Mountain fights off Tempe
August 31, 2017 by Allison Wdowiak, Arizona State University
---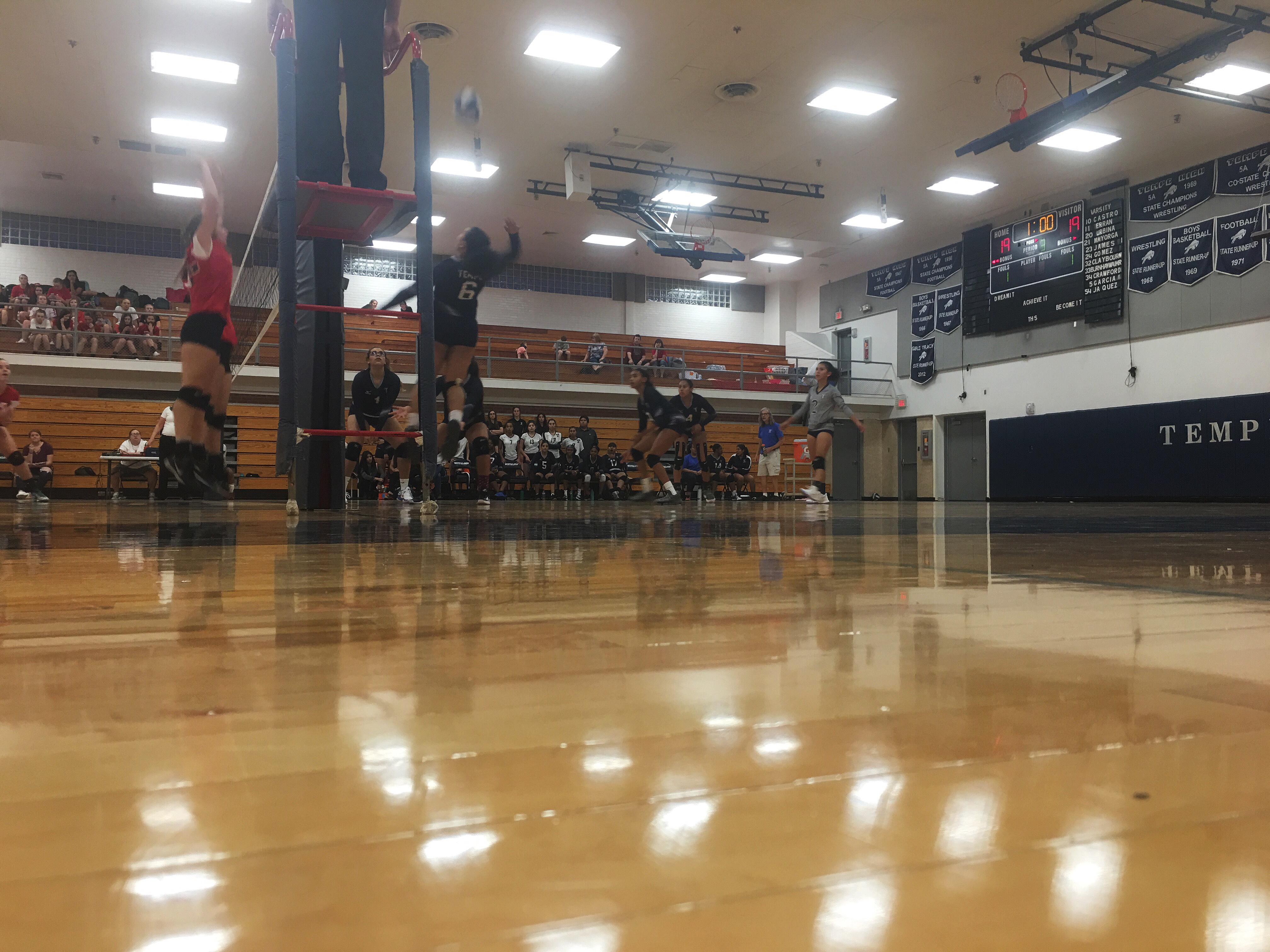 Tempe didn't go down without a fight against undefeated Prescott Valley Bradshaw Mountain Thursday night at home, just trailing between 4-7 points in Games 1, 3 and 4. But Bradshaw Mountain earned a four-set win, 25-7, 21-25, 25-19, 25-18.
The Lady Buffaloes (0-3) started off a little rough. Coach Doug Kiefer said "the first game we weren't ready to play." Despite Bradshaw Mountain capitalizing on Tempe's errors throughout the first game, several rallies in the second game shifted momentum towards Tempe. Coach Kiefer noticed "we were passing better and getting better sets" and "everybody contributed what they need to."
Alana Holloway, a senior outside hitter for Tempe, had 10 kills that left quite a few players on the other side of the net seemingly stunned. One highlight in particular was in Game 2, when a perfect set was Holloway's for the taking, her spike a Bears blocker bailing out of the way. Holloway said the experience as "an exciting moment for everybody, our whole team. The rush of hitting the ball and scoring the point was so exciting. It brought everybody together."
The team appeared to feed off her energy and kept the rest of night a nail-biter.
Tianna Anderson, a senior defensive specialist for Tempe, was also a key player. Anderson had seven kills, six solo blocks and one double block with fellow senior outside hitter Jennifer Garnica. When asked what she loves playing most in the game, Anderson replied "I just like to play. I like to have fun. If that means being in defense and being in offense or jumping back and forth I really don't mind it."
Holloway has her heart set on continuing to play volleyball in college and go into medical school. Anderson decided her freshman year she wanted to go into a medical program post-graduation and be there to help people.
"I have several seniors that I expect to step up and start scoring more and more points as our ball control gets better and we are more precise with hitting, setting, and passing to run an attack and win rallies," Kiefer said.
Game 4 dynamics included each team taking turns earning points and going back and forth with rallies. "Our passing was much better in Games 2, 3 and 4," Kiefer said.
It's still early in the season so the Lady Buffaloes have some time to improve. Kiefer said the team needs to "get a rhythm and figure out our best rotation." He added that "the biggest thing is they don't give up. They're working hard through every rally," and "nobody gives up on each other."
Bradshaw Mountain improved to 3-0 and hosts Goodyear Estrella Foothills next Tuesday. Next week the Lady Buffaloes take on Phoenix Metro Tech, an away game, on Tuesday, followed by a night at home against Estrella Foothills on Thursday.

---