Volleyball: Defending 2A champ Horizon Honors topples Thatcher
September 6, 2017 by Les Willsey, AZPreps365
---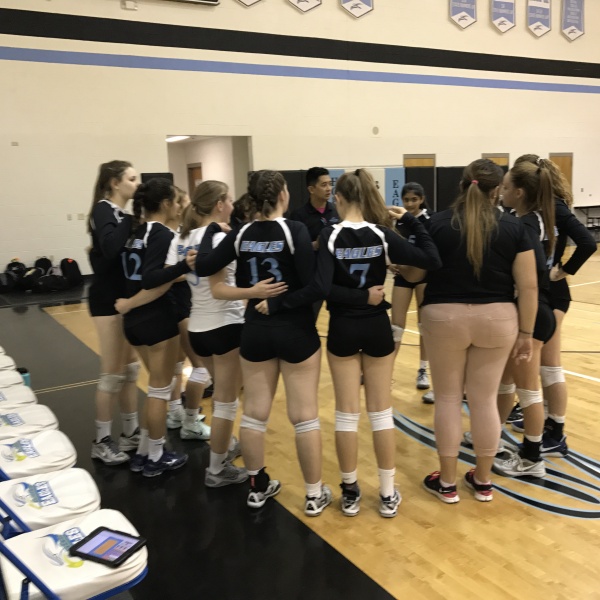 Horizon Honors coach Kris Maglunog talks strategy with his team between sets Wednesday. (AzPreps365 photo)
Horizon Honors became acquainted with the 2017 season last week playing three matches It's opponent in its fourth on Wednesday night -- 2A perennial contender Thatcher -- was playing its first match of the new campaign.
That combination of game experience vs. all that a first-match for a team entails showed in the first two sets helping Horizon Honors to a somewhat easy sweep, 25-15, 25-15, 25-19 at Horizon Honors.
Horizon Honors, the defending 2A state champs, improved to 3-1. It lost several key seniors to graduation, but also returned a handful of players with better-than-average varsity time. It added one more in senior Cici Collins, a transfer from Valley Christian. Collins was granted a hardship appeal earlier in the day and allowed to play for the first time this season.
The hosts were led on the attack by senior outside Erica Kendree (7 kills), Collins (7 kills) and Liv Moran (6 kills). Collins added 10 digs equaling the total of libero Gabby Castronova. Senior setter Alexa Marshall produced 26 assists.
"We played better than our last time out (a 4-set loss to Snowflake)," Horizon Honors coach Kris Maglunog said. "Snowflake got us scoring faster. Toniight we scored faster, and got the side outs. They helped with a lot of errors. That happens the first time out."
Thatcher's downfall came in large degree to a bevy of net errors, double hits and the melding of a new unit together.
"We did make a lot of errors at the net, a lot of violations," Thatcher coach KIm Orr said. "It surprised me. I felt coming in we were pretty good with that. We only have one senior and graduated a lot of of players (most of them all-region selections). We coudn't put much together. Only had momentum a few times in the last set."
Thatcher led only once in the first set and trailed by as many as 13. The second set was closer with a kill by block by Taya Baldwin and Mikaela Jorgensen pulling Thatcher within 17-15.
Sub Roshi Patel served seven successive points to finish the set and finished with three aces. The run included two aces, a net violation a hitting error and kills by Moran, Collins and Kendree.
Thatcher's best set was the third as it grabbed an 11-6 lead after falling behind 3-0. It wasn't able to sustain that run, but was still within 21-18 near the end. Thatcher errors of one kind or another brought the match to an end.
Thatcher was paced by Brooklyn Angle with 6 kills and Kaitlynn Rasmussen (five kills) unofficially. Thatcher gets little time to rebound and with another long road trip. They returned to Thatcher after the match and head north to Snowflake for their second match Thursday night. Horizon Honors is idle until next week.
---