Perry Ready for Home Opener Against O'Connor
September 11, 2017 by Jack Harris, Arizona State University
---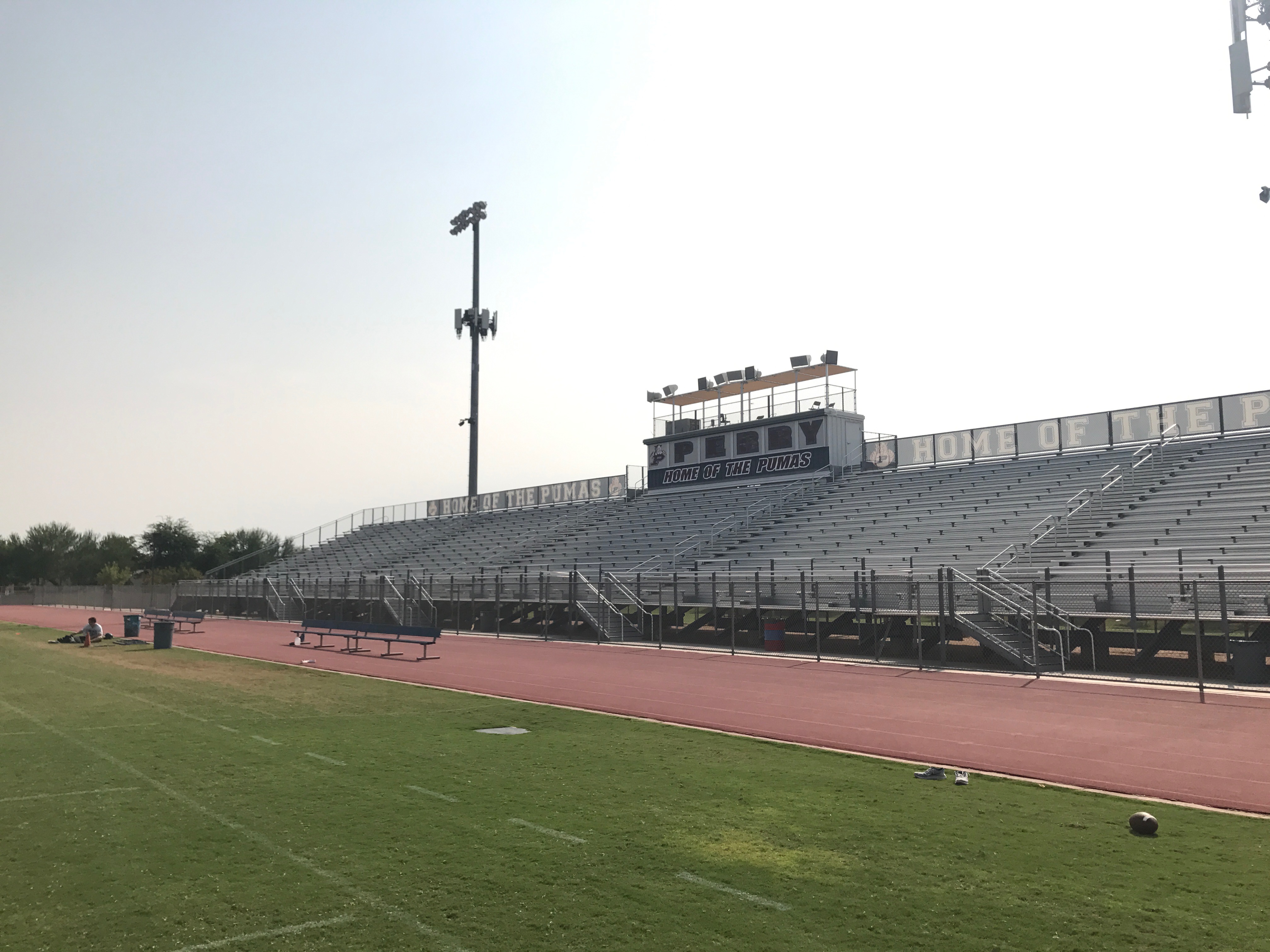 GILBERT — The last time Gilbert Perry walked off their home field at John Wren stadium, it was in dejection. The Pumas had just watched their school-best 2016 season come crashing to an end, losing 62-20 to rivals Chandler High School in the 6A state semi-finals.
On Friday, the team will play their first home game since that night, as they square off against Phoenix Sandra Day O'Connor at 7 p.m., hoping to continue their march back to the postseason.
Unlike their lone 2016 home loss last November, the stakes for this week's game are considerably lower.
No matter, Pumas head coach Preston Jones in readying his team for another run at a state title, and has his sights set on ironing out the final few flaws in his developing powerhouse squad.
"We spend the majority of our time working on ourselves," Jones said Thursday. "(We are) fixing all of our problems, rather than (completely) worrying about our opponent."
The Pumas introspective strategy has worked so far this season. Despite opening with three road games, Perry is 3-0 and has outscored their opponents 173-72.
The school is led by senior quarterback Brock Purdy and junior receiver D'Shayne James. Purdy has 14 passing touchdowns so far this fall, while James has averaged 100 yard receiving per game to go along with 5 touchdown grabs.
"I think there is definitely still room to improve, but definitely have stepped it up from last year," James said. "The difference in my get-offs at receiver, my stances (and)…my ability to lead and get the team going have stepped up a lot."
The passing game duo has been dynamic for Perry, helping the team build big first half leads in each of their three games.
Meanwhile, O'Connor head out on the road coming off a close win over Tolleson High School two weeks ago. Their new head coach Steve Casey is well-aware of the challenge at hand this week.
"We made improvements from the first game (a 46-6 loss to Phoenix Mountain Pointe). The big thing we have got to do is stop turning the ball over," Casey said.
Last week, the Eagles watched a three score lead dwindle against Tolleson thanks to five turnovers. While O'Connor was able to survive the giveaways then, handing an All-Arizona quarterback like Purdy extra possessions could be fatal.
"A kid (Purdy) who has played as much as he has, you probably aren't going to confuse him with too many different things," Casey said. "We are a pressure defense; we aren't going to change that."
Jones knows to expect plenty of pass rushers coming after his star quarterback on Friday. He has put an onus on his offensive line to be sharp during their week of preparation.
"All week that's been our whole theme, to protect our gaps, protect our quarterback," Jones said. "They may win a few plays here and there, but eventually we will pop one as well."
While Perry's offense has manufactured points at a blistering pace thus far, their defense has been equally impressive. In their season opener against Phoenix Desert Vista, the Pumas gave up just 10 points. Last week, the group surrendered only two touchdowns to Mesa Westwood's offense.
"Their defense is scary. It's the best defense we've seen so far," Casey said of his Friday night opponents. "(When) they've given up points, they've been late in the game. They have no weaknesses. Their front six is extremely physical and athletic. Their secondary is athletic."
Despite the overall dominance, Perry's back end has shown moments of weakness. Against Westwood, they gave up a 75-yard touchdown run, while the special teams allowed a 95-yard kickoff return score. Jones blames missed tackles and mental errors for those. If it happens again against O'Connor, Eagles sophomore receiver Damian Ortiz could take advantage. The big play pass catcher has 117 yards and 2 touchdowns on only four receptions so far this season.
As much as Friday's game will be about what is happening on the field, it will also be a first chance for the Pumas to play in front of a home crowd in the new campaign. Their anticipation has shown during this week's practices. They want their performance to rise to the occasion.
"Everybody is 10 times more excited than an away game," James said. "(Playing) three straight away games is not the easiest thing to do, and now that we finally get a home game, parents (and) all our friends are coming out. It's a lot more exciting; everybody is more pumped up."
---