Football: Mtn. Pointe staves off Chandler. 24-21
September 8, 2017 by Les Willsey, AZPreps365
---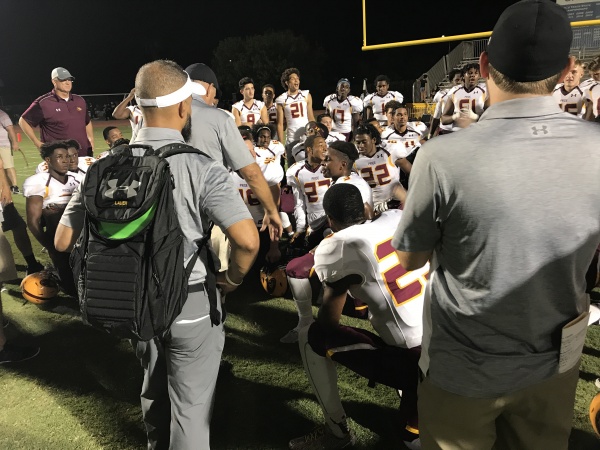 Mtn. Pointe players receive praise from coach Norris Vaughan for their effort in 24-21 win over Chandler (AZPreps365 photo)
After trading blowout wins last year and seemingly on the way to a third one Friday night, Mountain Pointe and Chandler got down to playing a nail-biter.
Mountain Pointe raced to a 21-0 lead early in the second period and held on in the fourth period to edge Chandler, 24-21, at Austin Field. A pair of interceptions by Mountain Pointe's Delano Salgado in the final 90 seconds sealed the win for the Pride as it bounced back from an out-of-state loss to Chaminade (Calif.) last week.
"As bad as we were last week we were that good tonight," Mountain Pointe coach Norris Vaughan told his huddled and jubilant team moments after the conquest.
Both teams played without several starters and there were more bumps and bruises accrued as this one moved on.
"I was proud of my team," Vaughan said. "Both of us have some injuries. It was a hard fought game. We played better at the start. Had a tough third quarter on offense, but we played well at the end."
Mountain Pointe (2-1) was solid in all facets. The Pride offense scored first moving the ball on the ground efficiently in the first half and taking a 7-0 lead with 1:29 left in the first period on quarterback Nick Wallerstedt's 3-yard run. It capped a 60-yard drive. Ten seconds later Mountain Pointe was up 14-0, thanks to a 12-yard fumble recovery touchdown by senior linebacker Jacob Olsen.
Defense and special teams capitalized next as a high snap in punt formation by Chandler (2-2) saw punter Cash Peterman get tackled for loss at his own 17. Four plays later Mountain Pointe was up 21-0 on Jakim McKinney's 2-yard run.
Chandler gave itself some life late in the second quarter piecing together an 85-yard drive capped by DeCarlos Brooks 1-yard plunge. The Wolves did most of the damage on the drive via the ground among Brooks and Drake Anderson. Chandler, which battled a bevy of penalties in the first half, many of them procedure and motion flags, went to intermission down 21-7, yet still in the game.
The teams swapped punts most of the third period, but the game was on with 17 seconds left in the third period. Chandler quarterback Billy Bolger connected with Tre Hart over the middle for a 35-yard catch and run that pared the margin to 21-14 with a quarter left.
Mountain Pointe answered that score with what turned out to be the decisive three points. The Pride took 6 mintues and 35 seconds off the clock in an 11-play drive that began at midfield to begin the quarter. Kicker Ben Abercrombie drilled a 25-yard field goal for a 24-14 advantage.
Chandler wasn't done. In 2 1/2 minutes the Wolves retort was a 67-yard march capped by Brooks second TD from a yard out. The Wolves were in it at 24-21 with 2:52 left.
Mountain Pointe recovered the ensuing onside kick at its 41 and even with Chandler having three timeouts appeared able to run out the clock. But Mountain Pointe's lone turnover of the night popped up -- a Gary Bragg fumble -- as the senior back looked ready to break the Wolves' back with a first-down run. The ball was knocked loose and Chandler recovered at the Mountain Pointe 32.
Four plays later, facing a fourth-and-10, Mountain Pointe defensive back Jatori Gipson tipped a Bolger pass into the hands of Salgado with 1:03 left. Chandler forced a punt and got the ball back with 19 seconds left, but a desperation pass by Bolger was picked again by Salgado. Salgado made a long return and was tackled inside Chandler territory as time expired.
---