No. 4 Centennial readies for No. 8 Pinnacle
September 12, 2017 by Anthony De Bono, Arizona State University
---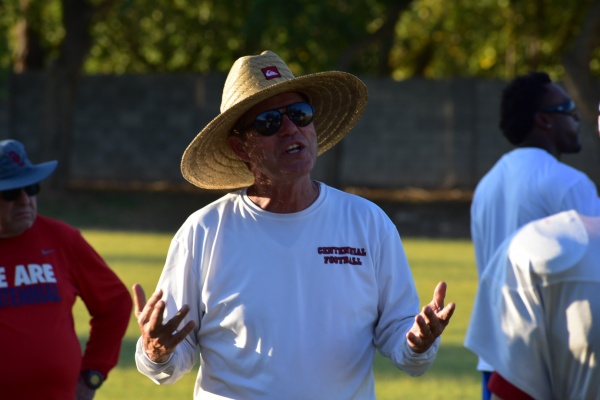 With a short week ahead, Centennial Coyotes look to carry their dominance into this Thursday's top 10 matchup against No. 8 Pinnacle and improve to 4-0.
"We are doing all three phases of the game pretty well. Not as well as we need to, to get to where we want to be. But at this time of year I am happy where we're at." Coach Richard Taylor said.
Two-year-starter Trevor Renfro said, "We are still treating it like it's the first week of football. Right now our record is at 0-0 to make ourselves better each week and perfect everything."
Centennial's defense still has yet to allow any points but it will be tested by the arm of junior quarterback Spencer Rattler.
Rattler is one of the best dual-threat high school quarterbacks in the country. Through four games, Rattler has thrown for 901 yards and nine touchdowns.
However, Taylor has led Centennial to two victories over Pinnacle by outscoring the Pioneers 97-32 the past two years.
In last year's matchup, Zidane Thomas ran for 121 yards with a pair of touchdowns.
"Since it is a short week we know that we have to get what we get done faster." Thomas said.
Taylor said that the team will go through the same practices as it would if the game was on a Friday.
"Defensively we need to contain their quarterback because he is best outside the pocket. However, I think whoever has the better special teams will have the upper hand," Taylor said.
For Centennial, it all comes down to assignments.
"It starts from up top," Taylor said, "We've got good senior leadership. Our captains are doing a really good job of having everyone buy into team, teammates, self. I also think our great program has done a great job. This could very well be the most physical team we have had."
The Coyotes will need to bring that physicality against Pinnacle as they kick off a big month of September games.
---