Volleyball: Corona conquers Basha in unbeaten showdown
September 13, 2017 by Les Willsey, AZPreps365
---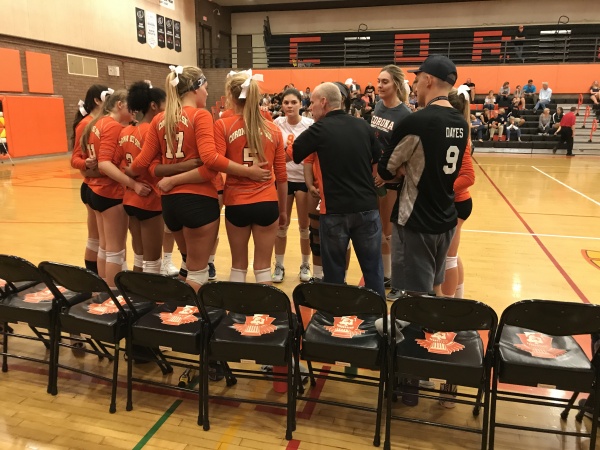 Corona del Sol volleyball coach Ben Maxfield prepares his team for 3rd set vs. Basha. (AzPreps365.com photo)
Defending 6A champ and unbeaten Corona del Sol didn't mess around in its showdown with unblemished Basha on Wednesday night. The Aztecs still employ some key pieces from last year's title team and have filled in nicely earlly with lots more experienced help coming on board in another week or so.
Corona put Basha on the defensive from the get-go Wedneday night and came away with a sweep of the Bears, 25-13, 25-10, 25-21 at Sammy Duane Gymnasium. The victory was the 19th in a row counting the final 13 the Aztecs won to close out 2016.
"We served well and that helped keep them out of system much of the match," Corona del Sol coach Ben Maxfield said. "Our serving and passing ,except for the last part of the last set was really good."
Corona ran its record to 6-0 overall while Basha dropped to 6-1. Corona has played only one match that went beyond three sets and that was a com-from-behind five-set triumph over Hamilton -- its marquee win to date this season. Basha had only dropped one set in its first six matches albeit against teams not considered in the powerhouse category.
A trio of players back from last year were the stat leaders for Corona in this one. Senior Brooke Nunevlller had 11 kills and 14 digs. Senior setter Abby Meyer collected 22 assists and served seven aces. Sophomore hitter Madelyn Noble added seven kills. Senior Allie Wade checked in with seven digs.
"You have to look at your opponent, respect who they are and go out and compete," Basha coach Terri Spann said. "They know now what it is to go against a top team. Corona is an amazing team. Nuneviller is quite a player. I like the way she carries herself."
Corona breezed in the first set opening up a seven-point lead at the halfway mark and doubling it by set conclusion. Corona notched three aces in the set -- the first of many to come and the primary downfall of Basha in the second set.
Corona held a 13-9 lead in the second, but the Aztecs sped away quickly at the point. The main culprit was Meyer, who served five aces in a row. Had Basha served well the first half of the set it might have had the lead. The Bears committed four service errors prior to the rash of aces that befell them. Corona finished the set with a 12-1 run.
Basha made a late push to take the third set with a 6-0 run that sliced a 24-15 deficit to 24-21. Senior Tatum Rohme and junior Chayse Daughtery keyed the small rally.
Rohme led Basha with six kills and standout senior libero Kiana Gonsalves had 20 digs Corona del Sol plays its third match in as many nights Thursday with its first Central Region match vs. Mountain Pointe at Corona. Basha also plays for a third time this week on Thursday hosting Skyline.
---