Mayo Clinic Becomes Official Health Care Sponsor of AIA
September 26, 2017 by Seth Polansky, AZPreps365
---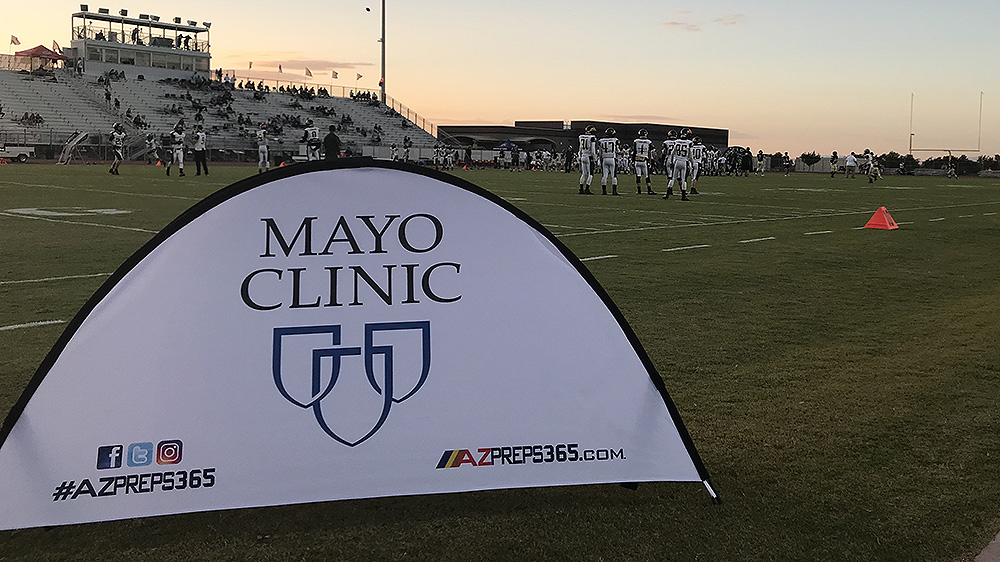 The Arizona Interscholastic Association has announced a new collaboration with Mayo Clinic. The three-year agreement serves the association in several different ways.
Mayo Clinic and its Sports Medicine physicians will assist in developing "Emergency Action Plans" (EAPs) the AIA can share with member school athletic trainers. Mayo's team will also be available for medical guidance in relation to student-athletes. High school athletic trainers throughout the state will now have a trusted resource for any issues they may face on the field or in the training room.
"This will be a big help for our athletic trainers," said AIA Executive Director David Hines. "Mayo Clinic is putting a large amount of time and effort into its sports medicine program, which will provide immeasurable resources to our schools and provide the highest quality of care for our athletes."
Mayo Clinic remains the No. 1 hospital in Arizona according to the U.S. News & World Report rankings of top hospitals. Its world-class experts work together to provide comprehensive care for patients with even the most complex conditions - care that's also covered by most insurance plans.
The Mayo Clinic Sports Medicine team in Arizona includes specialists from multiple disciplines who provide comprehensive and personalized care to athletes of all levels. These specialists collaboratively address each athlete's training, injury and performance concerns related to sports and exercise activities.
"We are excited to begin this sponsorship. The core values of Mayo Clinic, patient care, research and education align with those of the AIA to ensure a safe and fair environment for all student-athlete participants," said Dr. Anikar Chhabra, Head of Sports Medicine at the Mayo Clinic and a member of the AIA Medical Board who will be the supervising physician for this program.
"From orthopedics, to primary care, to neurology and across all other fields, we will bring a multidisciplinary approach to assist the trainers, coaches and parents to optimize medical care and implement preventative strategies," added Chhabra. "The Mayo Clinic Sports Medicine program in Arizona is excited to work with the AIA to help promote a safe environment for our student-athletes."
The Mayo Clinic will also be the title sponsor for the AIA soccer and track & field state championships.
About Arizona Interscholastic Association
The AIA is a voluntary association of public and private Arizona high schools. Since 1913, the organization has created and sustained interscholastic activities that encourage maximum student participation by providing AIA member schools with an even playing field to ensure fair and equitable competition. The AIA believes that providing interscholastic activities for Arizona high school students creates personal development opportunities with a balanced focus on academics and extracurricular activities.
Through its Arizona member schools, the AIA reaches more than 100,000 participants in high school activity programs. The organization hosts 5,000 championship contests and maintains officiating for more than 45,000 regular season games. For more information, visit www.aiaonline.org and www.azpreps365.com.
---