Loveall rules all of 8-man in career TD passes
September 29, 2017 by Jose Garcia, AZPreps365
---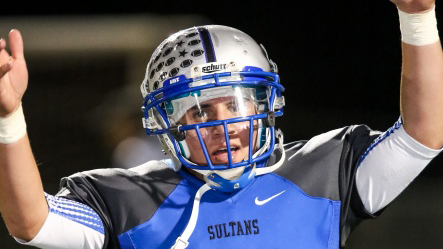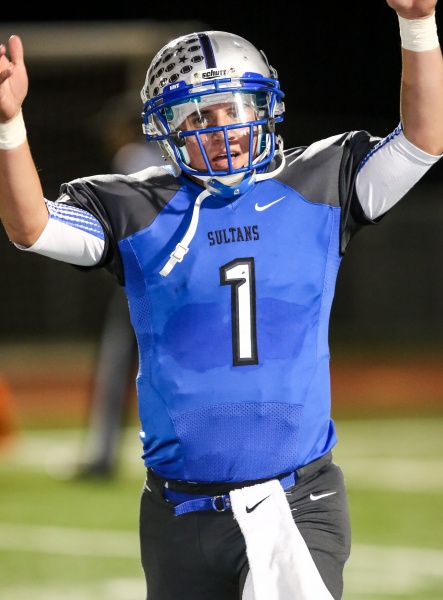 (Israel Loveall, Bagdad High School. Photo by Jim Willittes/maxpreps.com.
Israel Loveall broke the national 8-man record for career passing touchdowns during his eight touchdown outing on Friday.
The Bagdad High quarterback now sits atop the national record book with 147 career touchdowns with two regular season games left in his high school career. Bagdad is 7-0 and is the two-time defending Class 1A state champ.
Bo Savage of Kansas held the previous national 8-man career touchdown record with 143, which he established between 2008-2011.
"It has never been about records for me," said Loveall during an interview with prescottenews.com.
The lefty went on to say that his record was a product of how well his team has played during the past three years.
Loveall has thrown 38 touchdown passes this season, began his high school career with 50 touchdown passes as a sophomore and followed that with 59 scoring passess as a junior.
His broke the national record at the 5:49 mark of the second quarter in Friday's 76-40 win over Salome. Scott Finnerty, Loveall's No. 1 target this year, eluded defenders on his way to scoring the record breaking 37-yard touchdown.
That was one of seven touchdowns Finnerty caught from Loveall on Friday, setting a new 1A Arizona state record for touchdown catches in a game.
This season, Loveall connected with Finnerty during a memorable 67-yard Hail Mary to defeat Williams in a rematch of last year's 1A title game.
Following story posted Sept. 29
Israel Loveall is about to get crowned, one way or another.
He's up for homecoming king tonight during Bagdad's game against Salome, and, with five more touchdown passes, the senior quarterback can also become the first 8-man signal caller in the nation to ever throw 144 career touchdown passes.
The national record for 11-man football is 219. Bagdad is aiming for a third consecutive state championship, but Williams and Mogollon have already proven that, so far, it's a three-team race for the 1A crown this year.
But the moment, at least for now, belongs to Loveall and Bagdad.
---