Centennial stuns nation's No. 3
September 30, 2017 by Jose Garcia, AZPreps365
---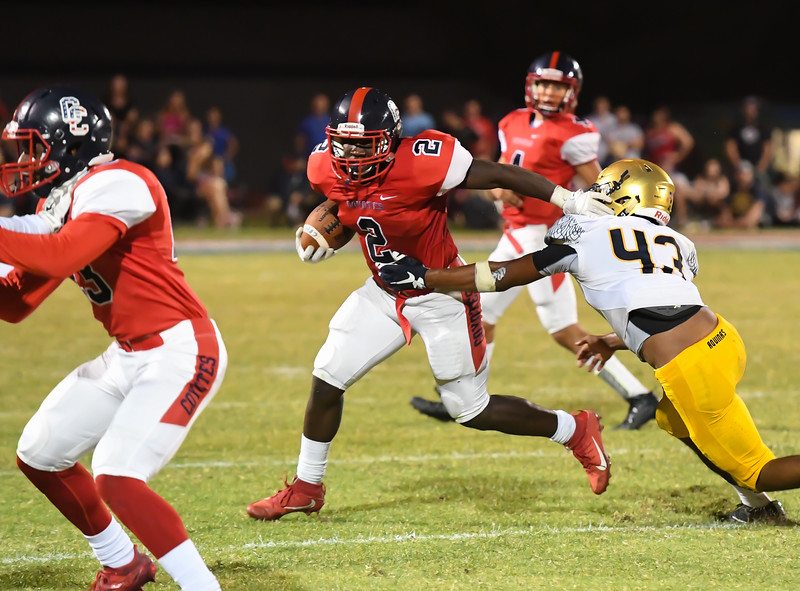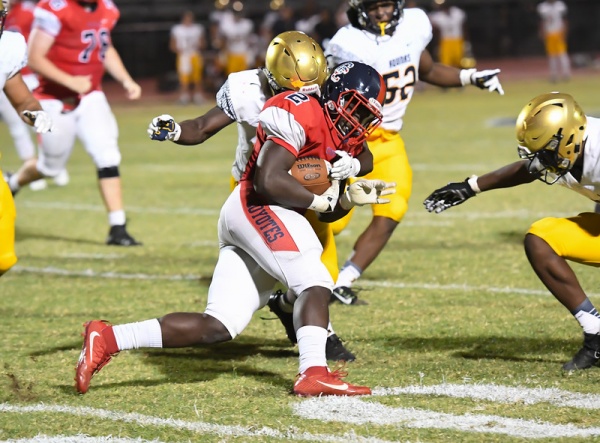 Florida St. Thomas Aguinas made Centennial's Zidane Thomas (No. 2) earn every yard Friday. Photo by Mark Jones/maxpreps.com.
Arizona won't go without logging a victory against a prominent out of state opponent in 2017 thanks to Coyote Country.
The Centennial Coyotes showed the U.S. Friday during a national telecast that they can match up defensively with the best of them. Just ask maxpreps' third-ranked Florida St. Thomas Aquinas, another team with a stellar defense.
STA has allowed only one touchdown in 12 quarters this season, but the one they gave up Friday was the dagger, a 56-yad touchdown run by Zidane Thomas to help Centennial pull off the 12-0 upset. Thomas' mom lives in Florida and was in attendance to see her son play in person for the first time at Centennial High.
But other than that scoring play and a 27-yard run during Centennial's first drive, Thomas (113 rushing yards) was kept in check throughout the night.
Thomas' backfield mate, Alex Escobar (54 rushing yards), also had to earn his yards, as the Coyotes were limited to only 165 total yards of offense.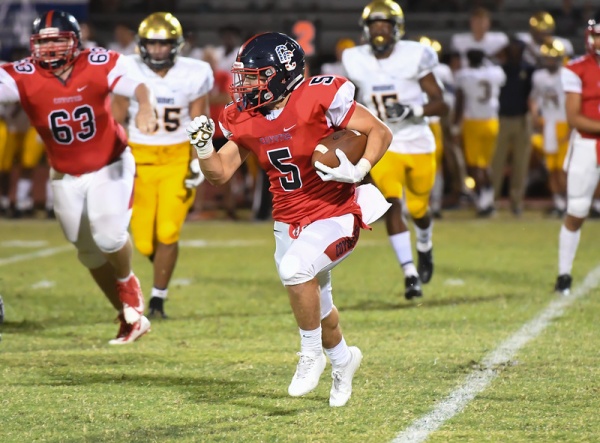 Alex Escobar. Photo by Mark Jones/maxpreps.com.
But with under two minutes to go in the game, Thomas finally broke free on 3rd and 1. It was one of the few times Thomas got away from the first line of STA's determined defenders.
"That was a tough defense, but I knew our offense was going to prevail," Thomas said.
Xavier Rojas kicked the game winner against Pinnacle this season and delivered again Friday, converting his two field goal attempts.
The extra point was blocked after Thomas' touchdown. STA's offense never really got on track, switching quarterbacks a couple of times in the game.
The team was also penalized 13 times for 130 yards
Centennial's undersized front seven helped its 6-0 team record its third shutout this year. Since 2006, Centennial has kept 43 opponents scoreless.
---