SOCCER: Desert Christian wins to set up big match with Benson
October 10, 2017 by Andy Morales, AZPreps365
---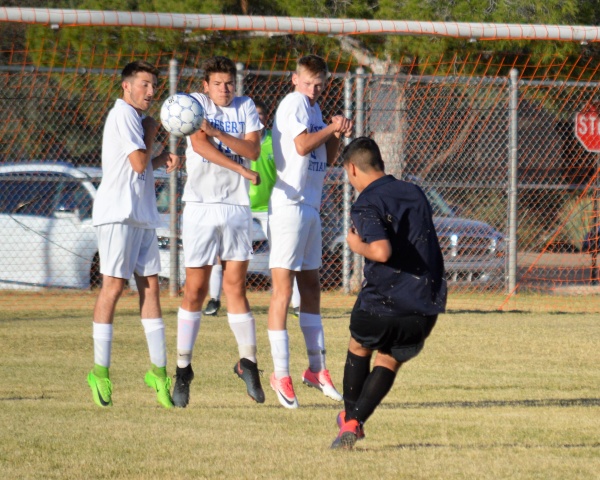 Desert Christian with the wall. (Andy Morales/AZPreps365.com)
No. 7 Desert Christian beat No. 17 Lourdes Catholic 3-2 at home Tuesday night to set up a huge region match against No. 12 Benson (4-3 in power-ranking games, 3-0 in region play) on Saturday.
Desert Christian (7-2, 2-0) beat Benson 6-0 in a "Freedom" match on Sept. 12 and 2-0 during the Old Pueblo Classic on Sept. 29 but the match on Saturday will most likely be for the 2A South Region title with No. 9 The Gregory School (5-3, 2-2) and No. 13 Willcox (4-3, 2-2) both sitting with two region losses.
The 2A state playoffs will be played in an eight-team bracket with the three region champions earning an automatic playoff spot. That means only five at-large berths will be available. There is a possibility only the 2A South Region champion will make the state playoffs.
Lourdes Catholic (1-4, 1-2) came close to further complicating the playoff picture by striking first to take a 1-0 lead in the 51st minute but Caleb Charles found Austin Hull on a corner kick four minutes later to tie the match up 1-1.
Palmer Hoffman put the Eagles up 2-1 in the 70th minute and Adam Vidal fed Joshua Dickey for the game-winner in the 75th with Lourdes Catholic scoring in the final moments to make it 3-2.
Dickey moved back to the United State from Armenia where is father was working and his immediate presence gave the Eagles nine seniors to draw upon.
"Our team chemistry is great," Dickey said. "I haven't spent much time on this team but, from what I've been told, this could be one of our better teams."
The Eagles stunned Willcox last year by knocking off the previously unbeaten Cowboys 2-1 in the last match of the season to win the 2A South championship in former head coach Steve Lord's final season with the program.
Al Robles has the team on the verge of winning another region title in his first year at the helm. This is also the second year in a row the school has gone without a girl's program due to decreasing numbers.
Robles was a coach on the final girls' team of 2015 and only junior Kati Vidal remains from one of the most successful programs in the state. Kati Vidal is a starting midfielder for the Eagles.
The first round of the 2A state tournament will take place on Wednesday, Oct. 25 at the home of the higher seed. The semifinal round will follow on Friday, Oct. 27 at Campo Verde High School in Gilbert and the championship is scheduled for Saturday, Oct. 28 at Campo Verde.
---