Higley Falls Just Short of Victory Against Seton Catholic
October 10, 2017 by Nicole Eldridge, Arizona State University
---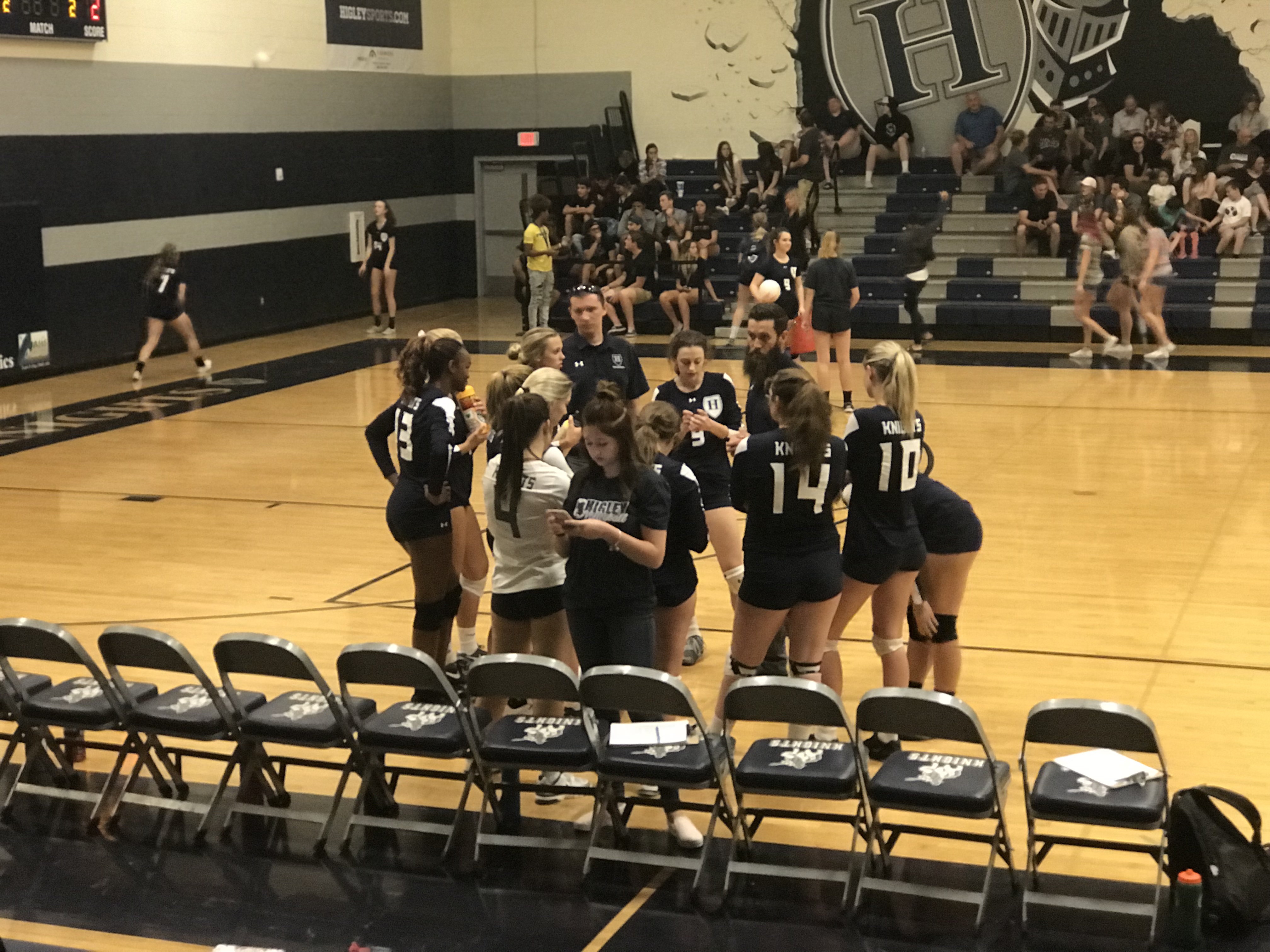 Higley fell to Seton Catholic High School in four sets, 25-22, 25-21, 16-25, 25-23, Tuesday night
Seton won the conference matchup for the second time in the past two seasons.
"Well this game, I really wanted to beat Seton because last year Seton crushed us and that is what pretty much motivated me this entire match," Higley's Lauryn Harrell said.
This game, Harrell was a big standout as she was one of the main reasons why Higley stayed in the game so long and put up a tough fight.
Harrell had lots of kills throughout all sets but did very well in the third set allowing for her team to win and go on into four sets.
"Tonight, Lauren stepped up big for us. We were finally able to get her the ball and give it to her," head coach Daniel Arrington said. "But as a team I think we are growing, they are starting to believe in the whole team and that it doesn't take one, it us together working hard and we are going to pull out victories and some are going to be tough."
Seton Catholic had a standout player of their own. Emily Mangone had plenty of kills and was a main reason for the outcome of the game.
The libero on Higley's team was also a stand out player for the game. Mia Sadler had very strong serves and earned herself a few aces.
"Well since it is an immediate point, I think everyone gets hyped because you barely did anything to get one point," Sadler said.
With loss comes the feeling of defeat. The Knights seem to be a team that puts one another in better moods when a player, or the entire team, may not be doing their best.
"We just tell each other that we are going to get the next point," Sadler said. "If someone has their head down, I tell them to pick their head up, you're doing fine."
"We talk about different stuff every time," Harrell said. "Whatever pops out of Maddie's mouth we kind of just go 'oh that's strange, let's talk about it.'"
All of the sets that were played were in either team's hands and could have been anyone's game.
Even though Higley did not win, the team was still able to keep the three sets they lost within at least a four- point game.
"I don't think we really struggled at all. Seton's a good team, they dug us, they were set up well, and they were well coached. It just came down to who made the most mistakes and unfortunately we did tonight," Arrington said.
With Higley's season coming to an end in a few weeks, the Knights are looking to win more games to advance into the tougher part of the season. They hope to qualify for the state tournament.
Higley's next game will be Oct. 12 as they travel to Casa Grande High School for a conference matchup.
---