Badminton: New placers will abound at D-I/D-II championships Oct. 20-21
October 19, 2017 by Les Willsey, AZPreps365
---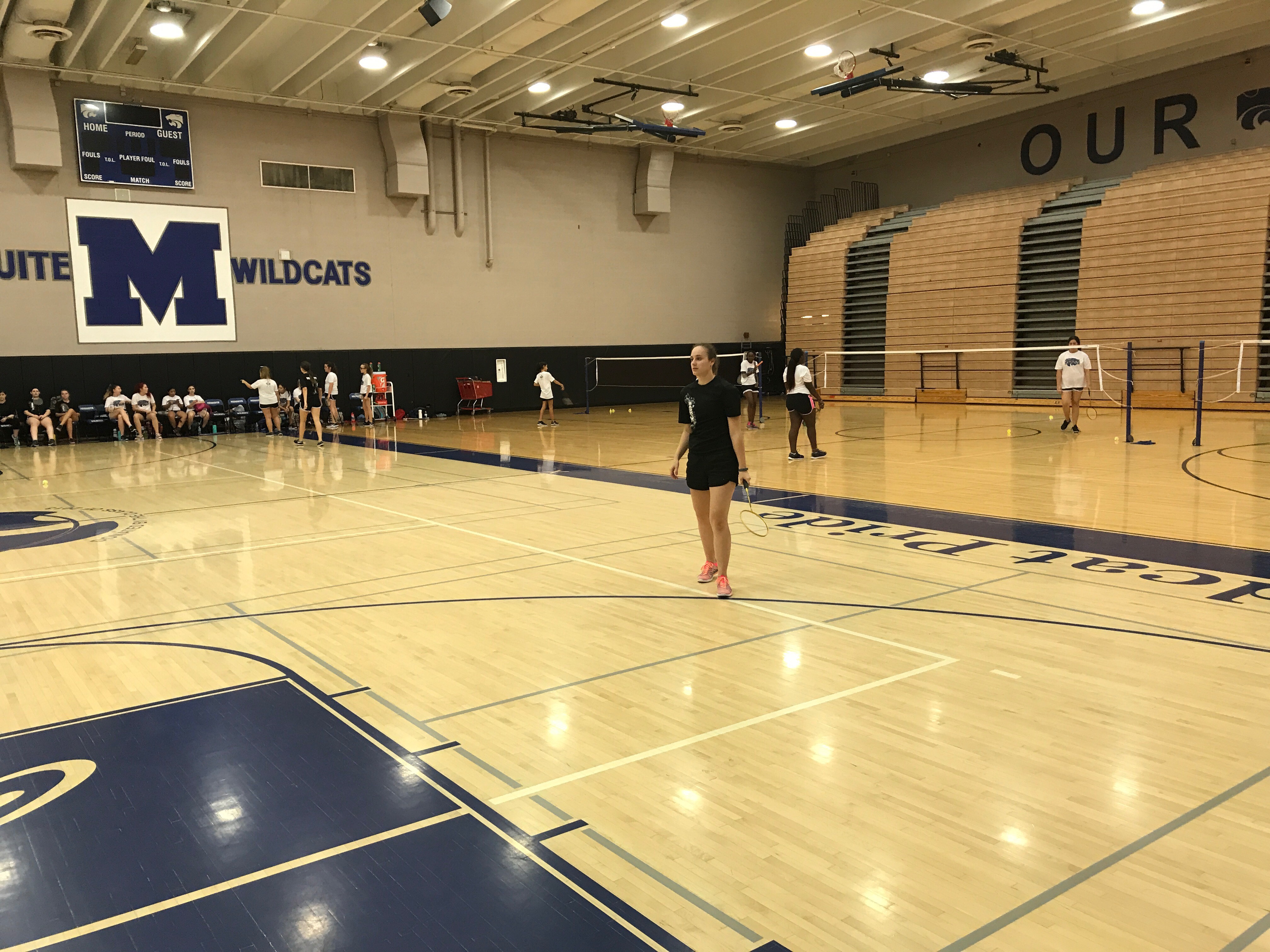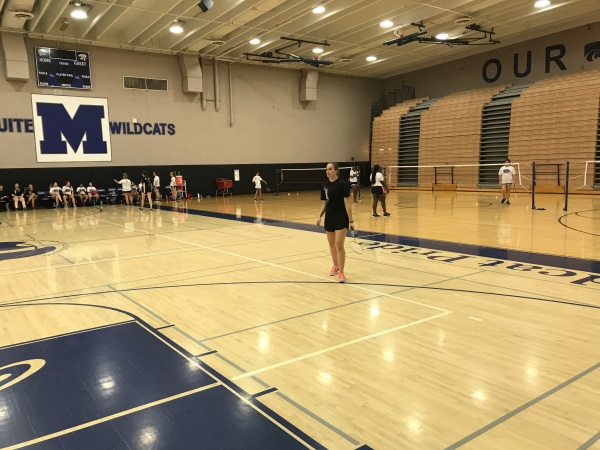 Mesquite's Natalie Weber seeks repeat as D-II singles badminton champion this weekend (AzPreps365 photo)
Singles and doubles competition for Division I and Division II signal the start of badminton's postseason this weekend with Independence High hosting Friday (Oct. 20) and Saturday (Oct. 21). Competition begins at 10 a.m. with three rounds on Friday (through quarterfinals). The semis and finals are Saturday, also beginning at 10 a.m.
An abundance of new state placers will decorate the awards stand when competition is completed Saturday afternoon. Just three athletes overall in both divisions who placed last year (top four) are back looking for more. One is D-II singles champ -- Mesquite senior Natalie Weber. Weber didn't lose a set last year in the tournament. Weber is seeded No. 1 as she was last year.
She lost one match overall last season and is unbeaten this year. The other retuining state placers are (D-II) Greenway senior Nicole Rearick, who was fourth in doubles and (D-I) Perry senior Jillian Lagasca, who finished fourth in doubles.
Rearick is competing in doubles again with a new partner (Kaycee Boofer). They are seeded fifth. Lagasca is competing in singles this year and is D-I's top seed.
A number of quarterfinalists from 2016 are top-8 seeds this year. From D-I singles are Desert Vista's Gabrielle Nakada and Sonia Velu; and Sandra Day O'Connor's Sidney Nguyen; D-I doubles Mountain Ridge's Allison Price with new partner Sydney Hadden are seeded No. 3; Skyline's Maggie Trias has shifted from doubles to singles and is singles No. 2 seed. D-II -- Chaparral's Jerikah Davis is seeded No. 1 in doubles with new partner Taylor Alphabet. Cactus Nicole Osteen is competing in doubles rather than singles this year. Osteen and partner Emma Dinnigan are seeded No. 2.
The top eight seeds for singles and doubles for both divisions:
DIVISION I
SINGLES -- 1. Jillian Lagasca, Perry; 2. Maggie Trias, Skyline. 3. Gabrielle Nakada, Desert Vista; 4. Sidney Nguyen, Sandra Day O'Connor. 5. Abby Mann, Red Mountain. 6. Brennan Agnew, Corona del Sol. 7. Julia Mumme, Perry; 8. Sonia Velu, Desert Vista. DOUBLES -- 1. Jordan Pierson-Jessica Read, Perry; 2. Maddie Reinhart-Alexa Wolfson, Xaver Prep; 3. Allison Price-Sydney Hadden, Mountain Ridge; 4. Ana Munoz-Michaela Daas, Skyline; 5. Janae Ziebell-Caitney Smith, Red Mountain; 6. Katie Carroll-Eileen Li, Corona del Sol; 7. Amanda Probst-Jisoo Song, Horizon; 8. Isabel Honzay-Mayci Vannasap, Chandler.
DIVISION II
SINGLES -- 1. Natalie Weber, Mesquite; 2. Jordan Ludwig, Washington; 3. Cassie Clemens, Mesquite; 4. Abby Nelson, Prescott; 5. Kendra Fowler, Sunrise Mountain; 6. Claire Pishko, Sunnyslope; 7. Morgan Justice, Liberty; 8. Khanh Nguyen, Independence. DOUBLES -- 1. Jerikah Davis-Taylor Alphabet, Chaparral; 2. Nicole Osteen-Emma Dinnigan, Cactus; 3. Cierrah Hernandez-Deja Kennedy, Independence; 4. Jenna Drotzmann-Emma Johnson, Sunnyslope; 5. Nicole Rearick-Kaycee Boofer, Greenway; 6. Lily Ren-Madison Beebe, Ironwood; 7. Danielle Marino-Brooke Chiarelli, Liberty; 8. Bella Meza-Shelby Varner, Mesquite.
Badminton team competition begins Monday Oct. 23 with the first round and quarterfinals. D-I playoff sites Monday are Perry, Desert Vista, Xavier and Mountain Ridge high schools. D-I semis are Wednesday Oct. 25 at Desert Vista and the final is Thursday Oct. 26 at Sunnyslope HS. D-II first-round and quarterfinal sites Monday Oct. 23 are Ironwood, Sunnyslope, Prescott and Chaparral high schools. The semis are Wednesday Oct. 25 and final Thursday Oct. 26, both at Sunnyslope HS.
---