Volleyball: Seton tops MDN for at least share of 4A Desert Sky title
October 23, 2017 by Les Willsey, AZPreps365
---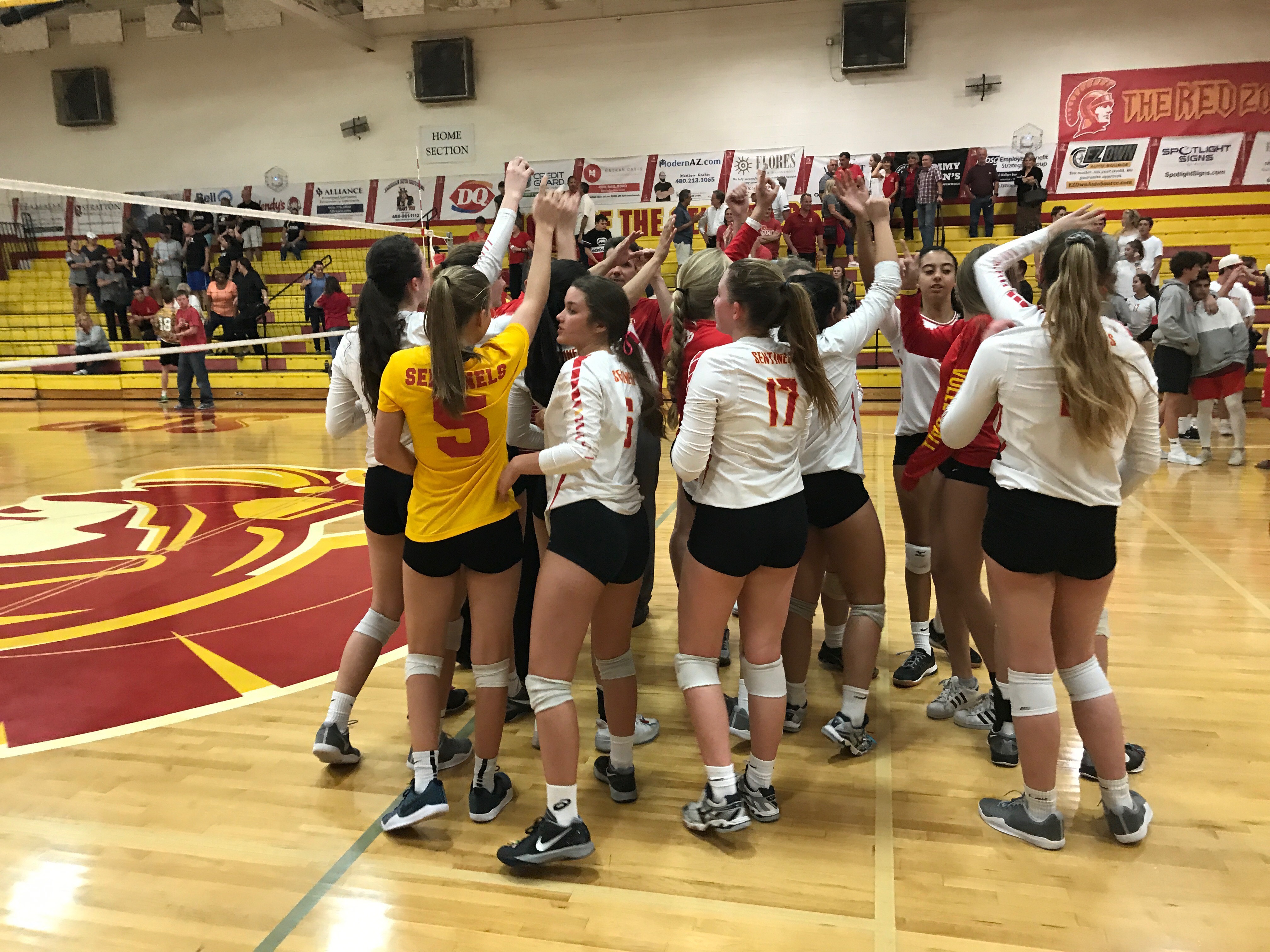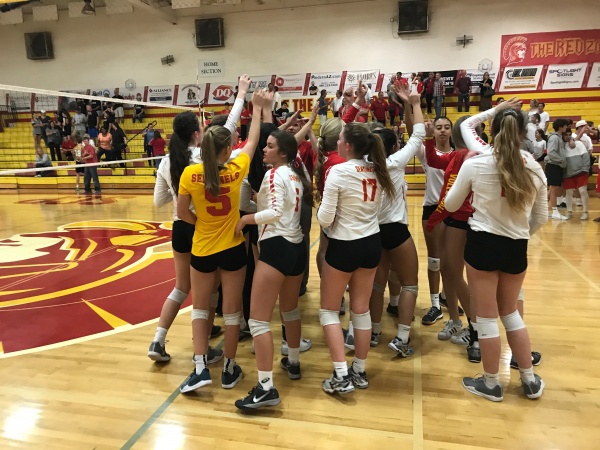 Seton breaks victory huddle after avenging an early three-set loss to Marcos with 3-set win (AzPreps365 photo)
Seton Catholic's girls volleyball team had more on its mind than earning the 4A Desert Sky Region title for the second year in a row on Monday night.
With only one region loss heading into the evening's encounter with Marcos de Niza, the Sentinels were primed more than anything to avenge an earlier loss to the visiting Padres.
"The loss to them was a humbling experience," Seton coach Patti Schoenhardt said. "They swept us. It wasn't characteristic of this team. We didn't want that happening again."
It didn't. In fact, Seton turned the tables sweeping Marcos de Niza, 25-22, 25-9, 25-23 to gain at worst a share of the region title.
The second tie-breaker for region supremacy for playoff purposes after head-to-head (1-1) is conference record. Seton is 13-3 in games vs. conference opponents and Marcos de Niza 10-5. Each has a match left. Seton plays a non-region match at home Thursday vs. Estrella Foothills while Marcos finishes Tuesday night at Higley. If Marcos loses to Higley the region crown is Seton's outright.
Seton, ranked No. 7 in Monday's power rankings, improved to 23-8 overall, 13-3 in power-ranking matches and 7-1 in region. No. 11 Marcos de Niza is 15-16 overall, 10-6 prm and 6-1 in region.
Seton won a rather raggedly played first set wiith a strong finish. Each team committed four service errors and passing and attacking were erratic. The match was tied eight times, but it Seton finished best. A pair of kills by outside hitter Emily Mangone and a four-hit violation on Marcos ended the set.
The second set was one of the better ones played this season by Seton. It combined with more erratic play by Marcos for an uncharacteristic lopsided set between the teams. Seton served six acces in the set. Marcos called time down 10-6, but the set got away quickly from that point.
Marcos played better in the third set yet mostly from behind. Seton led 23-20, but three successive kills -- two by Padres freshman middle Hailey White -- tied it. Seton earned a side out on the first of back-to-back kills to close the match by outside hitter Leighton Gagnon.
Mangone led Seton with 12 kills and 13 digs. Nikki Fulmer added 11 kills and 10 digs. Deleany Shearon chipped in with 27 assists and 10 digs. Riley Johnson shared team-high dig honors with 13. White led Marcos de Niza with seven kills.
---