Badminton: Perry & Sunnyslope crowned state champs
October 26, 2017 by Les Willsey, AZPreps365
---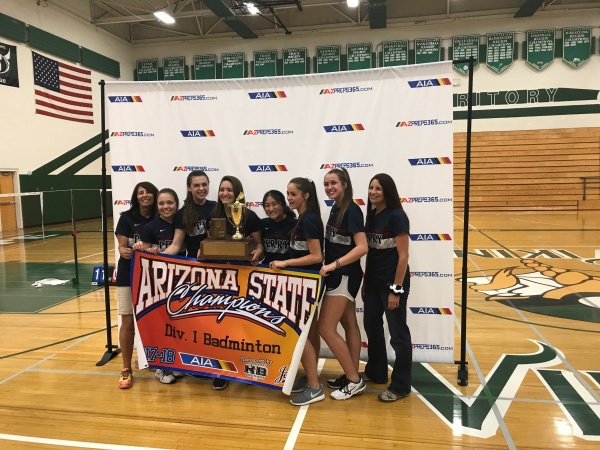 Perry climbs the mountain in its third badminton final to win school's first state title (AzPreps365 photo)
Just happy to be there three years ago. Almost last year. Now mission accompllished.
Perry badminton has been at the doorstep of a badminton championship two of the last three years with Xavier Prep thwarting the Pumas in the final both times.
After unseating four-time defending champ Xavier in Wednesday's semis, No. 1 Perry completed a season of domination taking down No. 3 Mountain Ridge, 5-0, in the D-I championship Thursday night at Sunnyslope High School. Perry won all its regular-season matches 9-0 -- save one -- a 6-3 win over Xavier. At state it was three straight 5-0. Perry was 18-0 overall and became the school's first team champ in its history.
"We've been waiting an enitre year for this," Perry coach Lerina Johnson, who started the badminton program at Perry when it opened in 2007, said. "Once the season started we just took it a game at a time. We really did. We had a lot of time off at fall break with no matches. We just practiced. I was hoping we were ready. We were."
A well-attended evening of championship badminton endured a boisterous victory explosion when Perry wrapped up its title. That's what happens when a school nabs its first title.
Perry saw all its players that competed Thursday, finish first or second at state last Saturday in singles or doubles. That same sextet -- Jillian Lagasca, Julia Mumme, Megan Crow, Kylie Goldberg, Jessica Read and Jordan Pierson -- didn't lose a set. Pierson was ahead 1-0 in her match when it abruptly ended with the fifth win.
Mountain Ridge, under coach Tim Rosinbum, was playing in the school's first-ever badminton final. The Mountain Lions knocked off No. 2 seed Desert Vista on Wednesday.
In the D-II final resilient Sunnyslope repeated as champion, knocking off Mesquite for the second year in a row, 5-3. The title was Sunnyslope's fourth in badminton -- three of them under the guidance of coach Sarah Schlesinger. Schlesinger played for the other title team in 1993.
"I knew we had it in us," Schlesinger said. "We do have good depth, and our girls are fighters. They showed that."
Sunnyslope led 4-2 after the singles matches and felt pressure from Mesquite after the Wildcats No. 1 doubles team prevailed, 15-4, 15-8. Mesquite was down 1-0 in the other two doubles matches, but was leading the second set in both late. Slope's No. 2 doubles team Claire Pishko and Lilly Major closed the gap against Mesquite's Payton Foti and Baili Watt to wrap up the crown with a 15-13 win.
Five of Sunnyslope's six players Thursday were on the 2016 title team -- Jenna Drotzmann, Emma Johnson, Pishko, Major and Sarah Jane Wentworth. Lilly Kroeger emerged as the No. 6 singles player this season. Pishko was the only Sunnyslope player to place in singles or doubles last weekend. Three graduated seniors placed at state in 2016 so this year's team brought many new faces to the court.
Ditto Mesquite, which returned as it turned out two-time state singles champ Natalie Weber and Cassie Clemens, as its lone state-tourney seasoned players.
"We lost a lot from last year, but these girls kept at it," Hanna said. "I'm proud of them."
Sunnyslope players display the school''s fourth badminton title trophy after topping Mesquite. (AzPreps365 Photo)
---