Volleyball: Corona & Xavier advance to 6A final
November 7, 2017 by Les Willsey, AZPreps365
---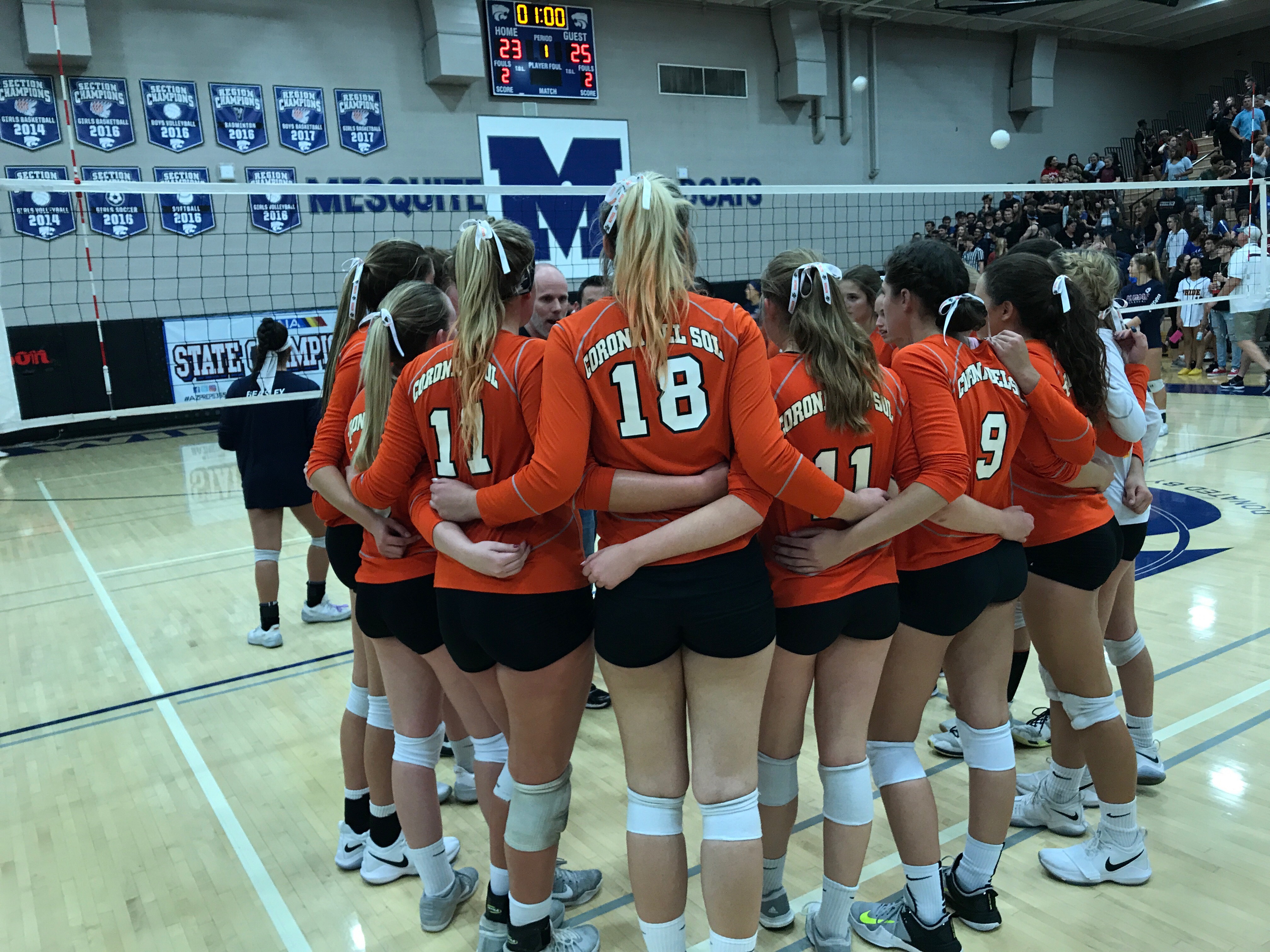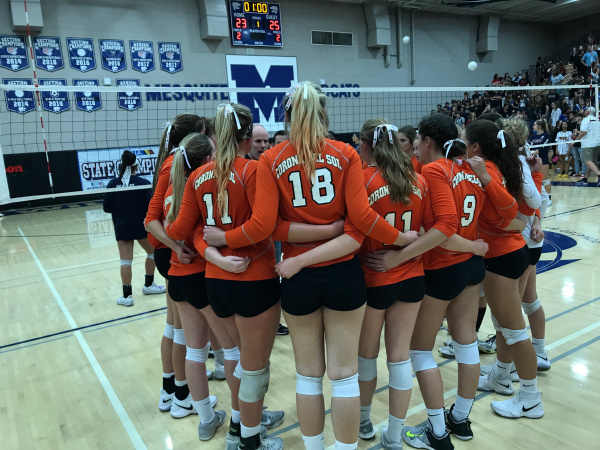 Corona del Sol huddles and breathes a sigh of relief after 5-set semi win over Mtn. Pointe. (AzPreps365 photo)
No. 2 Corona del Sol and No. 1 Xavier Prep were used to beating Mountain Pointe and Perry this season in volleyball. Thing is it was never easy when they did.
That held true again Tuesday in the 6A semifinals as Corona rallied from two sets down to beat Mountain Pointe for a fourth time and Xavier knocked off Perry in five sets for the third time in matches played at Mesquite High School. Corona prevailed 23-25, 26-28, 25-21, 25-16, 15-12. Xavier's triumph was 23-25, 25-15, 25-20, 20-25, 15-11. Xavier and Corona meet for the third time this season in the final on Thursday at 7:30 at Mesquite. Xavier won both meetings in two different invitationals, 2-1.
Corona defeated Mountain Pointe 3-1, 2-1 and 3-2 in prior meetings that latter the final week of the regular season. The Aztecs were on the brink of defeat not only down two sets, but trailing 19-14 in the third before they caught fire.
"I was planning my concession speech, "Corona del Sol coach Ben Maxfield said. "We were out of time (outs). It was make or break."
Corona went on an 11-2 run to stay alive and then dominated the fourth set. The fifth wasn't going their way halfway through with Mountain Pointe ahead, 8-5. Junior hitters Piper Manross (26 kiills un officially) and Avery Luoma (12 kills) had a couples kills each and Manross assisted on a block during that stretch. The Aztecs knew where to go to get back and got what they needed from senior standout Brooke Nuneviller.
Nuneviller delivered three kills in a row to tie it and still the Aztecs trailed one a point three more times. Corona took the lead for good on a service error and two attack errors. A kill from Alyssa Wissinger and a block finally KO'D Mountain Pointe.
"We made a change in our rotation in the third set," Maxfield said. "We had to find a way to slow Manross. She was killing us."
Nuneviller helped buy Corona big time in buying another berth in the final and chance to repeat. She finished with 33 kills, 20 digs and four blocks. Maddie Noble checked in with 12 kills. Corona's block improved once it got going led by Nuneviller and Sadie McRaoe (four blocks). Setter Abby Meyer had 51 assists and libero Becca Morse led defensively with 25 digs.
Xavier coach Lamar-Renee Bryant didn't expect anything but a five-set match with Perry. She'd already survived a pair of 3-2 wins over the Pumas when they met in Premier Region tussles.
The fifth set certainly wasn't Perry's best. The Pumas committed four service errors, a net violation, a double-hit violation and two attack errors. Sophomore hitter Brianna McKnight contributed three successive kills to snap the final tie of the set and give the Gators a 7-4 lead.
'"We knew it would be a battle," Bryant said. "They matchup with us and we matchup with them. They're big and we're a good defensive team. We needed someone to step up and that was Bri. "
McKnight was one of a trio of underclassmen leading the attack for Xavier. McKnight registered 26 kills and sophomore Jasmine Knight and freshman Serena Turner added 10 apiece. Senior Libero Alyna Draper (29 digs) and junior Ashley Yeung (18 digs) led the defense. Junior setter Shannon Shields had 42 assists, 14 digs and six kills.
Perry's attack leaders were senior ouside hitter Ryann Davis (12 kills) senior middle Kennedy Kaminsky (10 kiills) and senior outside Lexi Keith (9 kills).
---