Veteran Sunnyslope, rookie Queen Creek advance to 5A final
November 7, 2017 by Jose Garcia, AZPreps365
---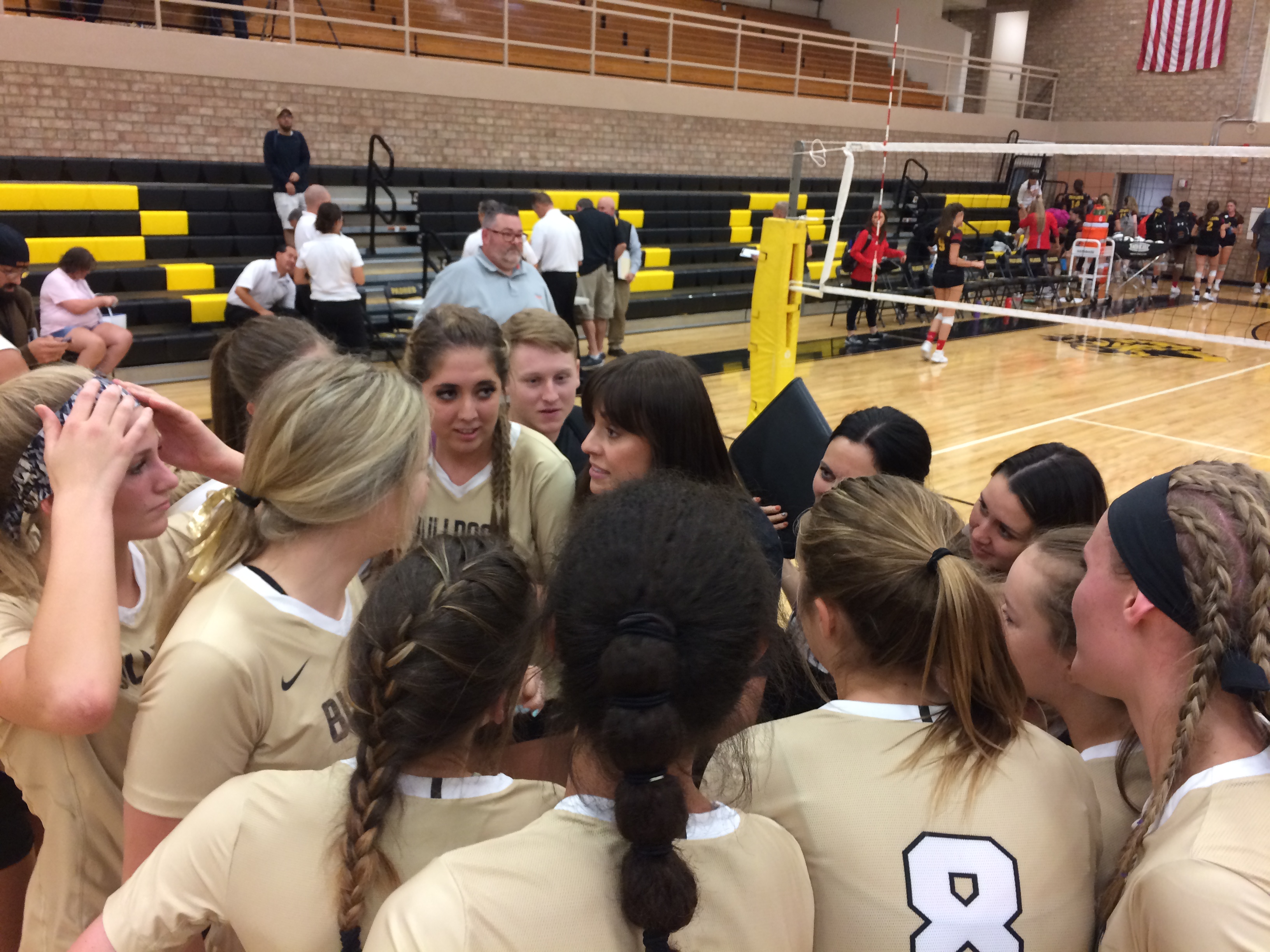 Queen Creek is in unchartered territory.
Sunnyslope feels at home playing for a championship.
On Thursday, one of the teams will close its 2017 campaign at Mesquite High with a brand new 5A Conference volleyball first place trophy in hand. Sunnyslope and Queen Creek advanced to the final 5A game of the season with 3-0 victories over their semifinal opponents at Marcos de Niza Tuesday.
Sunnyslope swept Centennial 25-21, 25-21, 25-23, an opponent Sunnyslope lost to in last year's 5A title tilt. Queen Creek followed by rolling past the No. 1 seed, Chaparral, 25-21, 27-25, 25-10.
One of the state's rising volleyball stars, sophomore Jaelyn Hodge put on a show, leading Queen Creek's balanced attack with 22 kills and a .475 hitting percentage against Chaparral. The only area in which Hodge struggled was jump serving, but her final serve, a jump serve ace, clinched the victory and first volleyball championship berth for Queen Creek's program.
"Everyone did their own job, working hard for every point and no plays off," said Hodge, who didn't start playing volleyball until three years ago but already committed to the University of Arizona.
On Tuesday, she hit through, around and over Chaparral's block constantly.
With Hodge in the back row, Chaparral's best chance at winning a game came during the second frame. Chaparral trailed in that game 24-21 but rallied to tie it and eventually served for the game up 25-24.
But its serve went into the net, allowing Hodge to rotate to the front row. Two kills later by Hodge, game over. Queen Creek's lefty, Kate Grimmer (8 kills), and Jordann Worth had 26 and 14 digs, respectively.
Savannah Bloom hit .750, with six kills, and Queen Creek teammate Serene Caspersen thundered down a couple of quick sets from the middle. For first time observers, it seemed as if Queen Creek had played this well before. By the way, it plays with five D-I commits.
But the team didn't really start clicking until its five-game quarterfinal match against Notre Dame, according to coach Erica Crismon.
Despite the talent on the team, it has lost 15 matches this season.
"Honestly, we struggled in a lot of areas all season long, coming together and being able to play as a team," Crismon said. "I just think (we have) different personalities and everybody comes from a different club team, and we were trying to bring all of that together."
Against Sunnyslope, which Queen Creek swept in its second match of the year, Queen Creek will confront a program that'll make its 10th championship appearance.
Sunnyslope coach Amber LeTarte is 7-1 all-time in the finals.
"I have had tight groups in the past, and this is another one that's really close," LeTarte said. "There is a core that has been together since their elementary years. They are a really fun group. I don't feel like they are a cocky bunch of girls. They are really humble and want to work hard. They feel like it's their time."
Despite its youth and lack of height, Centennial battled throughout behind its emotional leader, outside hitter Sommer Kasney. In the third game, Centennial's Taleah Cooper and Nyjha Marcelin began to assert themselves in the middle.
But Sunnyslope (30-9) just had more weapons against a Centennial (32-9) team that'll return all of its starters next year and will say goodbye to four seniors. Those seniors won a title and dropped just one regular season match in their final two years.
Sunnyslope's power poses problems, especially from outside hitters Kayla Matthews and Jazmyn Wheeler and the left arm of Tyasia McGruder.
And setter Macy Wilke does a great job of mixing it up.
"The last three matches that Jazmyn has played have been amazing," LeTarte said. "Kayla has always been our power house and go-to player."
---