2A football playoffs: Scottsdale Christian, Santa Cruz meet again
November 9, 2017 by Jose Garcia, AZPreps365
---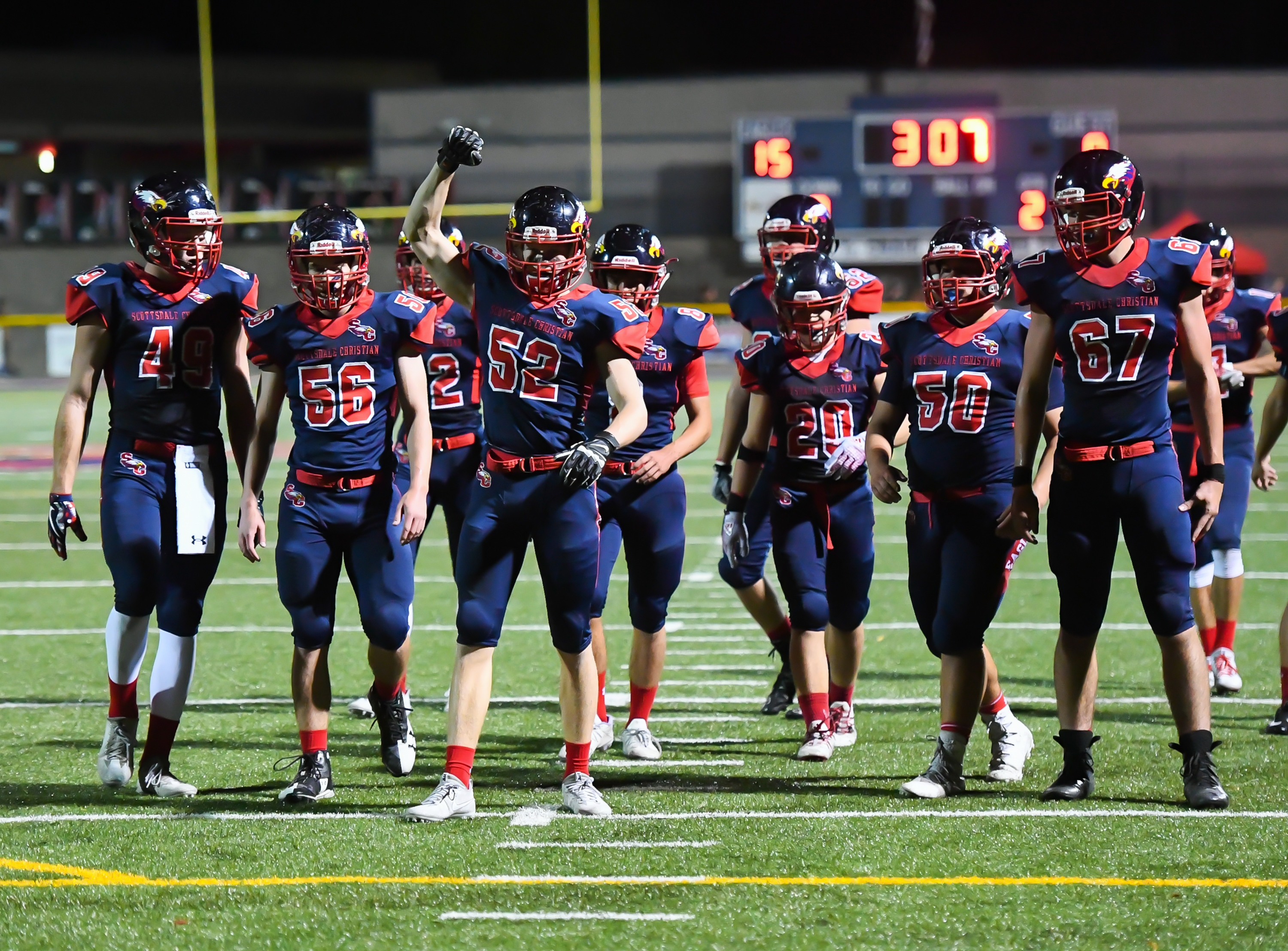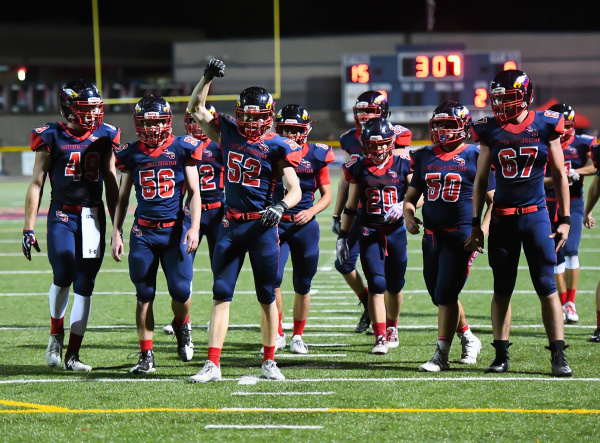 (Scottsdale Christian may lose players but doesn't tend to lose games. Photo by Mark Jones/maxpreps.com)
The two programs share the same initials.
Both of them relied on highly serviceable former backups.
And they'll meet for the second consecutive year in the 2A Conference state quarterfinals.
Scottsdale Christian and Santa Cruz share some things in common, beginning with the slew of talent they each lost after their 2016 postseason appearances, but the backups are helping the programs still run at peak levels. Doing the fine tuning are two excellent coaching staffs.
But the ride for either Scottsdale Christian or Santa Cruz will end in the state quarterfinals again. Santa Cruz won last year's quarterfinal quarrel 62-21, sending highly-touted Scottsdale Christian freshman quarterback Jack Miller to the 5A Conference on a sour note.
Fourteen of Scottsdale Christian's 32 returning varsity players opted not to return for different reasons, including the No. 1 and 2 quarterbacks. After a heart-breaking, one-point overtime state semifinal loss last year to eventual champ Thatcher, Santa Cruz was left to fill the vast void that many senior starters left.
But most of the roster gaps of both teams were filled by backups biding their time to shine for Santa Cruz and Scottsdale Christian. Also, for Scottsdale Christian, its defense helped erase a lot of the doubt surrounding its team this season.
That unit is ranked in the top-2 in 2A in tackles, interceptions (nation-high 32) and sacks and has allowed the third fewest points (84) in 2A so far this season, according to maxpreps.com. But come Friday it might be without another valuable piece, head coach Chuck Gibbs.
On Monday, doctors removed a tennis sized tumor from Gibbs' upper back that is not cancerous but can restrict his neck movement. Gibbs, a former U.S. Army attack helicopter pilot, is a medically retired veteran.
Monday's surgery was the 25th he's undergone. He's had 15 knee surgeries, and Gibbs said wear and tear are partially to blame for a bad knee.
But he isn't complaining and is still planning to be with his troops on Veterans Day.
"I am more worried about the game more than the surgery," he said. "I told my pastor that I've got 10 seniors, and it could be their last game. I want to make sure I'm there.
"Why spent time talking about the kids who aren't here. There are kids here who stuck around our program and are still champions. Last year we made it to the quarterfinals with a good football team, and this year the team is not as talented, but it's a better football team. You can hang your hat on that. We have lemons this year, but we did something with them."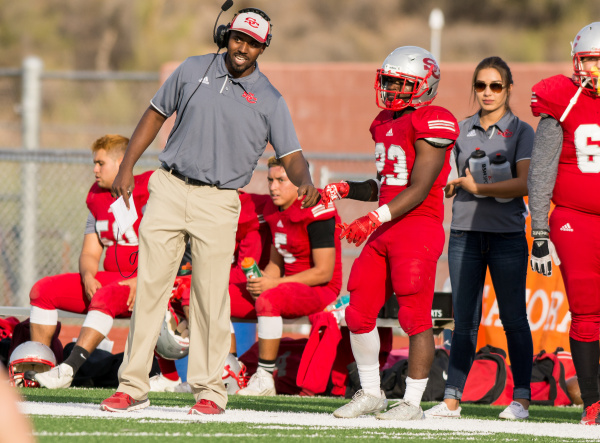 (Coach Rishard Davis kept Santa Cruz winning with players such as running back Titarro Jones despite saying goodbye to many seniors last year. Photo by Darin Sicurello/maxpreps.com)
Santa Cruz is also squeezing everything it can out of its team.
It helps that the quick and physical Alex Wyble-Meza moved in. He sat during the first five weeks after transferring from Casa Grande Vista Grande, but Wyble-Meza's impact was immediate and leads Santa Cruz with 12 rushing touchdowns, a 15.9 rushing yards per carry and a 124.7 yards per game average.
But, with Santa Cruz running the ball about 80 percent of the time, Santa Cruz shares the ball with two other backfield threats, Titarro Jones and Raoul Perales. The seniors became focal points in Santa Cruz's triple-headed run attack (combined 2,279 rushing yards, 33 touchdowns) this season.
The trio are running behind a an entire new offensive line that began to take off at midseason, Santa Cruz coach Rishard Davis said. If Santa Cruz needs to pass, senior Jesus Cosillos (16 TDs, only 1 INT) is capable of keeping a defense honest.
On defense, Santa Cruz didn't give up more than 100 yards rushing in five of its last regular season games. Junior defensive lineman Dakota Ethington, the team's third leading tackler, also plugged a big hole this season after transferring in from Vista Grande and has started since Day 1.
A bunch of new starters may dot Santa Cruz's roster this year, but they still remember happened last year, when a Thatcher goal line stand kept them from advancing to the 2A final.
"(The loss) is still in the back of their heads," Davis said. "They want to get back to that point. We didin't completely shut down after losing in the semifinals. It was tough, and we carried that with us after the season was over."
Santa Cruz will face a Scottsdale Christian defense that isn't opportunistic.
It is committing highway robbery, with 54 takeaways in the past two seasons.
"We preach turnovers and takeaways," Gibbs said. "I never have experienced where kids are always around the football as much as this group is."
Scottsdale Christian also has some weapons on offense, wide receiver Jacob Kaites (1,136 receiving yards, 12 TDs) and running back Shayne Pahnke (1,648 rushing yards, 23 TDs, 8 INTs), in particular. Kaites has also returned eight punt returns for a touchdown, but five were called back.
Kaites might also see some time on defense. Scottsdale Christian's defense is led by the player Gibbs dubbed the Silent Professional, senior middle linebacker Cole Bauer. He might be quiet, but Bauer packs a loud punch, as the senior is the state's third leading tackler.
Gibbs also starts an inspirational leader on defense, Jesse Moffett, Scottsdale Christian's only 220-pound plus defensive lineman. Gibbs remembers when Moffett was a 140-pound freshman and was bullied.
Moffett also had to overcome a learning disability, but Moffett is now doing the pushing around.
"Jesse is a big reason why we've been able to slow down the run game of opponents," Gibbs said. "But aside from that, he's one of the reasons why you coach the game. It fires me up. He's had to overcome a lot. He's the epitome of what we are all about. He's our Christian Character Award winner."
Gibbs points to players such as Moffett and Gibbs' son, Kale, for not wanting to let his broken body rest.
Kale (49 tackles) is one of a handful of freshmen who have played this season for Scottsdale Christian. Like Davis and his staff at Santa Cruz, Gibbs and his staff have led Scottsdale Christian to back-to-back 10-win seasons for the first time in the long history of the program.
"We are going to win games with or without kids," Gibbs said. "It's almost like a God thing. There's a synergy with this group. There's so much love and community. It's incredible."
2A playoff notes
Morenci's young offensive line lacked experience but has jelled and embraced the team's blocking schemes, coach David Gallegos said. Running backs RB/CB Steven Chavarria (9 rushing TDs), ATH Mark Roybal, RB/OLB Justice Boling, RB/MLB Isaac Pacheco, andFB/LB Matt Harrington take turns running the ball. "QB Nick Carrasco has been the true definition of a field general," Gallegos said. "We have a swarming and disciplined defense that flies to the football." … Round Valley's WR/DB/QB Kason Woolf, RB/LB Dylan Workman, WR/DB Mikey Mariscal, QB/DB Markus Adams, and DL/RB Colter Hogle have been consistent players, coach Marcus Bell said. "The kids have done a great job of playing together. We've had kids who have stepped up and been able to play at a high level. Our coaches have done a good job of working with this young team and developing their skill set." Round Valley is 11-0 and the No. 1 seed. … "The main reason behind our success is an extremely hard working team," said Thatcher coach Sean Hinton about his team. "They lift and condition more then most or all, I'd be willing to wager. It's also hard to single anyone out because we have so many contributors each week and share the ball so much. But if I had to name anyone it would be guys on our scout team that bust there butts to make the starters better." Thatcher, the defending champ and No. 3 seed, only lost to Round Valley so far. "We learned a lot of things about that loss," Hinton said. "The mistakes you make versus bad teams go unnoticed but get magnified and exploited against good teams. You have to be mentally prepared for big games." … Tempe Prep's offense continues to more "dynamic" than in previous years. That's because it doesn't carry the offensive line size that's accustomed to. "QB Max Rich has been great for us and has given us the ability to be balanced," Tempe Prep coach Josh Brittain said. "Our offensive line has battled like warriors, and running back Ahmad Jones has been an absolute workhorse." Brittain added that defensive coordinator Mike Guizar has done an outstanding job of preparing his boys.
---