Football: Williams topples Superior for 1A crown
November 10, 2017 by Les Willsey, AZPreps365
---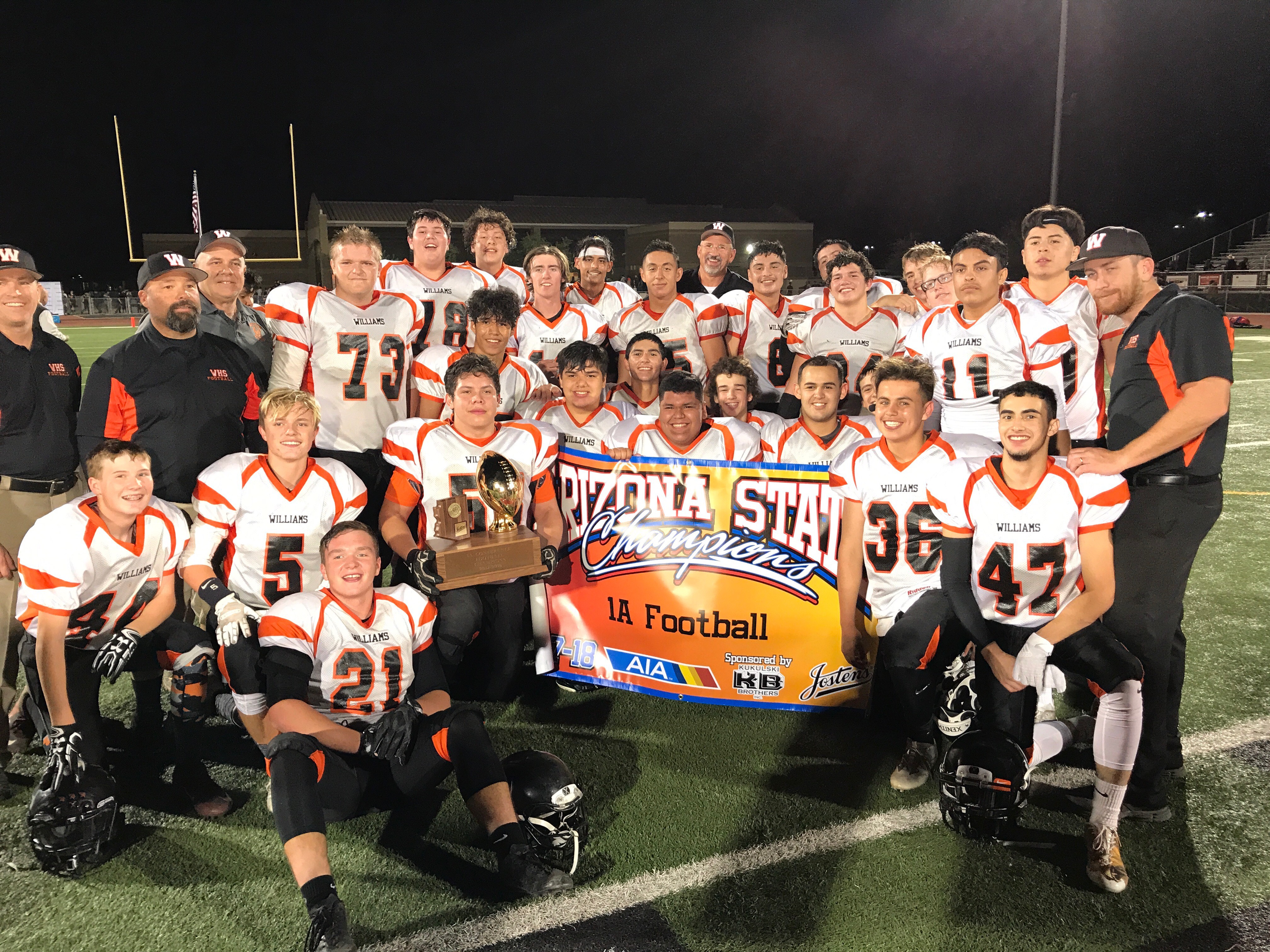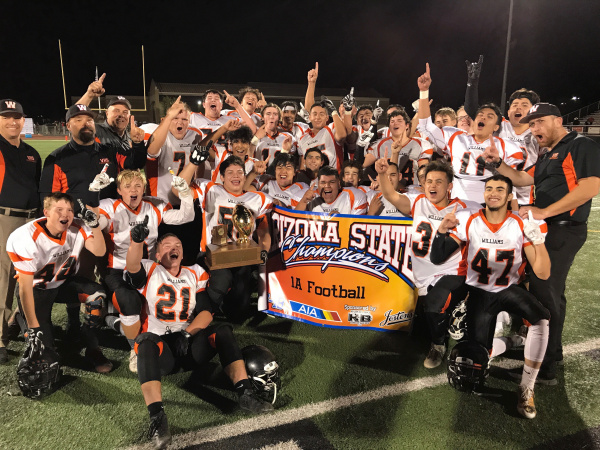 Williams celebrates its first football title since 1993 after beating Superior (AzPreps365 photo)
Williams and Superior still had the makings of a game at half time on Friday night, but a late score by the Viikings in the final seconds of the first half was a precursor to domination in the second half.
Spurred by one big play after another Williams stroilled to a 57-14 victory over Superior to win the 1A football championship at Maricopa High School.
Williams (9-2) redeemed itself to a great degree with the victory, the school's first football title since 1993 and its third in history. Last year Williams was on the short end of a 60-6 title-game romp at the hands of Bagdad. Superior, a squad with just 17 players and no seniors ,finished up a respectable 9-2.
Big plays and a powerful running game powered Williams. Williams first three touchdowns came on plays of 65 yards, 56 yards and 65 yards. Even their short TD plays were set up by long runs, the last a 79-yard run by sophomore back Chance Pearson. Pearson scored two of the TDs on a 56-yard run and 65-yard screen pass reception.
That scored came just 25 seconds after Superior scored and pulled within 16-14 with under a minute to go in the first half. Pearson's bulldozer of a score pushed the halftime lead to 22-14 and set the stage for a 35-0 onslaught by Williams the final 24 minutes.
"We have a strong running game, and if teams crowd us we can throw it," Williams coach Jeff Brownlee said. "Tonight we didn't have to throw it. Our offensive line has been a strength all season. They kept it going tonight."
Williams three primary linemen seniors Emmanuel Flores, Juaquin Gutierrez and Mike Bolen. They created some huge holes and the powerful and elusive running of Pearson and Daniel Lopez overwhelmed Superior.
Williams piled up 503 yards of offense -- 368 on the ground. Pearson amassed 222 yards on 12 carries and two TDs. Lopez rushed for 15 times for 155 yards and two scores. Quarterback Diego Pedraza rushed for one and passed for two more -- one to David Lozano and the other to Zack Perkins.
Williams held only a 237 yard to 222 yards offensive advantage after the first half, but the Vikings limited Superior to 61 yards in the second half.
Superior suffered a key injury on the game's third play when freshman running back Adam Navarrette suffered a severe lef injury. Indications were it was a broken leg. Navarrette was the team's second-leading tackler. That made it tough on the Panthers, but coach Ryan Palmer didn't use it as an excuse.
"Our kids overachieved all year," Superior coach Ryan Palmer said. "It hurts losing this bad, but it's fuel for the fire. We don't graduate any seniors because we don't have any. ...
"I'm proud we made it to this point. I was a little disappointed in our execution. The kids realize, though, how much work it takes to get here. I think they'll respond."
Williams put the clamps on Superior quarterback Steven Ybarra, certainly containing big plays the junior has made all season. Ybarra finished unofficially with 96 yards on 35 carries. He rushed for better than 1,000 yards and 17 TDs prior to Friday. He did score both Superior TDs on runs of 1 and 2 yards.
---