3A football: Benjamin Franklin's foundation on solid ground
November 10, 2017 by Jose Garcia, AZPreps365
---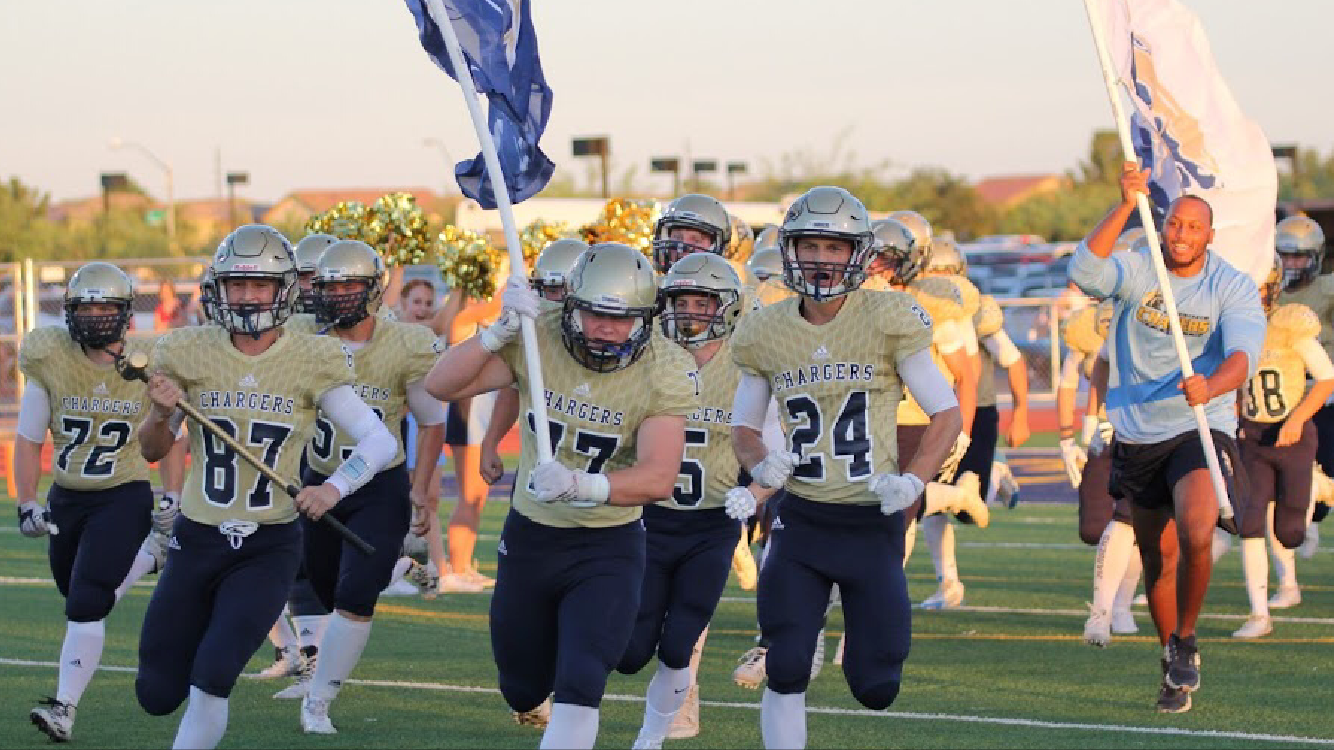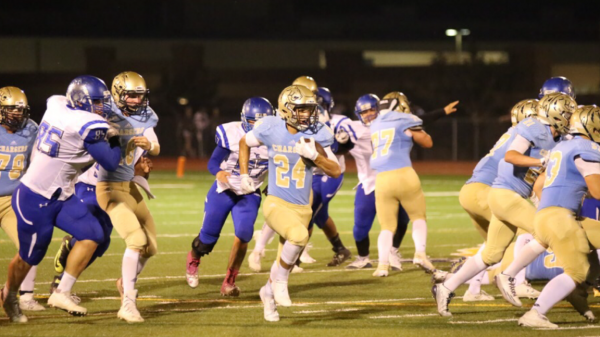 (Benjamin Franklin sophomore Zack Jefferies is the third leading rusher in 3A. Photo courtesy of Michael Miles.)
Benjamin Franklin's head coach Dave Jefferies came close to quitting football as a high school player.
In 1988, he was a sophomore on a junior varsity team of a new school, Yuma Cibola. For no particular reason, Jefferies told his then coach now mentor Tim Lino that football just wasn't for him.
The young lad just needed some direction, Lino believed. So after a pep talk and some tears, Jefferies continued to suit up.
"That was the turning point in my life," Jefferies said. "If I could have half the influence that a great guy like Tim, who is now a principal in Hawaii, had on me, I would love to do what he did."
Jefferies is now getting his chance to mold the lives of young men positively.
The Cibola experience also imprinted something he wanted to experience for himself — building a football program from the ground up like Lino did. Jefferies is doing that now and with success.
Benjamin Franklin, a charter school located in Queen Creek, made history this season with its first postseason berth and playoff victory. But the 4-year-old program is just getting started.
Benjamin Franklin will take another big baby step on Friday when it hosts one of the state's football giants, No. 5 seed Sabino (9-2), the 3A state runner-up last season, in the state quarterfinals. Benjamin Franklin's win total has increased in each of Jefferies' three seasons as coach.
He brought a ton of experience to Benjamin Franklin after spending thirteen years as an assistant coach in the Gilbert District and three years as head coach at Thatcher, where he went 30-7.
"I was an assistant coach, so I try to create an environment where my assistant coaches can thrive and people want to be out there practicing and giving their best efforts," Jefferies said. "I always wanted to start a school from scratch and put it on the map with a great group of athletes with good character. Character, honesty and integrity is what I preach."
Benjamin Franklin's players are responding.
Last year, the program was a bit upset that is just missed the playoffs. But last year is still helping this year's team.
Jefferies began transitioning his offensive base to a double-wing toward the end of last year, and Zack Jefferies, Jefferies' son, and junior Chandler Miles are now thriving in it. Zach is just a sophomore but is the 3A's third leading rusher with 1,568 rushing yards, and Miles is fifth on maxpreps' rushing 3A leader board with 1,390 yards.
"Zach is way more athletic than I ever was," Jefferies said jokingly. "The (double-wing) offense started out as a gimmick, but it has been really good to us this year."
This year, 10-1 Benjamin Franklin defeated two of the three teams is lost to to help it earn the No. 4 state seed, leaving no doubt that it was a contender.
Jefferies began tinkering with the idea of using the double-wing after after Arizona Lutheran Academy used it to defeat Thatcher in the 2014 state quarterfinals in Jefferies' final game at Thatcher. Starting quarterback Chase Adams wouldn't mind running the multiple-formation look Benjamin Franklin first ran, but Adams also doesn't mind blocking and sacrificing for his team now, Jefferies said.
Benjamin Franklin's mobile offensive line does most of the dirty work in the team's run scheme, and it recenlty welcomed the return of its starting center, Justin Scott, from injury. Switching to the double-wing also helped Jefferies' defense, and toughened up that unit since it has to stop an aggressive offense in practice, the coach said.
The defense also saw a missing piece return this season, Brandon Teuscher (nine sacks), its best defensive lineman. Teuscher didn't play in last season's final regular season's six games after suffering an injury but was back at full force this season.
Benjamin Franklin's secondary stepped in last week with five picks in the first round win over Page.
Benjamin Franklin recorded its first two winning seasons last year and this year despite having one of the smallest enrollments (575 students) in the 3A. But Jefferies isn't using that as an excuse.
"The bar has been set," Jefferies said.
3A playoff notes
"Pusch Ridge Christian's is a senior-heavy group that works hard, loves each other like few teams I've been around, and they are very unselfish," coach Jerry Harris said. "When we've had injuries and other adversity and have had to move guys around or ask guys to play in spots that they don't normally play, there is no drama. No fuss." Many of the seniors were on the field when the team won the 2015 championship and also remember the disappointment of last year's first round playoff exit. "Senior QB Christian Fetsis, statistically and practically, is the offensive leader of this team, and he's an even better human being," Harris said. "Linebacker Blake Reilly is the leader of our defensive front, and safety Mitch Maas leads our secondary. However, with the style of football that we play the real secret to our success this season has been the play of the offensive and defensive lines. Their growth and maturation throughout the offseason and regular season has been the difference." Pusch Ridge Christian is 11-0 and will play on Friday Northwest Christian, the team that eliminated it from the playoffs last year.
Northwest Christian (9-2), the No. 8 seed, continues to see improvement from its offensive and defensive lines, coach David Inness reports. The team only has 10 seniors but have done a great job in the second half of the season. Some of those seniors are T/DT Jaden Hoyt, OL/DL Harmen Schacklette, WR/CB Jackson Groff, WR/LB Zach Johnson, MLB/DE Spencer Valerius and OLB/QB Jarin Davis. The team starts 15 underclassmen, including Soph. QB Aren Van Hofwegan, FS/SB Dustin Innes, RB/CB Thomas Poe, QB Jonathan Metzger, and G/NT Derick Henderson. Northwest Christian and Pusch also met in the 3A final in 2015, with Pusch Ridge winning 14-7.
Sabino's first-year coach Ryan McBrayer took over a program that lost 30-plus seniors and 18 starters off of last year's state runner-up squad. Only 13 seniors suit up this year. "But they have filled vital roles and most are playing both ways," McBrayer said. "We have had sophomores and juniors step up in major ways in every aspect of the game.
"I think the desire to step out of the shadow of last year's team has really propelled this group." The team's offensive line, which has played a huge role this year, the coach said, is led by Quinn Detweiler and Frank Oviedo. The line has allowed RB Isaiah Smotherman (879 rushing yads) to break free and given Alex Bell (32 TDs, 2 INTs) time to set in the pocket and find receivers down field. Bell set multiple school records this year with the help of Luke Moran (831 receiving yards, 10 TDs), Bennett Nottingham (639 receiving yards, 10 TDs) and Larry Gerald (18.9 yards per catch). "We have a scrappy front seven led by linebacker Will Offerman and ballhawking secondary that has produced 15 interceptions," McBrayer said.
Seniors Nick Arnold and Trevor Heikes have done a good job of disrupting oppontents' run game, Florence's head coach Scott Howard said. Running back Nolan Susel (1,778 yards rushing, 28 TDs) and QB Jared Wood (20 passing TDs) are doing damage thanks in part to the offensive line, including three-year starter Quinton Tucker, a center, guard Tyson Trejo and tackle Eli Boyd-Volakis. "Linebacker Shelton Mathis is the heart and soul of our defense," Howard said. "He leads our team in tackles. Defensive backs Shane Mathis and Arvonte Neal have stepped up to lead our pass defense and limit team through the air."
American Leadership Academy (10-1), the defending 3A champ, dresses 32 seniors. "Many of them have played varsity for three years now and have done an amazing job of buying into our program and our coaching staff," Rich Edwards coach said. "The whole team worked hard the entire off season, and they have been able to continue that hard work and, combined with great preparation during the season."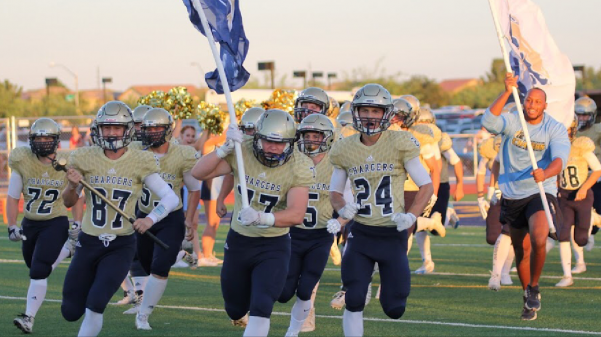 (Benjamin Franklin. Photo courtesy of Milchael Miles.)
---