5A FOOTBALL: Cienega held on to beat Marana 38-35
November 11, 2017 by Andy Morales, AZPreps365
---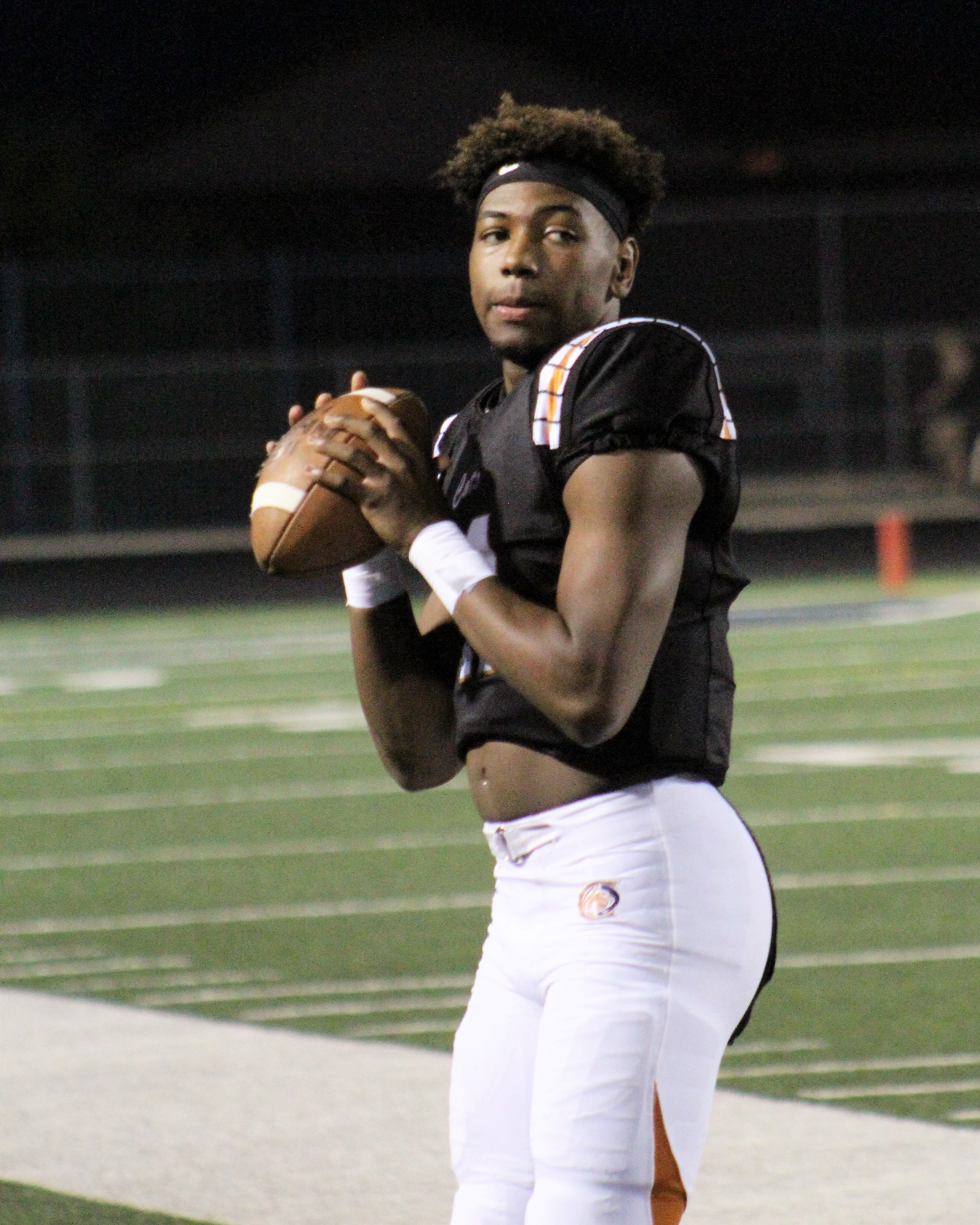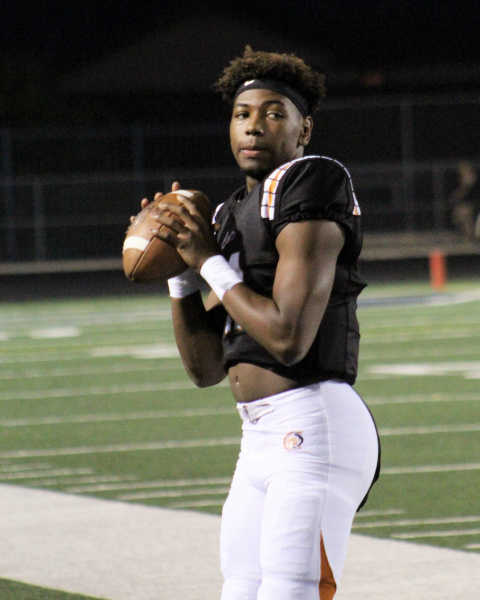 Jamarye Joiner (Andy Morales/AZPreps365.com)
Cienega head coach Pat Nugent called it a "miracle play."
It was a play that ultimately helped lead the top-seeded Bobcats to a 38-35 win over No. 9 Marana at home on Friday night in the 5A state quarterfinal round.
It was a classic scenario athletes often dream about. It was a play often reserved for the highlight reel. Down 21-10 to Marana in the closing seconds of the first half, Jamarye Joiner danced around the pocket a bit to give his receivers time to set up in the end zone, some 44 yards away. He let it fly.
"We actually worked on it on Thursday," Nugent said with a grin on his face. "Why not? It was a miracle play."
Junior wideout Terrell Hayward pulled the ball in, despite being in a crowd, with as much effort as if it was just a simple dump off. That's what happens when you practice "miracles."
A 21-10 deficit was turned into a more manageable 21-17 margin in less than a minute, and it changed momentum heading into the second half.
Joiner finished with 322 yards passing and 245 yards rushing. It was the first time the University of Arizona commit collected over 500 yards of offense in his career and the third time he surpassed 400 yards this year. He went over 400 yards in an epic battle against Ironwood Ridge three weeks ago and he went over 400 at Marana to start the season off.
But, if you showed up late on Friday night, then you missed some of the genius displayed by junior QB Trenton Bourguet. Marana (9-3) came in as the underdog to Cienega (12-0) but the first three minutes of the game had the standing room only crowd second-guessing that assertion.
Bourguet opened the game up with a 30-yard strike to Jesus Valenzuela and he followed that up with a 28-yard throw to Rene Valenzuela to set the Tigers up at the 11-yard line. Bourguet ran the next snap it from there and the Tigers found themselves up 7-0.
Not to be outdone. Joiner hit Steven Harshman on a 56-yard strike on his first play from scrimmage. He found Jerry White for 14 yards and then Thomas Webb, Jr. ran the ball in from 1-yard out to tie the game up 7-7.
Rene Valenzuela put the Tigers up 14-7 on 1-yard dash of his own with 8:12 left in the second quarter and then Ezra Figueroa nailed a 42-yard field goal to cut the lead down to 14-10. Bourguet started to eat up yardage with his feet and he ran the ball in from 5-yards out with 57.4 second left in the half to bring us to the 21-10 margin and the "miracle play."
The Bobcats came out of the locker room knowing they would get the first kick and Joiner capitalized on the momentum shift by sprinting up the middle for 80 yards to give the Bobcats a 24-21 Lead. Marana was forced to punt and Hayward ran for another TD in to build the Bobcat lead to 31-21 with 4:24 left in the third.
The Tigers were stopped again and Joiner hit Terrell Huggins from 26 yards out to give the Bobcats what seemed to be a safe 38-21 lead heading into the fourth quarter but Bourguet was still somewhere on the other sidelines.
Bourguet drove his team down and he found Teon Simmons for 30 yards to cut the lead down to 38-28 with 11:51 left in the game. The Bobcats were forced to punt but the team got the ball right back on an interception from Rodney Rodgers, II.
Bourguet Threw for 232 yards and rushed for 134 more. In doing so, the junior standout became the eighth confirmed QB from Southern Arizona to throw for more than 5,000 yards in a career.
The Marana defense came up big again and took possession after a missed 50-yard field goal attempt and Bourguet put together another scoring drive with Tariq Jordan hauling in an 18-yard pass to cut the Cienega lead down to 38-35 with 1:28 left.
The Bobcats covered the onside kick and Joiner broke free on a long run to avoid another punt to help seal the victory.
"Our kids fought hard," Nugent added. "Marana is a really good football team and it means a lot to go 12-0 and not lose at home."
Simmons had 78 yards receiving for Marana and Alfred Ebunoha pulled in 66 more. Hayward had a game-high 172 yards receiving and Harshman had 87.
Cienega will advance to the semifinal round for the second year in a row and the Bobcats will face off against No. 4 Notre Dame next Friday, Nov. 17 at Marana Mountain View. The game is slated to start at 7 p.m.
Notre Dame (12-0) beat No. 5 Queen Creek 34-31 to set up the game on Friday night. This will be the first meeting between the two schools.
In other action, No. 3 Liberty 42 beat No. 6 Ironwood Ridge 28 and No. 4 Salpointe beat No. 5 Cactus 49-14 in the4 A quarterfinal round.
No. 1 Pusch Ridge beat No. 8 NW Christian 42-6 in 3A action while No. 4 Benjamin Franklin beat No. 5 Sabino 35-31. The Lions are now 12-0 on the year. The 2015 state championship team won 13 games in a row to win the title.
In 2A play, No. 4 Santa Cruz beat No. 5 Scottsdale Christian 47-12. The semifinals for 3A and 2A will be played on Saturday, Nov.18 at 6:30 p.m.
---