Purdy, Defense Shine as Perry Punches Ticket to Semis
November 11, 2017 by Tyler Carlson, AZPreps365
---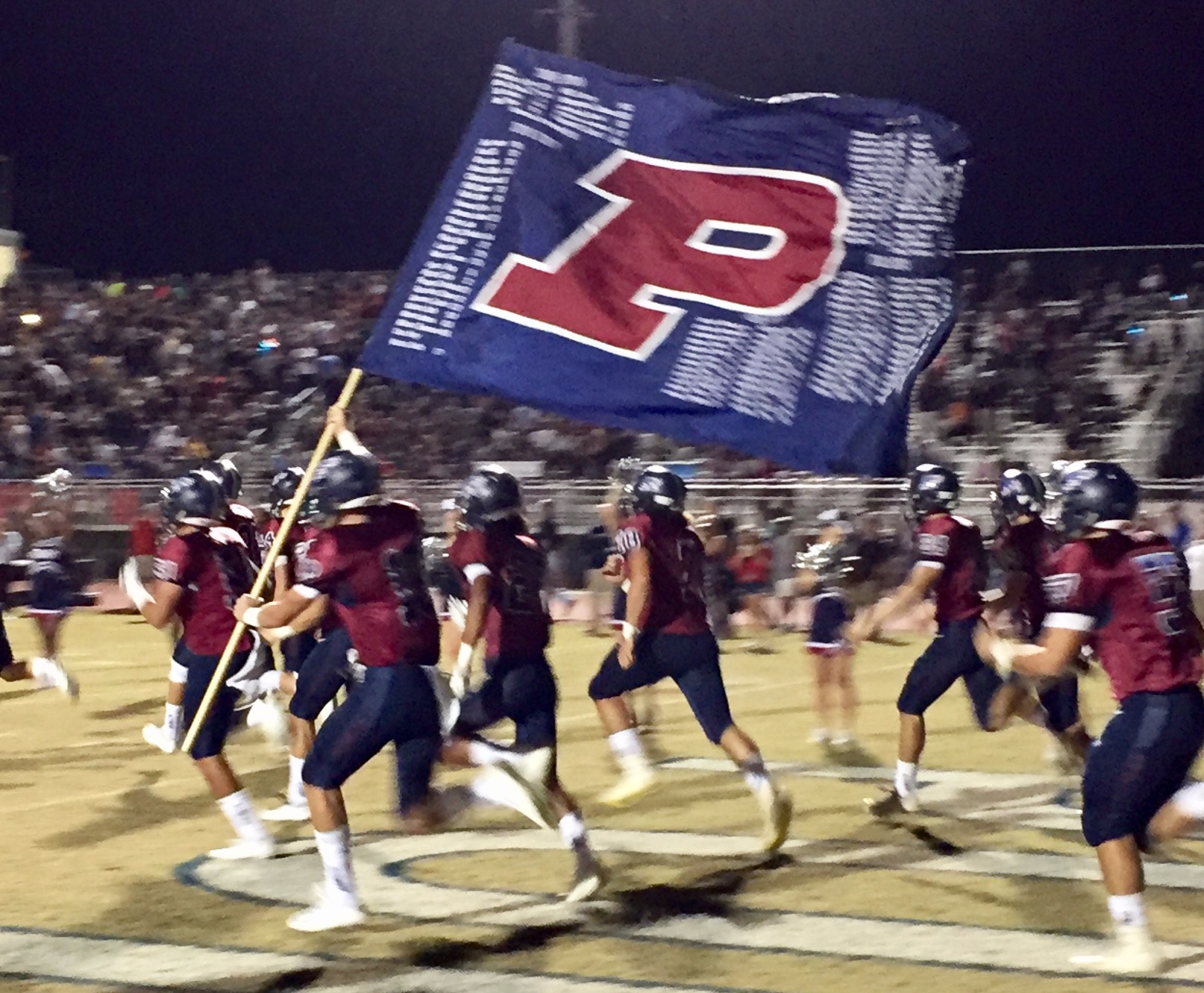 The last time Perry quarterback Brock Purdy and the Pumas faced off with Hamilton just three short weeks ago, Purdy put up 558 total yards and seven touchdowns, leading the Puma offense to 809 yards, as Perry edged the Huskies 63-60. In Friday's much-anticipated quarterfinal rematch, Purdy and the Pumas offense rolled again, this time dominating the scoreboard as well.
In front of an electric home crowd, Perry took down the fifth-ranked Huskies 72-14, highlighted by the performance of the highly-talented Puma quarterback.
Purdy, who is among the top signal-callers in the state, made things look easy Friday night, completing 22-of-30 passes for 520 yards and six touchdowns while rushing for another 81 yards and two additional scores, as the Pumas cruised to 716 yards of total offense and their second consecutive semifinal appearance.
"Brock is Brock, man," said Perry head coach Preston Jones after the win. "You give Brock some preparation and some time, and if he knows what they're going to do, he's hard to stop. I feel sorry for defenses that have to try and stop him."
Purdy and the Pumas offense wasted no time displaying its elite, quick-score ability, opening the game with a two-play, 70-yard touchdown drive, capped when Purdy found the team's leading receiver, Colby Dickie, for a 59-yard score.
Following a short Hamilton drive, Perry put the ball in the end zone again, this time in methodical fashion, using nine plays to go 73 yards, going up 14-0 on Purdy's second touchdown pass, 10 yards to tight end Tate Speaker.
But Hamilton would not go quietly, and displaying a quality offensive attack of its own led by star quarterback Tyler Shough, utilized three plays over 25 yards and one of 50 in consecutive drives to trade blows with the Pumas and cut the Perry lead to 21-14 as time expired in the first quarter.
But it would be all Perry the rest of the way, as the Puma defense came to life, shutting out the Huskies for the remaining three quarters while conceding just 106 yards of offense and forcing Hamilton into four punts, an interception and two turnover on downs, allowing Perry to pull away for good.
"We didn't make any adjustments," said Jones on the defensive turnaround. "We gave up some plays, (Hamilton's) got great football players, you're not going to shut a team like that completely out. (The defense) just made plays and we didn't make any adjustments, stayed to the game plan, and just played well."
The offense for the Pumas followed suit, and continuing its dominance, put up 473 yards and 49 points in the final three quarters and scoring on every offensive possession on the evening.
A large part of the Perry offensive success on Friday was the play of star receivers Dickie and D'shayne James, who combined for 280 yards, 198 of them from Dickie, two scores on the night, and five catches over 20 yards.
"Colby's a playmaker, so I get him the ball as quick as I can and he makes plays," said Purdy after the game. "Same with D'shayne, I could throw things at him a mile away and he'll come down with it with his size and speed. I'm very blessed to have them."
With the win, the Pumas punch their ticket to a second consecutive state semifinal appearance, a position a year ago which would see them fall to eventual 2016 6A state champion Chandler.
This year's matchup will be at top-ranked Mountain Pointe. The 10-2 Pride, who completed their own blowout victory, 44-7 over Highland on Friday, utilize a stout defense to complement a strong offensive run game. The team is highlighted by running back Gary Bragg and shifty quarterback Nick Wallerstedt, making it no easy task for the Pumas come Friday.
But for Jones, the key to success starts with keeping things simple.
"We got to stay the course, one game at a time," said Jones looking ahead to next week. "I know it's very cliché, but it's never the bigger truth than right now. Mountain Pointe's a great football team, some unbelievable athletes we're going to have to try to figure out how to stop."
Purdy echoed his coach's sediments concerning the approach moving forward.
"We're just going to break down the film and go hard at practice and in the weight room," said Purdy. "We had a lot of young guys last year, so I know that this year we're going to be hungry for it and we'll get after them."
---