Washington's Little uses football as a guide for life
November 12, 2017 by Ryan Sharp , Arizona State University
---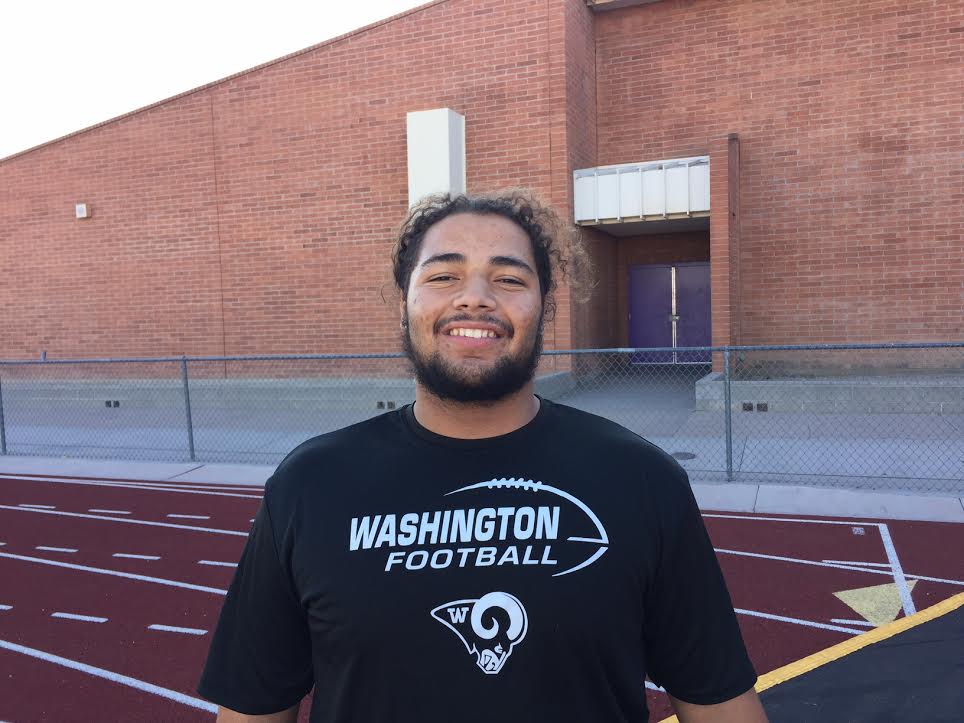 Washington High School senior Isaiah Little took the practice field wearing neon green tights and began stretching.
He stepped aside from warmups to work with the kicker. Little is the team's holder and also plays offensive and defensive line.
Little loves football. His coaches and teammates all say the same thing about him, that he has incredible passion.
Life has not always been easy for Little, but he said football and his family given him the tools he needs to be a better man. Little is one of 10 boys in his family, and he also has six sisters.
"It's a big football family," he said. "We're all together, basically like a team. We all work together, we stick together through thick and thin. We go through arguments just like a team, but we're a family so we're there for each other no matter what."
All but two of Little's brothers attended Washington, and some of them used to coach at the school.
Little's nephew played for the Rams as well, and was a part of what he considers one of his best career plays.
"Sophomore year, we were on the 25- or 30-yard line and we ran this play called 'Eight Toss' where the guard pulls and has to hit out the defensive end," Little said. "I made the best block I think I ever made in my whole life, and my nephew, Nathaniel Little, ran it in for a touchdown, untouched. It was great."
Family has also aided in Little's development as a man and a leader, Washington coach Tim Mayfield said.
"Last year his dad had some some medical issues and he was missing some things," Mayfield said. "But then we just sat down and talked about it and I understood where he was coming from. At that point, you could see the difference between a kid and a man realizing what's important in life."
"Football is a great game, it's fun to play, but I think he also understands that what he learns on the football field, he can translate into his life."
Mayfield is also one of Little's teachers and said he is a strong leader on and off the field.
"He's involved with our Student Government here on campus and all the kids look up to him," he said.
"It's not just about his playing ability, it's his positive attitude and his focus on the task at hand. He's about pushing kids to get the most out of them, which is hard to do as a 17-year-old kid, and a lot of kids look up to that."
Little's teammate, senior Deaonte Morgan, agrees that his leadership skills are strong.
"He's one of those people on the field who knows everything, Morgan said. "He'll tell you what play to do, and it'll be the right play. He'll tell you what spot to go to, and it'll be a good call. It's like playing with a coach."
After graduating, Little hopes to continue playing football while attending college.
"I really see myself doing it, and using football as a guide and motivation."
"He's a hard-nosed kid and a great leader," Mayfield said. "He's definitely one of those kids you'll remember coaching five or ten years from now."
---