Heart Over Height - Emma Whitehead Commits to Wisconsin Volleyball
November 14, 2017 by Katie Thomas, Arizona State University
---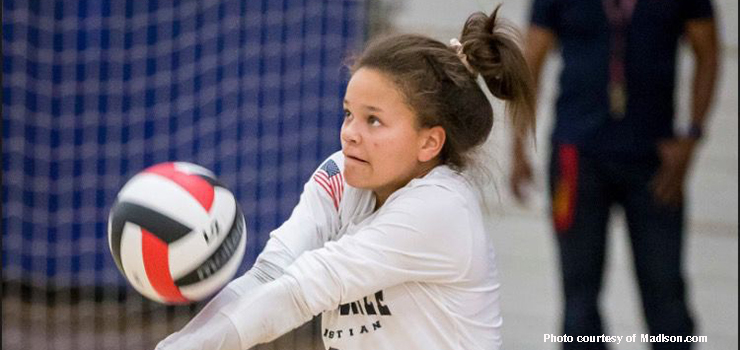 SCOTTSDALE — Height is often an advantage associated with being a volleyball player, but not for Scottsdale Christian's Emma Whitehead. Height may not be on her side, but she makes up for it with pure grit.
"People always mention to me how small I am," Whitehead said. "But this just pushes me to prove to them that I don't care if I'm small, I can still accomplish my goals."
Standing at just 5-foot-3, the junior libero was the smallest player on the Eagles roster this year. Being the shortest on the team isn't anything new for Whitehead, but it's never let her stray away from her ultimate goal of playing volleyball for the University of Wisconsin.
This fall Whitehead had found out her long-time dream would be coming true as she was offered a position to walk-on with the Badgers by coach Kelly Sheffield in 2019.
"I have been wanting to play at Wisconsin since 7th or 8th grade," Whitehead said. "Everyone knew how bad I wanted to play there."
Small body, big work ethic, bigger heart.
"Emma doesn't play like a 5'3 defensive player," Scottsdale Christian coach Kim Ohlinger said. Ohlinger, Whitehead and company are just coming off a 2A state volleyball championship. "Her court presence is more of like a giant. She feeds off every opportunity to step on to the court and play her game."
The opportunity to play the game she loves in college does not come easily but Whitehead has willingly put in the work in for it. She had attended the Wisconsin volleyball camp for the last three summers.
When she's not at Scottsdale Christian Academy's high school practice or club practice with the Arizona Storm, she's working with her strength and conditioning coach, Brian Lang, at BroFit Sports Performance.
Any coach of Whitehead's had nothing but positive things to say about her.
"Some kids are willing to do the work, other kids are willing to do anything and everything to achieve their goals and that's the type of girl Emma is," Lang said.
Lang agreed that today recruiters and colleges are looking for girls with height and hops, so athletes likes Whitehead typically go unnoticed, but added that Whitehead's speed was a major key for her recruitment along with her defensive effort and passing abilities.
Although her skills and stats are quite impressive, as she totaled a team high 233 digs, 247 serve receptions and a 95.8% serving percentage in her junior season, she is more highly praised for her character and charisma.
"On and off the court her dynamic personality and fierce competitiveness combined with her love for people and volleyball is unstoppable and a joy to watch," Ohlinger said. "You don't come across players like Emma often that encompass the full package."
The full package would include the skills, the work ethic and the attitude. Her strength and conditioning coach pointed toward her selflessness as a huge factor to her success as well.
"She will get more excited about one of her teammates getting a kill than about anything she does," Lang said. "Her attitude is positively contagious."
Whitehead agreed that she feeds off the success of her teammates.
"My positivity comes from my love for the game," Whitehead said. "I'm excited to be in that match or practice at the time and getting better and seeing the success of my team and teammates always gets me pumped."
The University of Wisconsin's 2019 recruiting class so far consists of four other athletes ranging from 5'7 to 5'11, but don't count out 5'3 Emma Whitehead just yet. She tends to persevere.
---