Football: Casteel stays perfect, ousts American Leadership
November 18, 2017 by Les Willsey, AZPreps365
---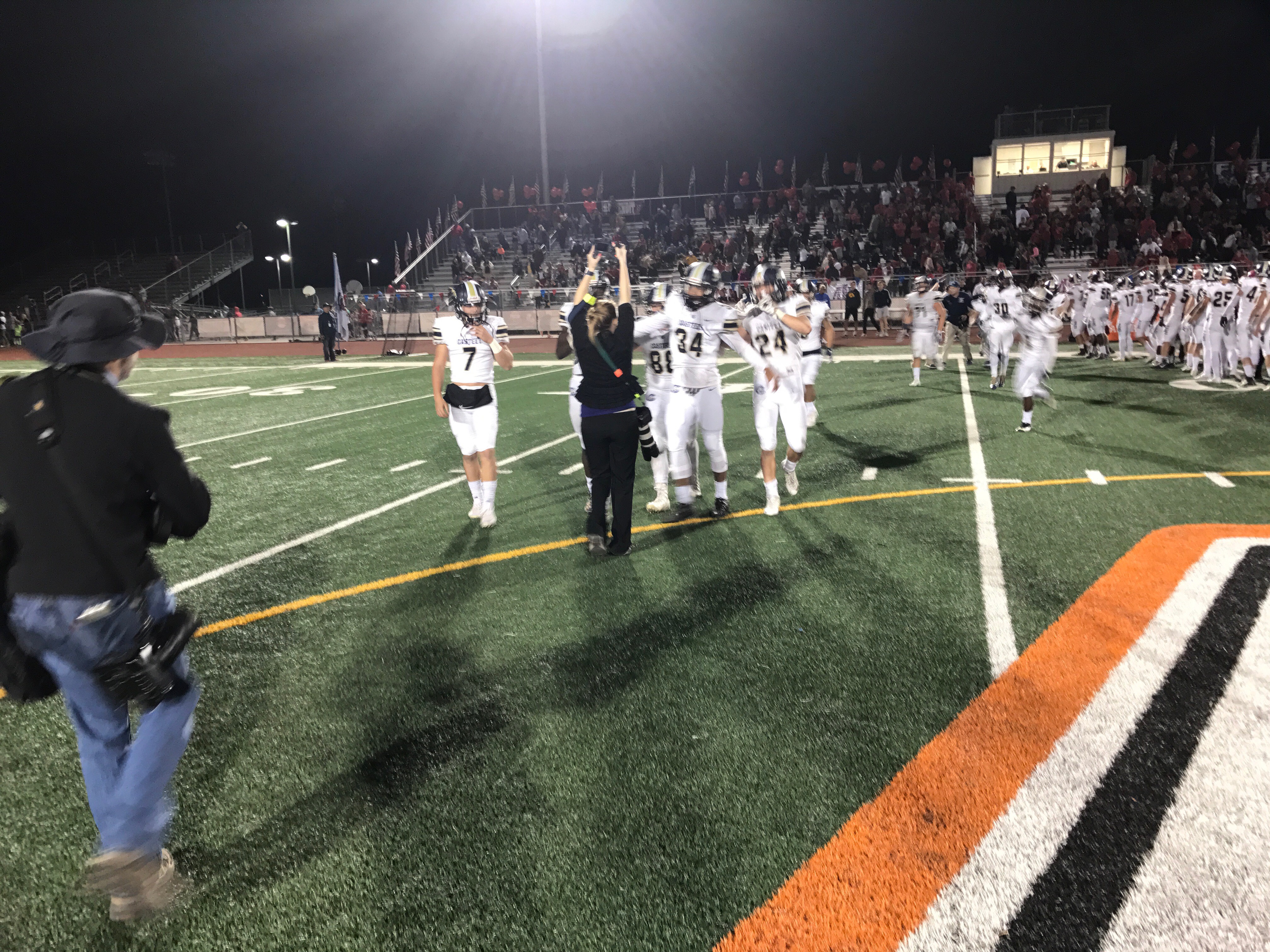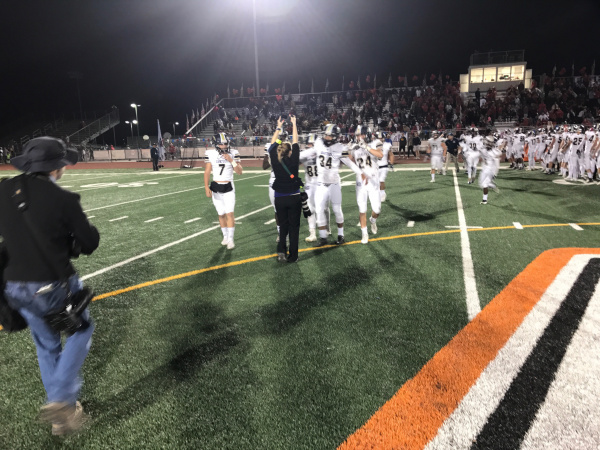 Casteel players begin celebrating after their 28-21 win over American Leadership in the 3A semis (AzPreps365 photo)
And Casteel makes three.
As in three Chandler schools playing for football championships over the next two weeks. No. 3 Casteel entered the bright lights of a title game appearance Saturday night by scoring 21 first-quarter points and hanging on late to upend defending 3A champ and two-seed American Leadership Academy, 28-21, in a semifinal at Campo Verde High School. Chandler High and Perry qualified with 6A semifinal victories on Friday night.
Casteel (13-0) battles No. 1 Pusch Ridge, the only No. 1 seed in all classes to reach a final, next Saturday Nov. 25 for the 3 crown at 6:30 p.m. at Campo Verde. Pusch Ridge eliminated No. 4 Benjamin Franklins, 47-7, in the other semifinal. Casteel, under the tutelage of coach Spencer Stowers and staff, will play its final 3A game next week before moving up to 5A for 2018.
American Leadership finished 11-2 with its losses to Pusch Ridge and Casteel.
Casteel threatened a rout early on bolting to a 21-0 lead 6 1-2 minutes into the contest. The Colts scored on the first play from scrimmage with junior quarterback Gunner Cruz throwing a 55-yard TD strike to Jamie Lewis. Cruz went on to throw two more TD passes in the game and finished the opening half with 268 yards passing.
Casteel's second TD came after a turnover - an interception by Kyle Pointer in Casteel territory. The Colts marched 61 yards in nine plays with running back Mack Johson scoring on a 4-yard run with 7:26 left in the quarter.
Cruz's second scoring pass of the quarter came at the 4:38 mark. A 73-yard bomb to wide open Khyheem Waleed on a thrid-and-18 that made it 21-0.
American Leadership suffered three turnovers in the first half, but managed to carve out a 67-yard, 11 play drive just before halftime to cut the margin to 21-7. Tarrik Workman did the honors with a 1-yard plunge.
Casteel played it much more conservatively in the second half, content to run the ball often with Johnson. A 65-yard drive using 11 plays was capped by a Cruz to Brandt Goodwin 23-yard TD. Goodwin may a great catch in the end zone outbattling defenders to push the lead to 28-7.
The play shouldn't have counted as Goodwin stepped out of bounds on his rout and was the first one to touch the ball on his team making him an ineligible receiver.
Undaunted, however, American Leadershiip mounted a comeback midway through the final period when all seemed lost. Defensive back Josh Eames stepped in front of a pass in the flat by Cruz and returned oit 24 yards for a TD to pull the Patriots within 28-14.
American Leadership followed by recovering an onside kick on he ensuing kickoff and marched 50 yards in less than two minutes to come within 28-21. ALA quarterback Matthew Nevill tossed a 20-yard score to Carter Taylor.
Casteel recovered a pooch kick next and was able to record a couple first downs with third-down conversions and ran out the clock to preserve the triumph.
---