2A football: Santa Cruz's D helps keep title dream alive
November 19, 2017 by Jose Garcia, AZPreps365
---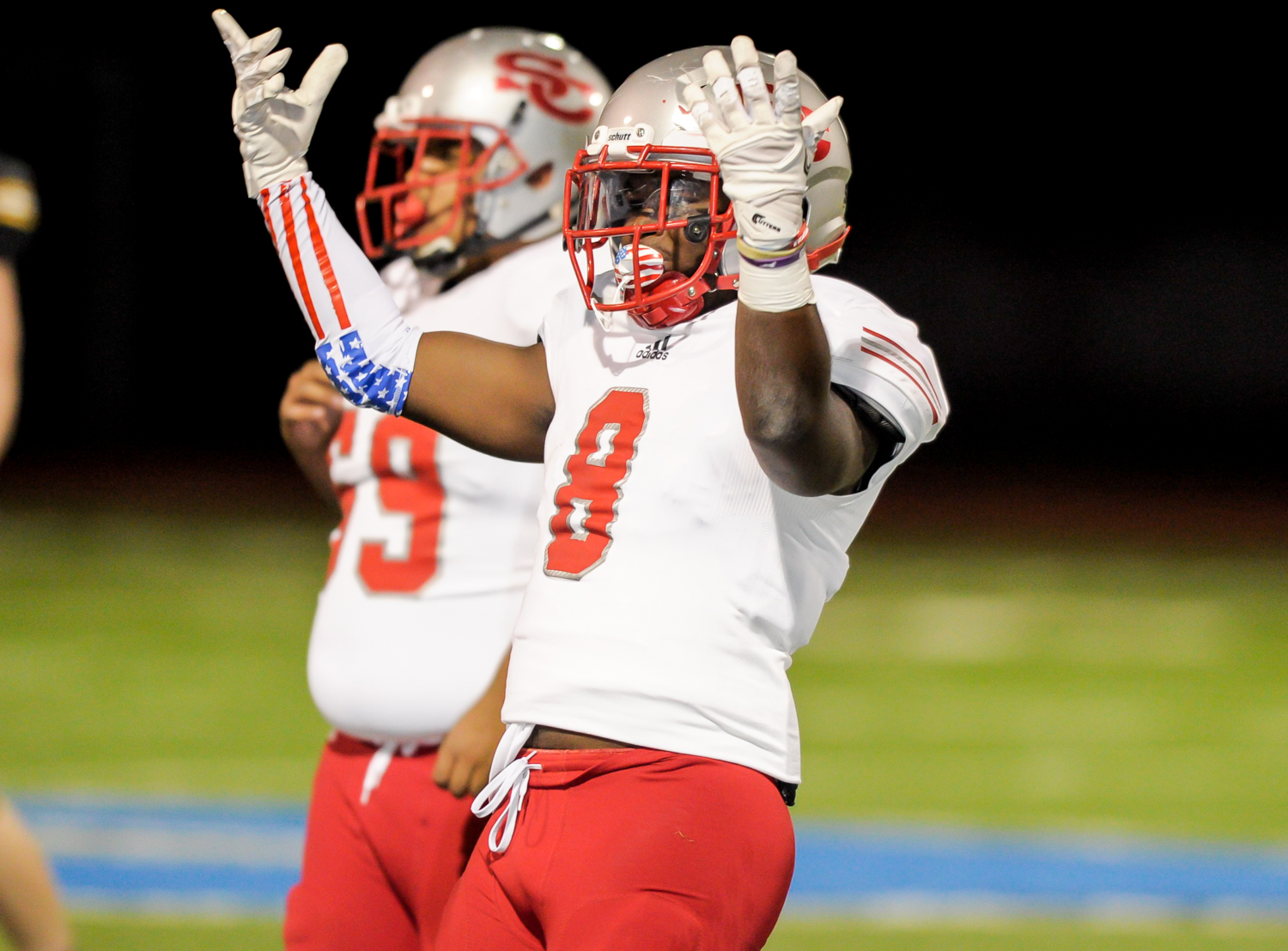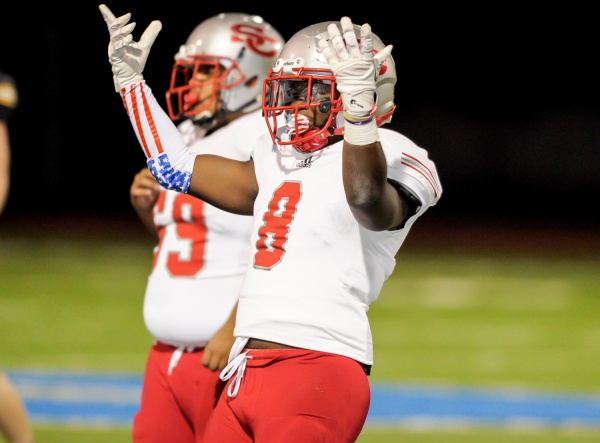 (Running back Titarro Jones and his Santa Cruz team will play for the 2A title on Saturday against Thatcher. Photo by Darin Sicurello/maxpreps.com)
Santa Cruz was dealt, it seemed, another disappointing semifinal fate near the same end zone.
Last year, a fourth quarter goal line stand in the east end zone at Fountain Hills High helped keep Santa Cruz from advancing to last year's 2A Conference championship game. With about four minutes remaining in Saturday's 2A semifinal, a Round Valley interception in the same area where Santa Cruz's 2016 season ended, gave Round Valley a chance to crush undefeated Santa Cruz's state title aspirations this year.
It was only the second interception Santa Cruz had thrown this year.
But a senior, Joel Salazar, didn't allow the semifinal blues to return to his sideline. The defensive back intercepted a Round Valley pass with about 1:25 remaining to help seal a 24-21 win and send Santa Cruz's history-rich football program to its first title game appearance since 1990.
Its opponent in Saturday's 2A 1:30 p.m. title match-up at Campo Verde is the 2016 champ and Santa Cruz semifinal slayer Thatcher.
"It's going to be an emotional game," Ramirez said. "It's redemption year. That's all we've been saying from the beginning of the year."
Thatcher didn't have to sweat out this year's semifinal like last year, as it cruised by Phoenix Christian, 40-14, in the first 2A semifinal game at Fountain Hills.
Thatcher's potent run attack scored all of its touchdowns on the ground Saturday. Thatcher's (13-1) defense hasn't allowed a 2A team to score more than 20 points this season.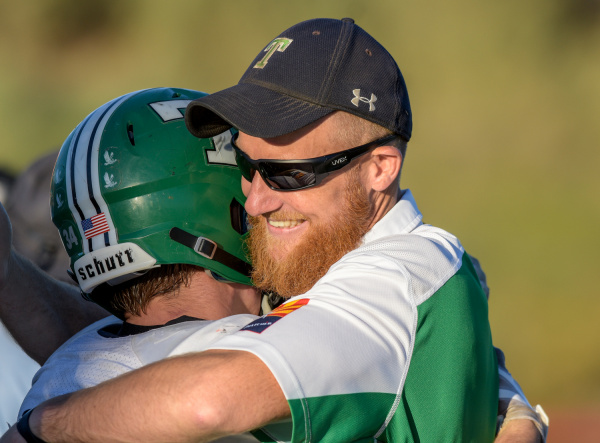 (Thatcher coach Sean Hinton is all smiles after his team's semifinal victory. Photo by Darin Sicurello/maxpreps.com)
For Round Valley (12-1), its defense hadn't allowed more than 14 points in a game this season leading up to Saturday, when Round Valley's young team went ahead 14-0 in the first quarter. But Santa Cruz's 17 points in the second quarter was one of the turning points in the game.
A 24-yard Edgar Cota field goal, a 23-yard run around the right side by Alex Wyble-Meza and 22-yard pass from Jesus Cosillos to Samuel Camacho gave Santa Cruz a 17-14 cushion, leaving Round Valley trailing for one of the few times this season. Santa Cruz hadn't been tested in the fourth quarter this season until Saturday, but the team's defense responded to its first second half gut check of the season.
Round Valley's fake punt attempt in its second half opening drive was thwarted, giving Santa Cruz (12-0) a short field. Cosillos took advantage, connecting with an open Curtis Banks for the first points of the second half after the 18-yard score.
But a 32-yard pass play from Markas Adams to Brian Christensen-Yellowhorse helped set up Round Valley's final touchdown, a 2-yard pass to Kason Woolf, near the end of the third quarter.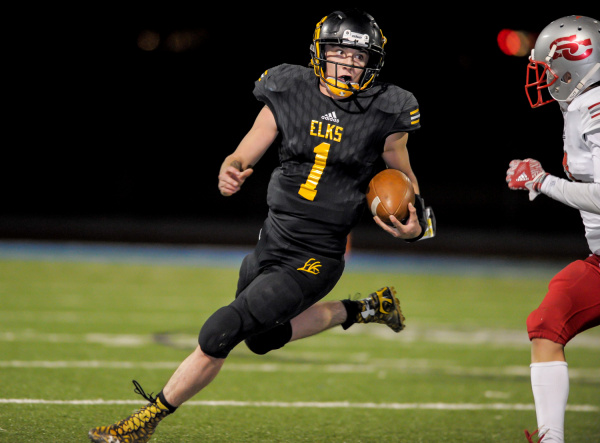 (Round Valley quarterback Markas Adams. Photo by Darin Sicurello/maxpreps.com)
Santa Cruz's defense then prevented Round Valley from doing more damage. Since Marcus Bell took over Round Valley seven years ago, the program has reached the state semifinals in four of the previous five seasons, but Bell's boys' chase for the program's first championship trophy since 1980 will continue.
Next year might hand Round Valley's its best chance, with only a handful of seniors graduating this year.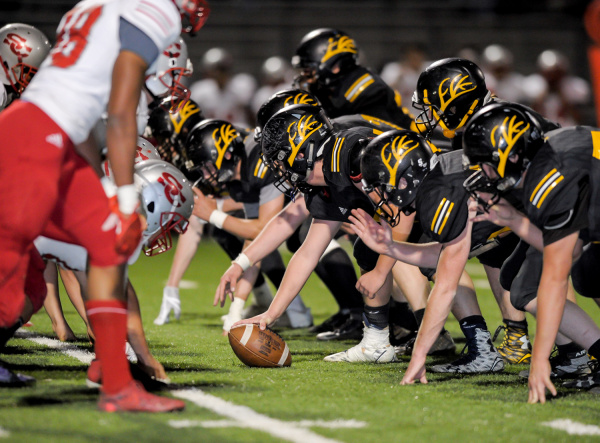 (Round Valley football. Photo by Darin Sicurello/maxpreps.com)
More photos by Sicurello from Saturday's 2A semifinals at Fountain Hills: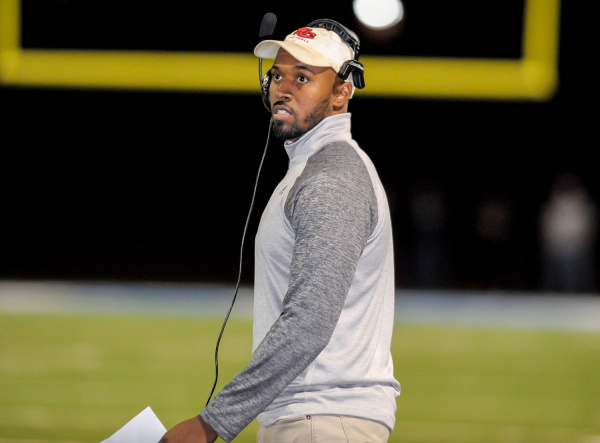 (Santa Cruz football coach Rishard Davis.)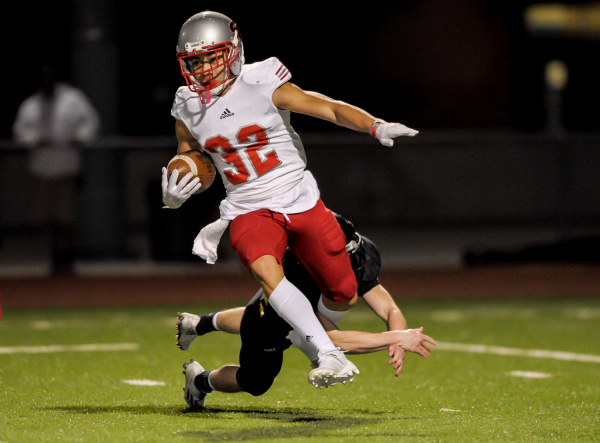 (Santa Cruz running back Raoul Perales.)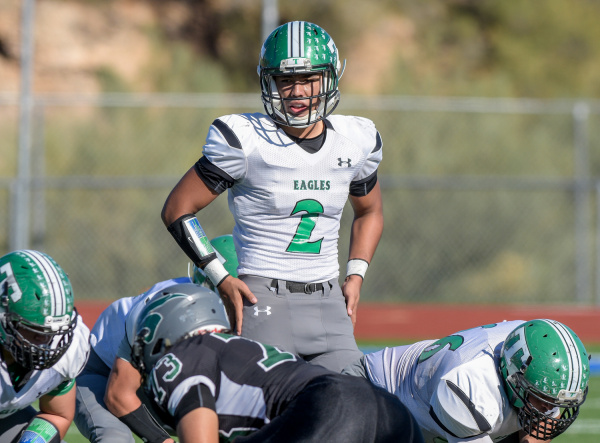 (Thatcher QB Tyler Roebuck.)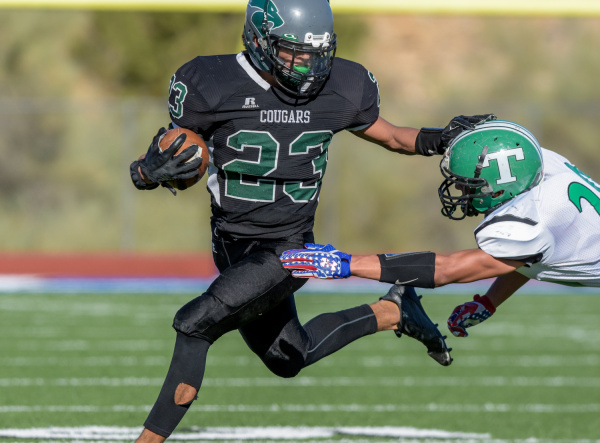 (Phoenix Christian's Corey Leary)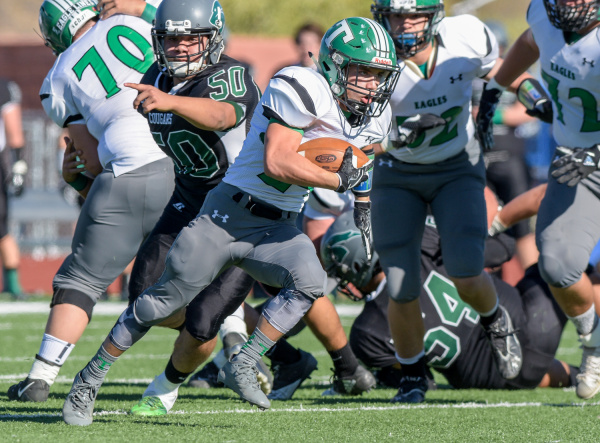 ---