3A football: Undefeated teams meet for 1st time
November 24, 2017 by Jose Garcia, AZPreps365
---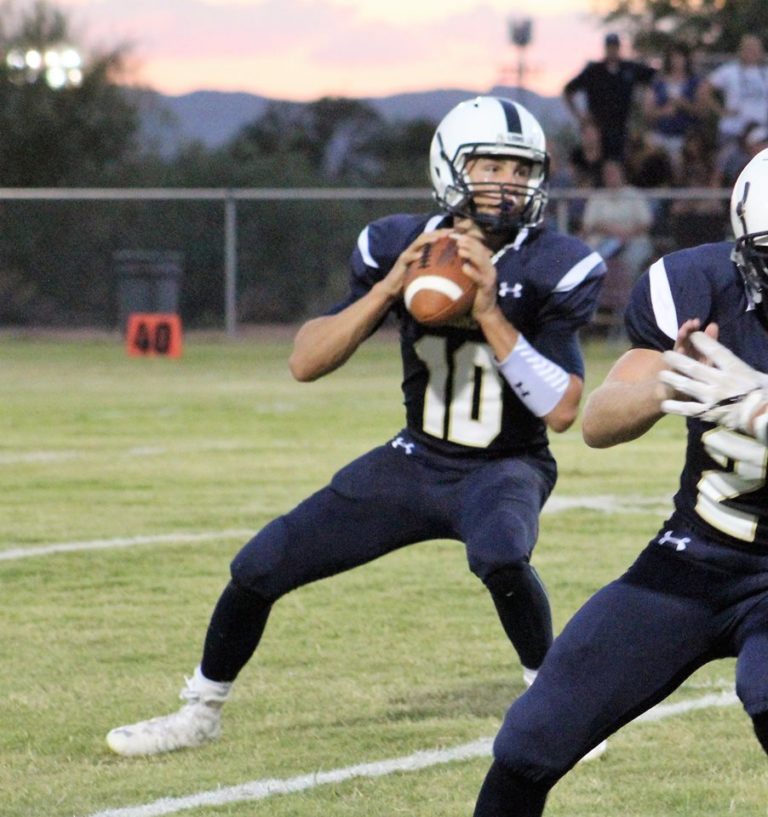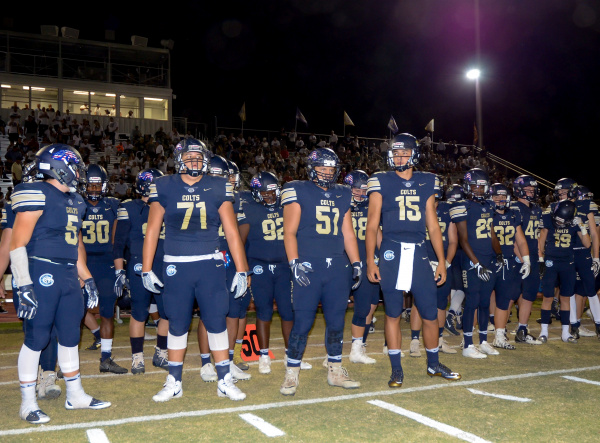 (Casteel's football team is undefeated heading into its first title game. Photo by Darin Sicurello/maxpreps.com)
Unless there's a big shift in the enrollments of Casteel and Pusch Ridge Christian, the game between the two 3A Conference teams will be their first and last meeting since Casteel is moving up to the 5A Conference next season.
It's safe to say that Casteel isn't eyeing the state runner-up trophy as its parting gift, and neither is Pusch Ridge after its 2016 3A season ends. So far, both 13-0 teams have proven that either one is worthy of taking the state championship trophy home this season.
They'll decide who gets what
Saturday at Campo Verde
. Pusch Ridge Christian is two years removed from its last title, and a handful of its 13 seniors still carry with them the experience of that championship run.
None of Casteel's seniors know what playing for a title feels like, because it doesn't have any seniors. Casteel didn't even know what winning a playoff game felt like until this season.
The young Casteel program's quick climb to the championship arena is reminiscent of another Chandler Unified School District school, Hamilton, which also took the express championship route shortly after it opened in the late 1990s. Seniors or not, Casteel is ready and loaded just like its opponent.
Pusch Ridge Christian's ground and pound game leads all of the state's six football conferences with a 333.5 rushing yards per game average.
"The real secret to our success this season has been the play of the offensive and defensive lines," Pusch Ridge Christian coach Jerry Harris said. "Their growth and maturation throughout the offseason and regular season has been the difference."
Besides keeping Pusch Ridge's offensive line from controlling the line of scrimmage, it's no secret who Casteel's defense needs to stop — quarterback Christian Fetsis.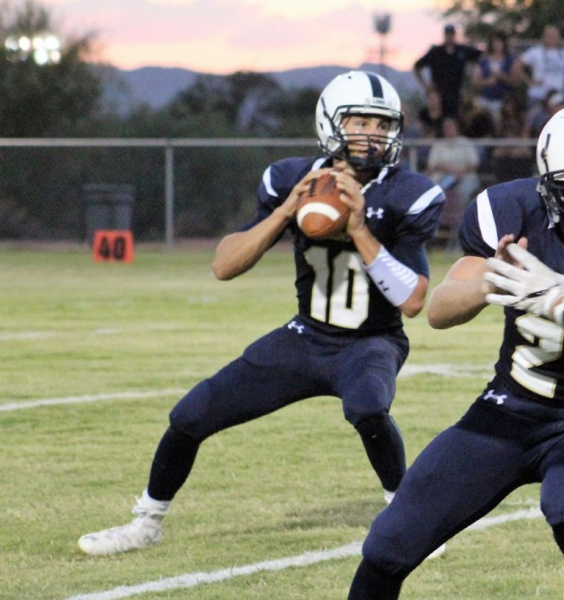 (Pusch Ridge quarterback Christian Fetsis. Photo by Andy Morales/azpreps365.com)
Fetsis has thrown 15 touchdowns and just three interceptions in 76 attempts, but more importantly the 6-2, 175-pound senior has rushed for a team-high 1,168 yards and 16 touchdowns.
Five other runnings backs have carried the ball 40 or more times for Pusch Ridge, including Tamerat McLeod (777 rushing yards, 13 TDs) and Ryan Garcia (623 rushing yards, 11 TDs).
"Statisctically and practically, (Fetsis) is the offensive leader of this team, and he's an even better human being," Harris said.
As for Pusch Ridge's defense, it is still the state's leader in fewest points allowed three games into the playoffs.
Linebacker Blake Reilly (90 tackles) and safety Mitch Maas (110 tackles) are big reasons why. Maas is also a scoring threat anytime he touches the ball, having scored nine rushing touchdowns (14 total) on 42 carries.
Pusch Ridge is one of only two teams in the entire state that hasn't allowed 100 points this season.
The other defense in that category is Casteel, which often gets overlooked, because Casteel also possesses the highest scoring team in 3A. Five sophomores start on Casteel's defense.
"It (defense) is a blue collar group," Casteel coach Spencer Stowers said.
They might start five sophomores, but the leadership roles on defense are being filled by junior safeties Cameron Brown and Casen Simonton and junior middle linebacker Jehrt Flitton.
On offense, junior quarterback Gunner Cruz, Casteel's first football player to receive a Division I offer, is the unquestionable leader of that unit as well as the team. The tall signal caller is coming off a season high 324-yards passing performance in the semifinals.
Sophomore Brandt Goodwin (1,011 receiving yards) and junior Zach Nelson (711 receiving yards) are Cruz's go-to guys. But Casteel also starts the fourth leading rusher in 3A, junior Mack Johnson.
"In the weight room is where it starts with Mack," Stowers said. "He's got a great awareness of finding holes, exploding and extending plays."
Johnson rushed for a career high 217 yards in a 35-26 win over Florence in the quarterfinals.
One of the team's biggest forces on Casteel's offense, 6-6, 255-pound left tackle Brandon Babcock, might not play in the 3A championship game, however. The junior has mononucleosis and didn't play in the semifinals.
If Babcock is on the sidelines, he'll be in good company. Sandy Lundberg, Casteel's principal, was diagnosed with cancer this season but hasn't missed a playoff game.
Casteel's football team has dedicated their season to Lundberg.
"Our program wouldn't be where we are at without her vision," Stowers said.
---