2A football: Title game is a rematch of 2016 semifinal
November 24, 2017 by Jose Garcia, AZPreps365
---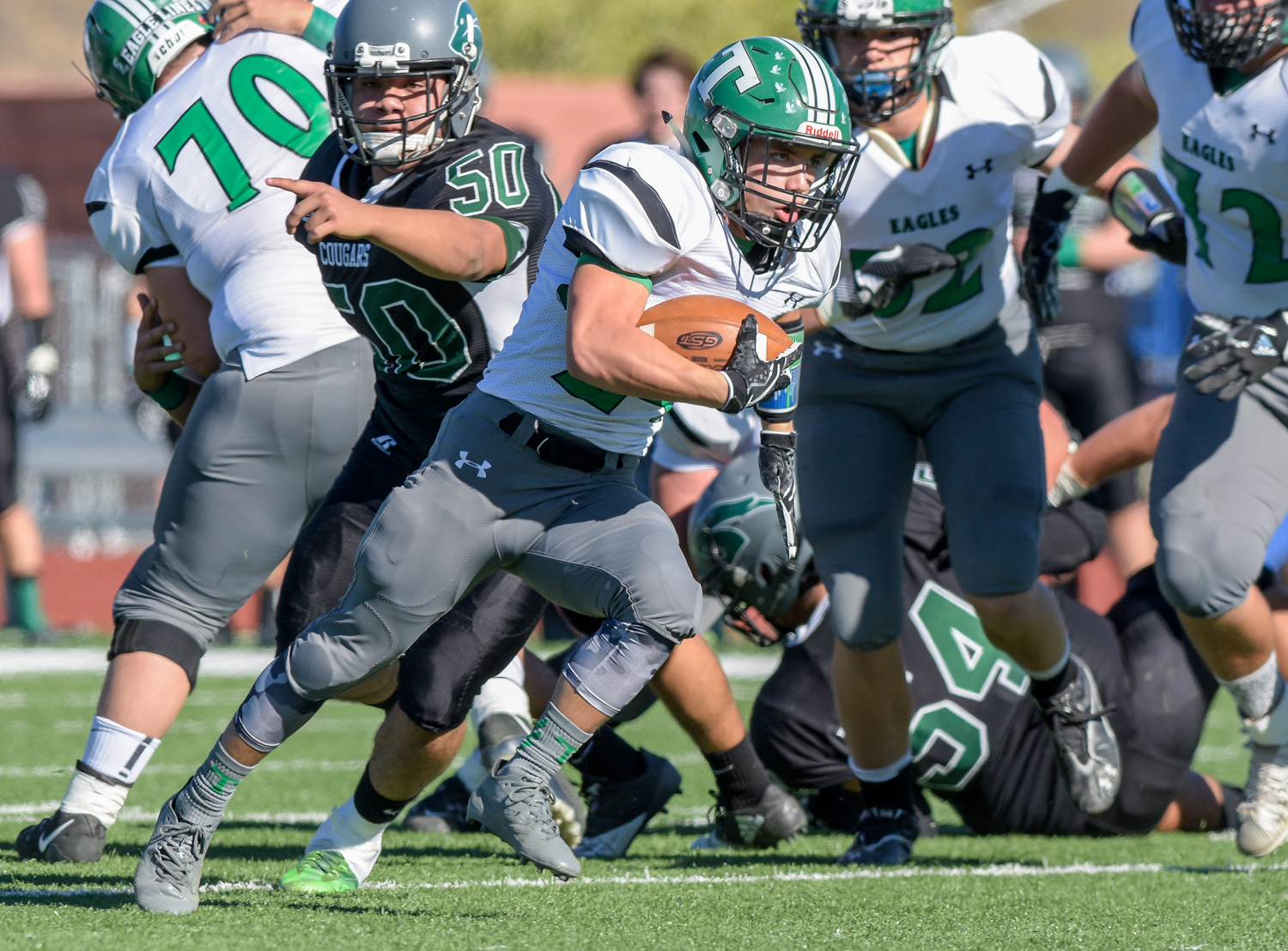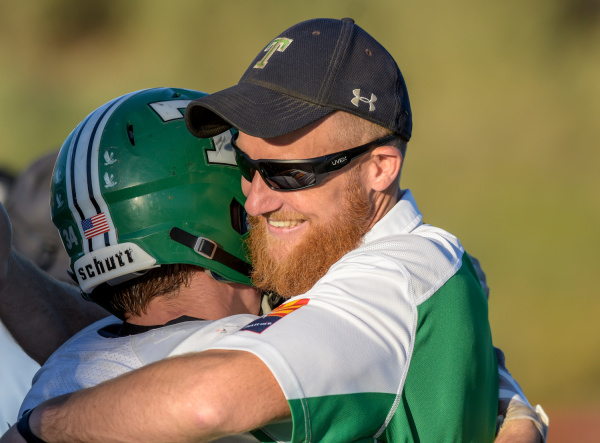 (Thatcher's head football coach Sean Hinton. Photo by Darin Sicurello/maxpreps.com)
As he was heading out of Fountain Hills High after Thatcher's state semifinal game, head coach Sean Hinton was asked by a couple of Eloy Santa Cruz's football fans if his Thatcher team won.
Thatcher and Santa Cruz are close to three hours apart, but the interest in Thatcher is high in Eloy. Here's why.
Thatcher handed Santa Cruz's proud football program an overtime defeat in last year's semifinals, the only 'L' in Santa Cruz's 2016 record. So when Hinton relayed to Santa Cruz's fans that his team won and advanced to the 2017 final, the Santa Cruz contingent then began hoping for another shot at Thatcher.
They got just that after their team refused to exit in the semifinals again, this time to another tough-minded program, Round Valley. Santa Cruz's 24-21 semifinal win set up the rematch all of Eloy wanted.
"It (2016 semis) is always on your mind," said Santa Cruz coach Rishard Davis after his team's semifinal victory. "We didn't want to lose it last year honestly. But Thatcher is a good team, and they deserved to win. At the same time, of course it's in the back of our minds.
"We've been thinking about them all year honestly. But just like Round Valley, Thatcher is going to play hard too."
The rematch might showcase the same teams but most of the threats are different this time around.
Santa Cruz still runs the ball a lot but is not as one dimensional. Last year, senior Devin Neal did most of the heavy lifting in the backfield for Santa Cruz.
This year, the broad shoulders of Alec Wyble-Meza are carrying the load. The senior burst onto the Arizona football scene midway through Santa Cruz's season and hasn't stopped running while leading the state's No. 2 yards per game run attack.
After the transfer sat during the first half of the regular season, all Wyble-Mesa has done is rush for a team-high 1,050 yards while averaging a whopping 14.4 yards per carry. But Thatcher's defense also needs to slow down seniors Titarro Jones (969 rushing yards) and Raoul Perales (787 rushing yards).
One of the X-factors in the 2A final is quarterback Jesus Cosillos. The senior has thrown 20 touchdowns and just two interceptions in 107 attempts.
"They (Santa Cruz) can run just like last year, but they throw the ball a lot more this year," Hinton said. "It will be a lot harder to defend. We have to keep them contained."
Like Santa Cruz, 90 percent of Thatcher's starters completed their eligibility last year but the reinforcements kept Thatcher atop the rankings.
The junior class is where Thatcher packs a lot of its power. Junior linemen Sam Nicholas and Quinten Mack are the lead cogs in Thatcher's veer run game.
They often open the lanes for Thatcher's committee of running backs. This year, Nicholas and Mack were on opposite sides of the offensive line.
"We felt their experience and knowledge could help the younger guys," said Hinton about placing Nicholas and Mack on opposite ends.
Running back/defensive back Quinton Turley and running back/linebacker Riley Morris are the other two junior heavyweights in the defending champ's lineup.
A new quarterback, Tyler Roebuck, took over the play calling this year for Thatcher. Roebuck was a wide receiver last year but his knowledge of his team's offense made it easier for Hinton to insert Roebuck.
As for Hinton's defense, it hasn't allowed an opponent to score more than 20 points in the game this year.
"Our hard hitting defense is our calling card," Hinton said.
The two players that pack the biggest wallop on D are linebacker Jordan Herbert (6-2, 210) and Turley.
When he was playing for Thatcher, Hinton also was a two-way player like some of this year's stars. Hinton has played or coached in five of the championships his program has won.
The first and only time Thatcher won back-to-back championships was during Hinton's junior and senior seasons (2000 an 2001).
"I'm always teasing my guys that my high schools teams are the only back-to-back champions in the school," Hinton said.
But he's also using that to motivate this year's team to duplicate the feat.
Hinton was hired by his high school coach, Don Conrad, Thatcher's athletic director. Some very qualified coaches, including 1A coaching legend John Bryant, applied for the Thatcher job.
"I thought they were stupid to give me a shot," said Hinton about his first head coaching gig.
Two state title appearances in three years as the boss.
There's nothing stupid about that.
Santa Cruz's football program's history also is filled with a lot of championship glory. But the program, which has produced five NFL players, hasn't won a title since its last title game appearance, in 1990.
In stepped Davis, now in his fourth season as Santa Cruz's coach. The coach has resuscitated Santa Cruz, which won seven championships between 1965-1990.
Davis guided Santa Cruz to its first back-to-back 10 win seasons over the last two years.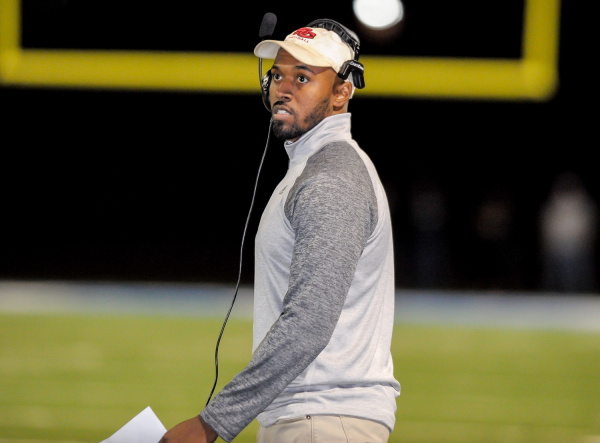 (Santa Cruz's head football coach Rishard Davis. Darin Sicurello/maxpreps.com)
---