Centennial's seniors pave way to sixth title
December 3, 2017 by Jose Garcia, AZPreps365
---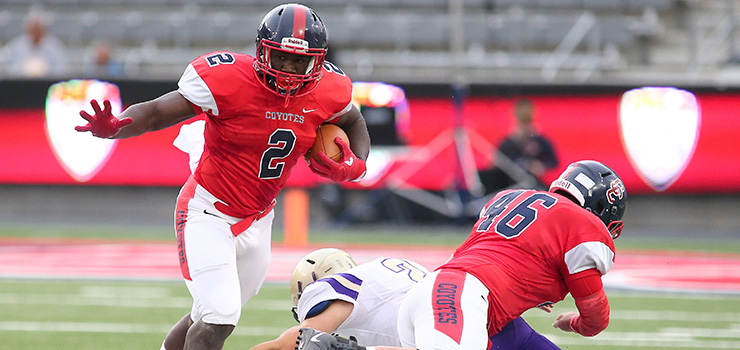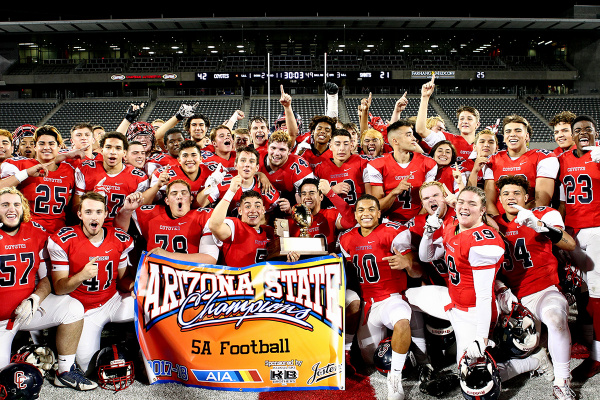 (MaxPreps photo)
Centennial didn't take long to script the 5A Conference championship ending that escaped the perennial power last year.
By the early part of the third quarter, Centennial had Saturday's game in hand behind its locomotive, Zidane "The Train" Thomas, a senior class that used last year's championship loss to fuel this year's run and a defense that put the breaks on Notre Dame's potent run game.
"I really have to tip my hat to the seniors," said Centennial coach Richard Taylor after his team's 42-21 title win over Notre Dame at Arizona Stadium. "Because after last year's game, we worked so hard to get to this game, and when things don't work out, it's just heart wrenching, just heart wrenching. The seniors were not going to allow that to happen again this year, and they came out and made sure it didn't."
Centennial (13-1) was the favorite to win last year's 5A crown but lost to Williams Field.
A close game was expected Saturday between two battle-hardened teams.
But Centennial began to take control in the second 12-minute period, when it when up 21-0, after a scoreless first quarter. Notre Dame (13-1) rushed for only 112 yards on 38 carries, 146.3 yards below its yards per game average.
Other than an 81-yard yard touchdown pass, Jake Smith, Notre Dame's versatile threat, never really broke free. Smith hardly escaped and neither did the fact that Smith received an offer from Alabama on Friday.
"We felt that we had to keep (Smith) in front of us, because there is only one kid (defensive back Dominique Hampton) that can catch him on our team," Taylor said. "I know that he was offered by Alabama, and, how should I put this, it was an encouragement to our kids, because our kids think Thomas is pretty good. And I think they wanted to make sure that Zidane had a better game than he (Smith) did."
Zidane left no doubt who the top back in the 5A was this year.
Running behind a veteran offensive line, Zidane had touchdown runs of 62 and 61 yards and totaled 273 rushing yards on 16 carries in his final high school game, finishing his 2017-18 campaign with 2,114 rushing yards and 26 touchdowns.
"We came up short last year, and it really hurt us," Thomas said. "Now this is a great feeling."
Taylor penned an ode to his star running back after the game.
"Zidane. Zidane. They call him the freight train. That's what they say," Taylor said. "And he plays big in big games."
Another player who stepped up big was quarterback Ruben Beltran.
The senior completed 10 of his 12 passes for 165 yards and one touchdown and also rushed for 51 yards and a touchdown. Another senior, Hampton, who committed to University of Washington, caught a touchdown pass and had an interception.
With the victory, Taylor became the first Arizona 5-6A coach to win six football championships.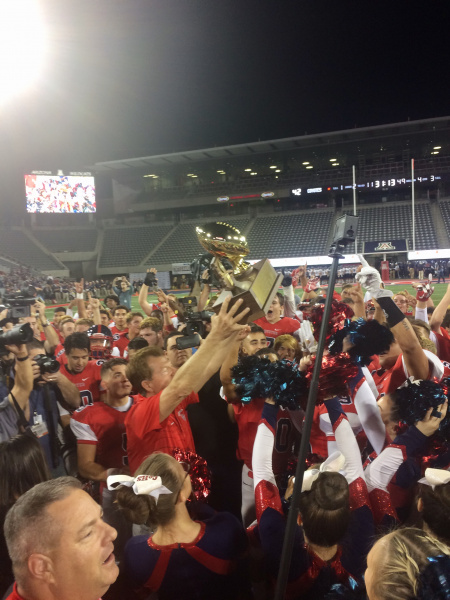 (Centennial head coach Richard Taylor lifts his program's sixth championship trophy. Photo by Jose Garica/azpreps365.com)
---