Boys soccer: Campo Verde bests Gilbert at Coyote Classic
December 5, 2017 by Les Willsey, AZPreps365
---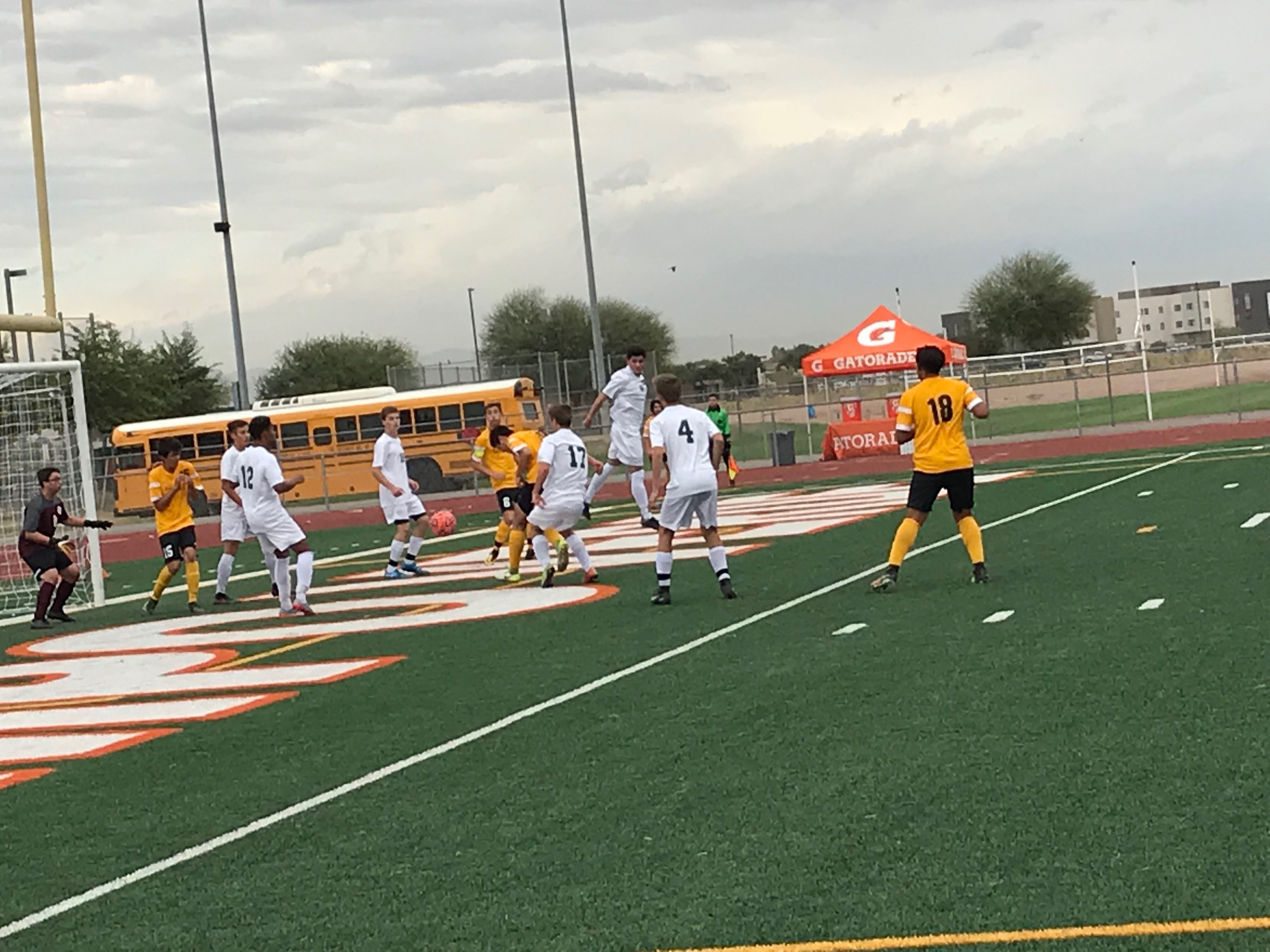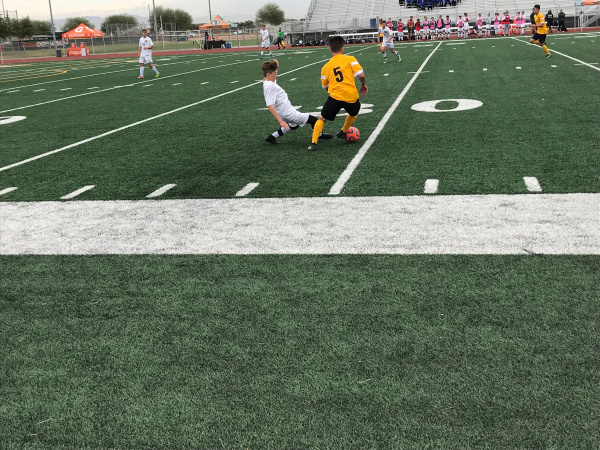 Gilbert's Evan Hamilton (5) tries to elude Campo's Nikolas Pallozzi on Tuesday (AZPreps365 photo
Gilbert and Campo Verde boys soccer were at the top of their games last season. Gilbert won the 6A championship and Campo Verde fell only in the 5A title match.
The teams opened pool play play in the Coyote Classic on Tuesday afternoon and if the early returns are an indication Campo is trending toward what it did last year while Gilbert is finding the going tough.
Gilbert managed to stay close for a bit more than a half before Campo Verde put things away with a three-goal flurry in a 6-2 triumph in A Division play on Day 3 of the tourney at Campo Verde High School.
Campo Verde (2-1-1 overall) with a win over Arcadia a tie with Chaparral and loss to Highland, received goals from five different players - two in the first seven minutes from senior forward Ethan Willson. Willson was the Coyotes' second-leading scorer last year.
Junior Colton Taylor tallied in the 32nd minute to make it 3-0 Campo Verde, but Gilbert gave Campo something ti think abour during intermission with its first goal by junior Evan Hamilton in the 35th minute.
Gilbert tightend the match more quickly as the second half began. Sophomor Dominic Lopez launched a nice corner to the far post that freshman Josh Rodriguez planted n the net via header.
"I think at half our guys were thinking we got up 3-0 easy and they scored against our second string so no problem," Campo Verde coach Drew Guarneri said. "We have a tendency to think we're better than we are at times, and all the sudden find out we're not."
Campo Verde got back to work a few minutes later with senior Alec Carroll feeding senior tri-captain Blaise Hall in the box for a 4-2 advantage. Less than a minute later Carroll punched home a shot from 30 yards out in the left corner of the net. Goal No. 6 came from promising freshman Jorge Chavez in the 64th minute, the first of his career. Guarneri believes more will be coming soon from the powerful leg of Chavez. Carroll and Willson lead Campo in scoring so far with three goals apiece.
Gilbert (1-3 overall) lost the majority of its starrting lineup from last year to graduation and is also without returning keeper Noah Rivera sidelined with a knee injury. Veteran coach Jeff Perry will have to exercise patience after his program achieved ultimate success a year ago.
The results thus far have shown the massive overall with 6-2 losses to Brophy and Campo Verde and a loss to Chandler i(2-1) n overtime. The Tigersi win came in overtime against Dobson (4-3).
---