Girls hoops: Mesquite defeats Valley Vista in champions battle
December 5, 2017 by Les Willsey, AZPreps365
---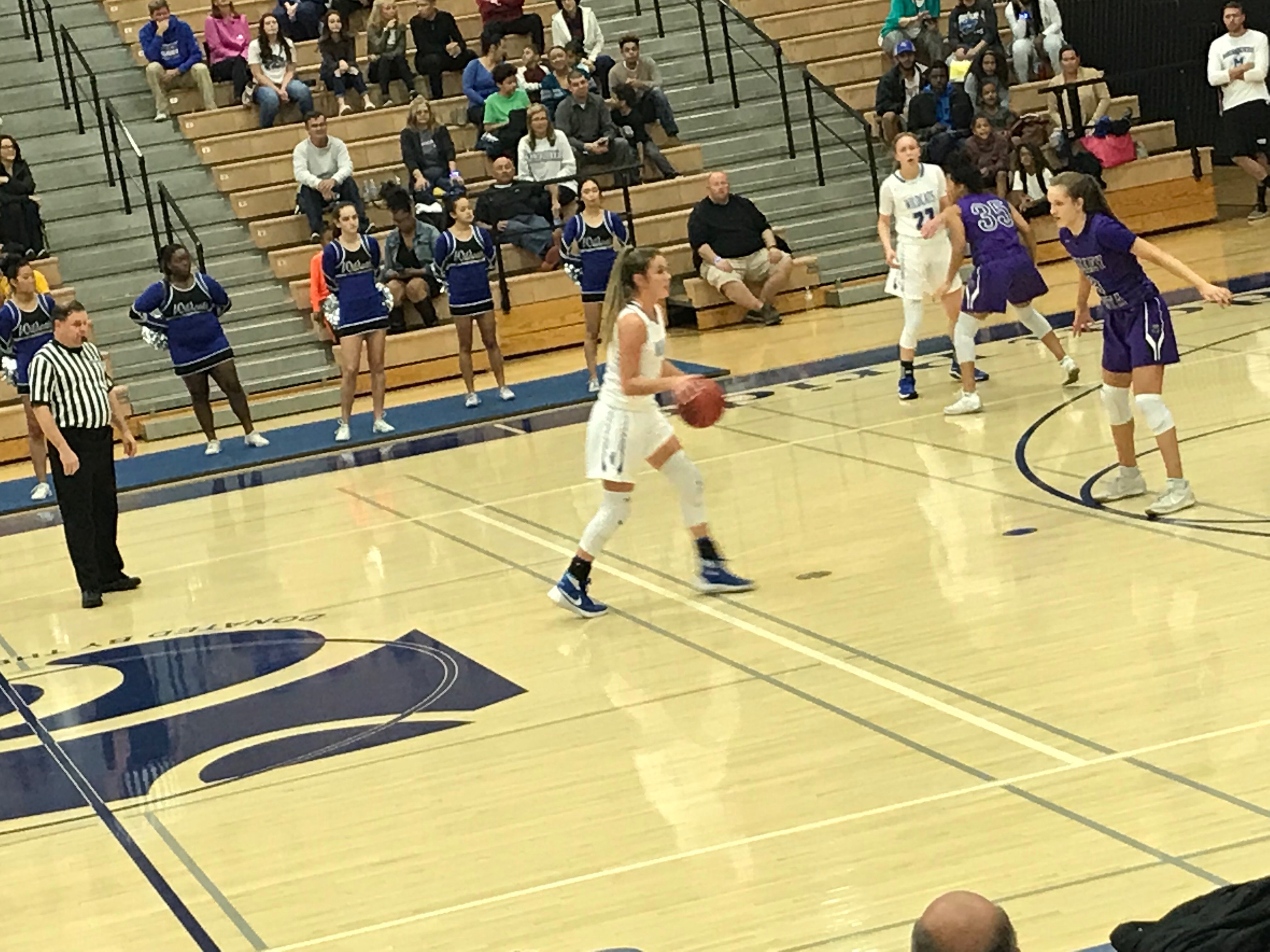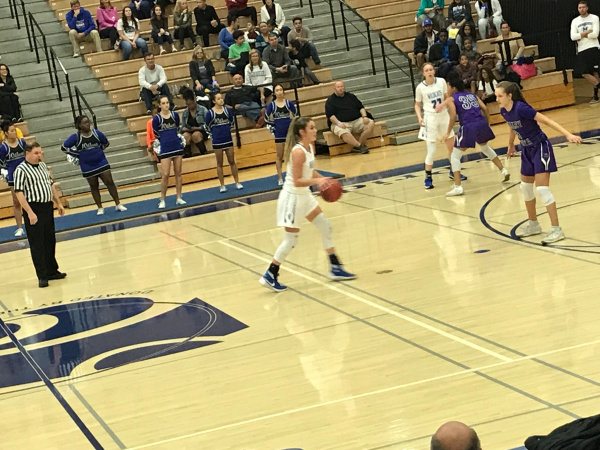 Mesquite's Shaylee Gonzales is guarded by Valley Vista's Taylor Chavez Tuesday night (AzPreps365 photo)
Mesquite's 34th consecutive win Tuesday night was somewhat extraordinary. The Lady Wildcats foe was no ordinary squad -- last year's 6A state champion Valley Vista. When the matchup concluded it was just another night at the gym for the East Valley's juggernaut girls hoops team.
Hitting threes to help fuel a double-digit lead in after one quarter and then filling up the basket with layups off steals and transition, last year's 5A champion Mesquite easily disposed of Valley Vista, 80-57, at Mesquite High.
Most fans arrived in anticipating a barn burner given the teams' pedigrees, but Mesquite (8-0) ruined that with its performance. As usual seniors Lindsey VanAllen and Shaylee Gonzales were the catalysts scoring slightly above their season average of 19 points each. VanAllen had 24 points and Gonzales 22 before she fouled out with 3:19 to play. The Wildcats' depth played a role as fellow starters Zyan Smith and Hailey Walker chipped in with 11 and 10 points, respectively. Gonzales is headed to BYU next fall and VanAllen to Santa Clara.
"These girls never stop working," Mesquite coach Candice Gonzales said. "I give them everything I've got and they give me everything they've got." Among Mesquite's wins thus far along with Valley Vista are last year's 4A champ Seton Catholic in the final of the Lady Hawk Invite, last year's 6A semifinalist Gilbert and 4A contender Pueblo.
Mesquite bolted to a 21-11 lead after the first quarter with four of its starters -- Gonzales, VanAllen, Walker and Natalie Weber connecting on threes. That got Valley Vista's attention a bit more on watching the perimeter. Mesquite, as it does with great frequency, used defense and transition to extend the lead to as many as 15 in the second period. VanAllen, who added five rebounds, five assists and four steals to her stat line, made layups off each steal - two in each half.
Mesquite gave Valley Vista (7-2) no chance at a comeback in the second half. The margin reached 47-26 late in the third quarter and remained quite comfortable to the final buzzer.
"We've shown we can play to any tempo," Candice Gonzales said. "The tempo was slow when we played Seton (40-35 win at the Lady Hawk Invite), and we played and had to play our betst defense of the year in that one. We're not one dimensional. We can adjust to whatever the style is."
Valley Vista's other loss this season was to Seton Catholic in the Lady Hawk semis. Coach Rachel Matakas' Monsoon have their own set of veterans led by Oregon-bound guard Taylor Chavez. Chavez led all scorers with 25 points, 17 in the second half. Still, that wasn't enough to forge a legitimate comeback after intermission. Valley Vista's scoring was essentially limited to Chavez and senior guard Terrysha Banner. Banner added 20 points while senior forward Clarissa Rodarte was limited to four points. Chavez, Banner and Rodarte entered the game averaging in double figures.
---