Coyote Classic Soccer: Perry girls, Chandler boys prevail
December 9, 2017 by Les Willsey, AZPreps365
---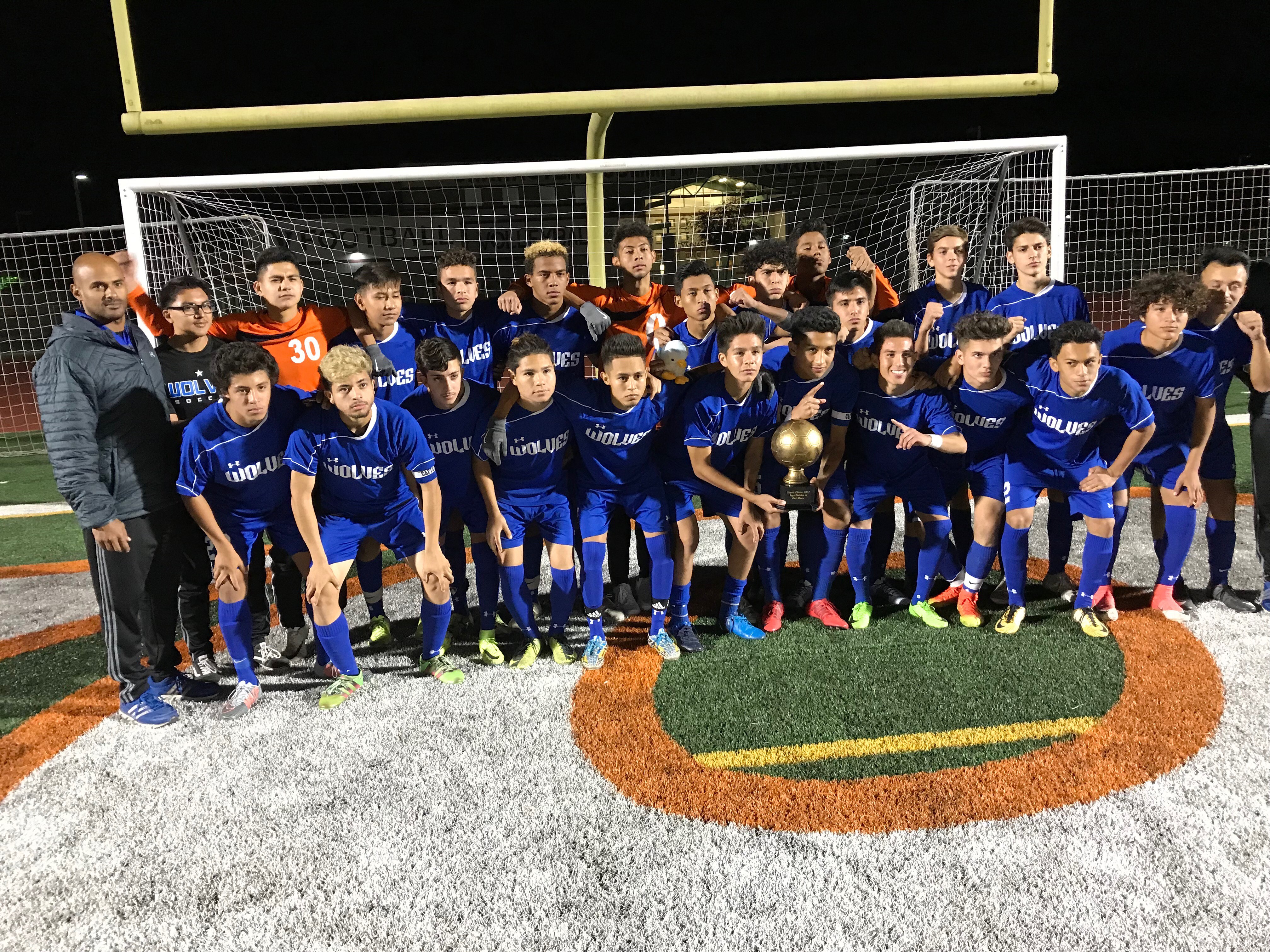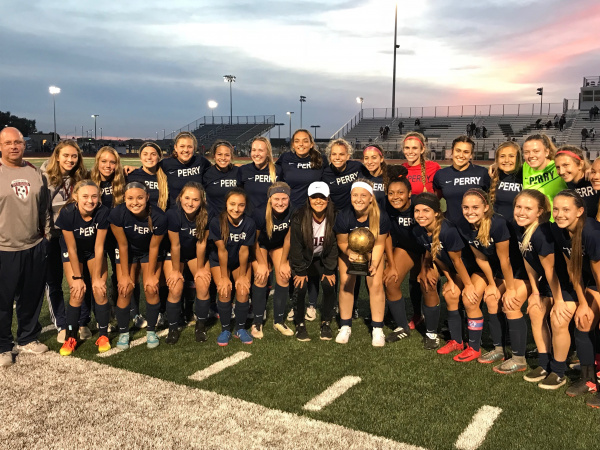 Perry girls soccer team displays the bounty from its repeat title at the Coyote Classic again (AzPreps365 photo)
Perry girls and Chandler boys took home the top hardware Saturday in the A Division of the week-long Coyote Soccer Classic at Campo Verde High School.
Perry had the look of state-title contender last year and that is definitely in the cards this season with loads of seasoned players back. The Lady Pumas topped always-tough Desert Vista, 3-1, behind the second hat trick this week by sophomore midfielder Brenna Alderson. Alderson scored twice in the first half to stake Perry to a 2-0 lead. She also tallied three times on Thursday in a pool-play victory over Gilbert. It's the second year in a row the teams played for the title. Perry won last year's Coyote Classic via shootout. Enterting Saturday's final neither team had allowed a goal in four tournament matches.
Alderson's last goal in the title match may have been the biggest. Perry (7-0) had its 2-0 lead shaved to 2-1 on a header by Desert Vista's Sophia Budge in the 70th minute. Desert Vista (5-1) turned up the heat on the attack in the final 15 minutes and had a couple other chances to tie during that stretch. Alderson netted her third goal in in the 75th minute for some much-needed breathing room.
"It was a good tournament for us," Perry coach John Roberts said. "We got a lot of players playing time to build confidence, and its what we needed to get. We've had some key injuries early and have had to rest players more than we'd like. Others stepped up. That's something you like to know as the season moves along.
"With Desert Vista you always know you're going to get a good game. This one was no different." Desert Vista, guided by veteran coach Marvin Hypolite, has played in four of the last five big-school title games.
Perry advanced to the title game earlier in the day with a 1-0 win over Basha. Desert Vista reached the final blasting Gilbert, 9-0.
The A Division boys title was pretty much a battle of reserves. Chandler coach Sasha Hunter and Campo Verde coach Drew Guarneri opted to give their back-ups a night in the limelight. Both teams were a little banged up and in Campo Verde's case was playing its third match in less than 24 hours. Chandler played its starting back line, but the rest of the lineups for both teams were non-starters.Chandler (6-0-1) prevailed with a 6-0 victory over defending tournament champion Campo Verde, scoring four times in the first half. Campo Verde has played for the tournament title each of the last four years.
The first three goals were via a hat trick from junior forward-midfielder Adam Kabaz. Kabaz was seeing just his second tour of action in the Wolves first six matches. The Wolves' leading scorer Jesus Garcia, delivered a hat trick in Thursday's pool-play match with Highland.
"Adam set the tone and opened some eyes," Hunter said. "He buried three prime shots. He stayed at practice the other day for some extra work. He looked good out there."
Also scoring for Chandler were Carlos Gonzales (penalty kick in the first half) and second-half goals by Gabe Waters and Alan Valadez.
Hunter is impressed with his team's early showing. The Wolves won the big-school title in 2015 with a senior-dominated lineup. They've built up to that again this year with 10 seniors. Chandler advanced to the final with a 3-1 win over Perry behind goals from Valadez, Rodrigo Olguin and Gustavo Castaneda. Olguin's goal broke a 1-1 tie, in the second half forged by a successful first-half penalty kick by Perry''s Pearson Wallace.
Campo Verde (5-2-1) was unbeaten in pool play and eked out a win in the semifinals over Desert Vista. Senior Alec Carroll knocked home a penalty kick with no time remaining after the Thunder fouled the Coyotes' Shawn McGarvin in the box. Forward Ethan Willson had given Campo Verde a 1-0 lead in the fifth minute that held up until the Thunder tied it in the 52nd minute on a header off a throw in.
---