Boys hoops: McClintock edges Poston Butte, 73-68
December 12, 2017 by Les Willsey, AZPreps365
---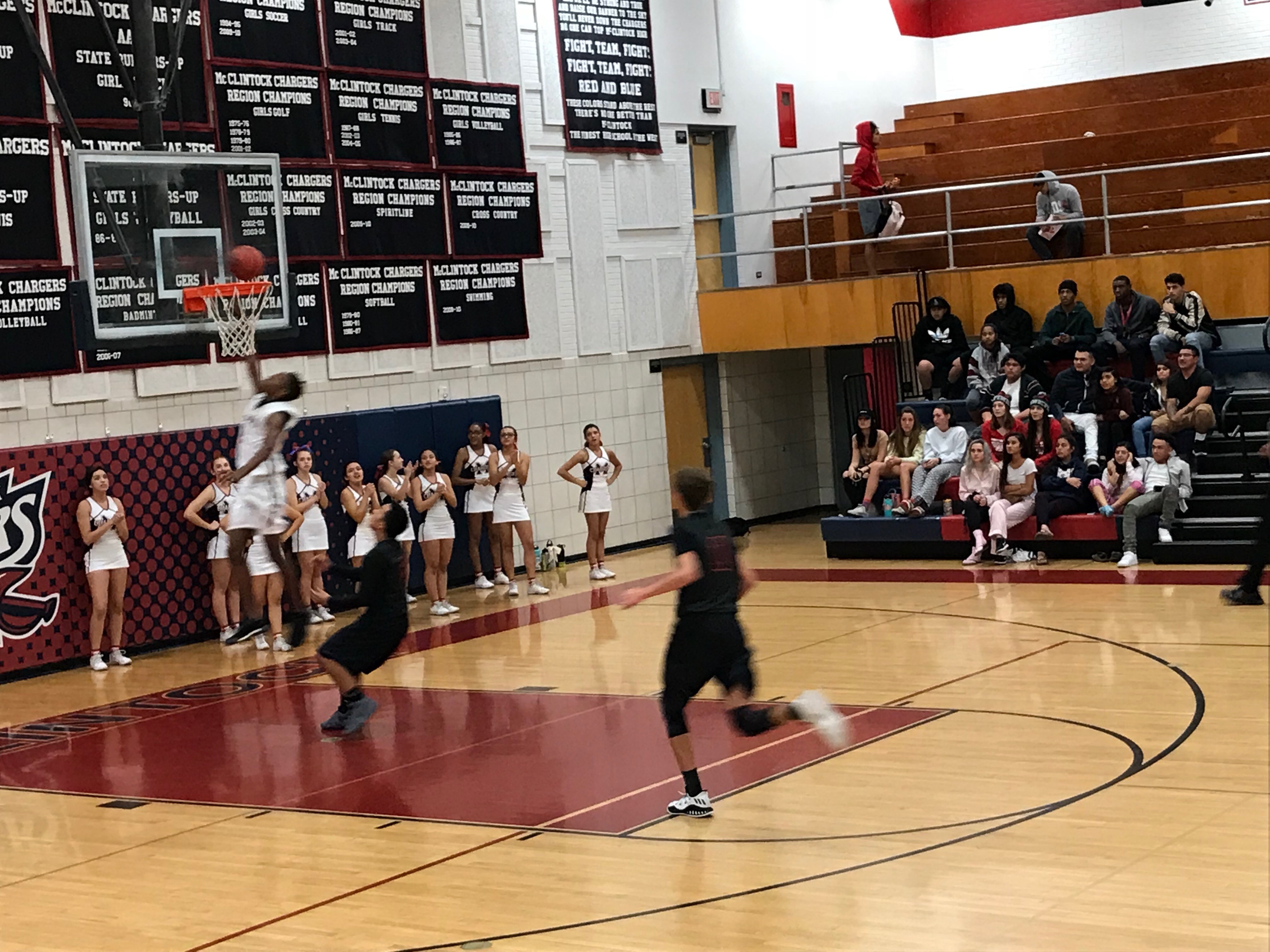 McClintock's Josh Baker finishes off a fast-break chance in Tuesday's win over Poston Butte (AzPreps365 photo)
McClintock boys basketball coach Sam Dentz is content with his team's record to date -- that's nine wins and one loss after Tuesday's 73-68 5A victory over Poston Butte.
"We are winning, but even at this stage we're trying to find our flow," Dentz said. But "I'd rather be learning while we win than learning while we lose."
Junior guard Josh Baker played a key role as often is the case in Chargers' triumphs. Baker calmly led in the first half as playmaker. The second half he stepped up as a scorer and dumped in 15 of his 20 points. That helped McClintock stave off repeated threats by Poston Butte (7-3, 3-3 prg) to overcome 7-to 9-point deficits that occured after each of the first three quarters and tightened significantly in the final half of the fourth quarter.
McClintock took a 55-46 advantage to the final quarter only to see it gradually melt to 65-63 with 1:37 left after Poston Butte junior guard Cory Barnes sank the longest of his six 3s for the night. Barnes seemingly engaged in a 3-point shooting contest the first half with McClintock sophomore Armani Williams. Barnes scored 15 of his game-high 24 points in the first half while Williams collected 19 of his 22 points, including four 3s before intermission.
Over the final 1:37, Baker sank 5 of 6 free throws to preserve 3-to-5-point leads and dished off to junior Mekhi Rodgers for the Chargers' final 3 of the night with 1:19 to go that put McClintock up 68-63. Poston Butte still managed to make it a one-possession a couple timesin the final 15 second by two free throws each by Baker and teammate Lawrence Charles finally subdued the Broncos.Rodgers teamed up with Baker in the second half for most of McClintock's offense netting 12 of his 16 points.
"We do take our share of threes, but look for 2 (point), 3 (point) balance," Dentz said. "We like Josh with the ball with the game on the line. He's the guy we go to. We've closed a lot of games that way. He's shooting about 90 percent from the free-throw line." Baker made 9 of 10 free throws on Tuesday night.
McClintock, with wins on consecutive nights to run its power-ranking game record to 5-1, has played close ones in all its power-ranking matchups. The Chargers have beaten Independence (by 7), Paradise Valley (3),Williams Field (5) and Camelback (7). Their loss is by three to Campo Verde. McClintock opens Metro Region play on Friday hosting Apollo.
Poston Butte senior Jacob Motley hit for his season average of 15 points by tallying eight in the fourth quarter -- six in a row that put the heat on the Chargers for the final five minutes of the game. Coach Mike Christenson's Broncos won their first seven games of the season, including their first three power-ranking contests. They will try to snap a three-game skid on Thursday hosting Vista Grande.
---