GIRLS HOOPS: Empire holds on for 55-52 win over Tanque Verde
December 12, 2017 by Andy Morales, AZPreps365
---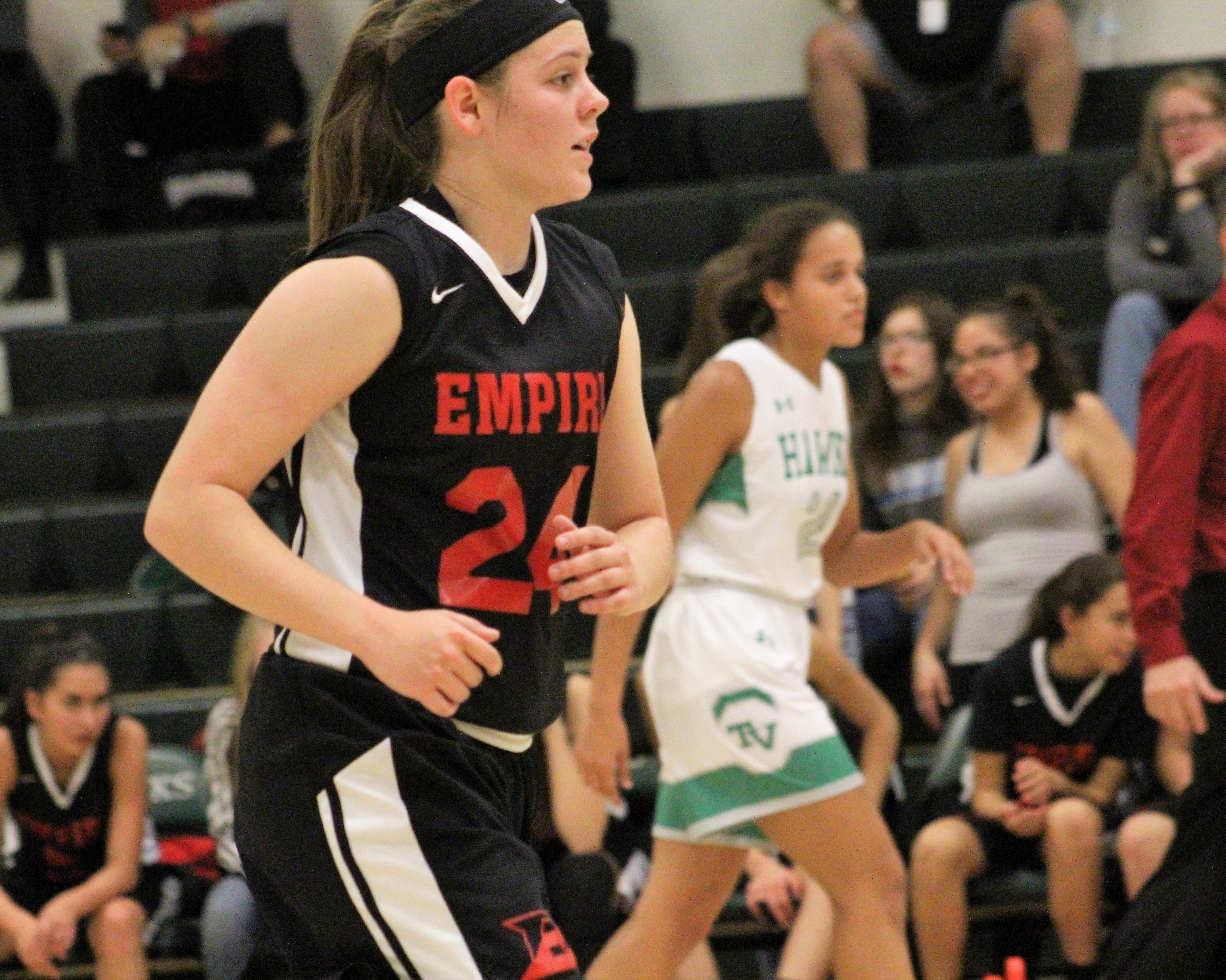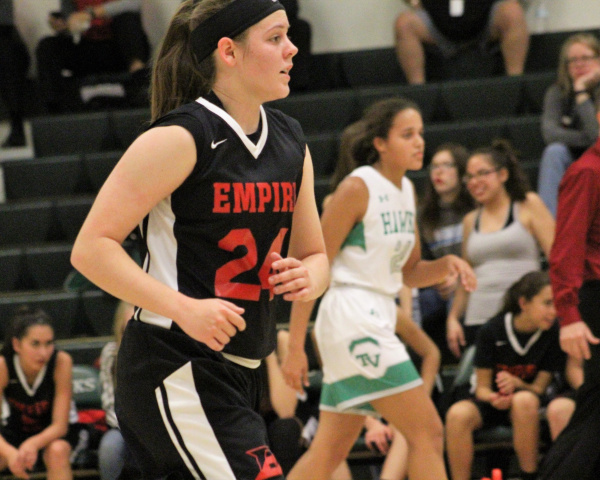 Makenzie Elkins made six 3-pointers on the night (Andy Morales/AZPreps365.com)
It's hard to say which 3-pointer proved to be the difference Tuesday night but it turned out Empire needed all ten to defeat Tanque Verde 55-52 in an important 3A South battle.
Down 5-0 to the Hawks, the Ravens dropped six bombs in the opening period to take an 18-7 lead and junior standout Makenzie Elkins pulled the trigger on three of them. Elkins finished with 25 points on the night and 18 came from beyond the arc but it was her closely-guarded, fall away 3-pointer as the buzzer sounded to end the third period, that helped turn away one of many surges by the Hawks.
"It was one of those nights where the energy kept us going," Elkins said. "We wanted this one. This was our third game on the road in a row and we needed the win."
Empire is now 6-4 overall and 1-1 in the 3A South while Tanque Verde moved to 8-2 and 1-1. The top three teams in the region will get an automatic playoff berth and the Ravens did what they needed to keep pace with a pack that includes Pusch Ridge (1-0 in region play), Santa Rita (1-0) and Sabino (1-0). Sabino beat Empire 57-30 last Friday.
As mentioned before, Tanque Verde was able to chip away at the Empire lead several times but a 3-pointer from Reileen Fenn (11 points) or a bucket from Emily Shreeves (10) always seemed to turn the Hawks away.
Tanque Verde freshman Kiya Dorroh poured in 20 points to lead the Hawks and she hit a 3-pointer with 6:03 left in the game to cut the lead down to 49-47 but the Ravens came out of a timeout and Fenn nailed a 3 and she was followed by Elkins with what looked like a dagger from deep to make it 55-47 with 5:10 left but the Hawks still had plenty of chances.
Ella Berg cut the lead down to 55-49 but the Hawks failed to take advantage of four quick turnovers by Empire in the final two minutes. Kailee Cullinan hit a 3-pointer to cut the lead down to 55-52 but a missed layup and another failed conversion on a turnover helped preserve the 55-52 victory for Empire.
Berg finished with 14 points and Cullinan added nine to help round out the scoring from Tanque Verde. The Hawks are still taking the court with out sophomore Emma Morris. Morris scored over 14 points a game last year and she made 62 3-pointers. She is recovering from an injury and there is no report on when she will return.
Tanque Verde will get a boost when junior transfer Nikya Orange takes the court. The former Sabino post player stands 5-foot-11 and she will be a compliment to Dorroh at both ends of the court. Dorroh (6-1) has half of the Pac 12 teams chasing her and five of those offers came while she was in eighth grade. Representatives from the University of Arizona and Cal Berkeley were in attendance.
Empire still has one more road game ahead, a Dec. 14 non-region game at Walden Grove (3-3). Tanque Verde will also be traveling that night and the Hawks will face The Gregory School (4-8).
---