Girls hoops: Mesquite continues Nike TOC roll
December 19, 2017 by Les Willsey, AZPreps365
---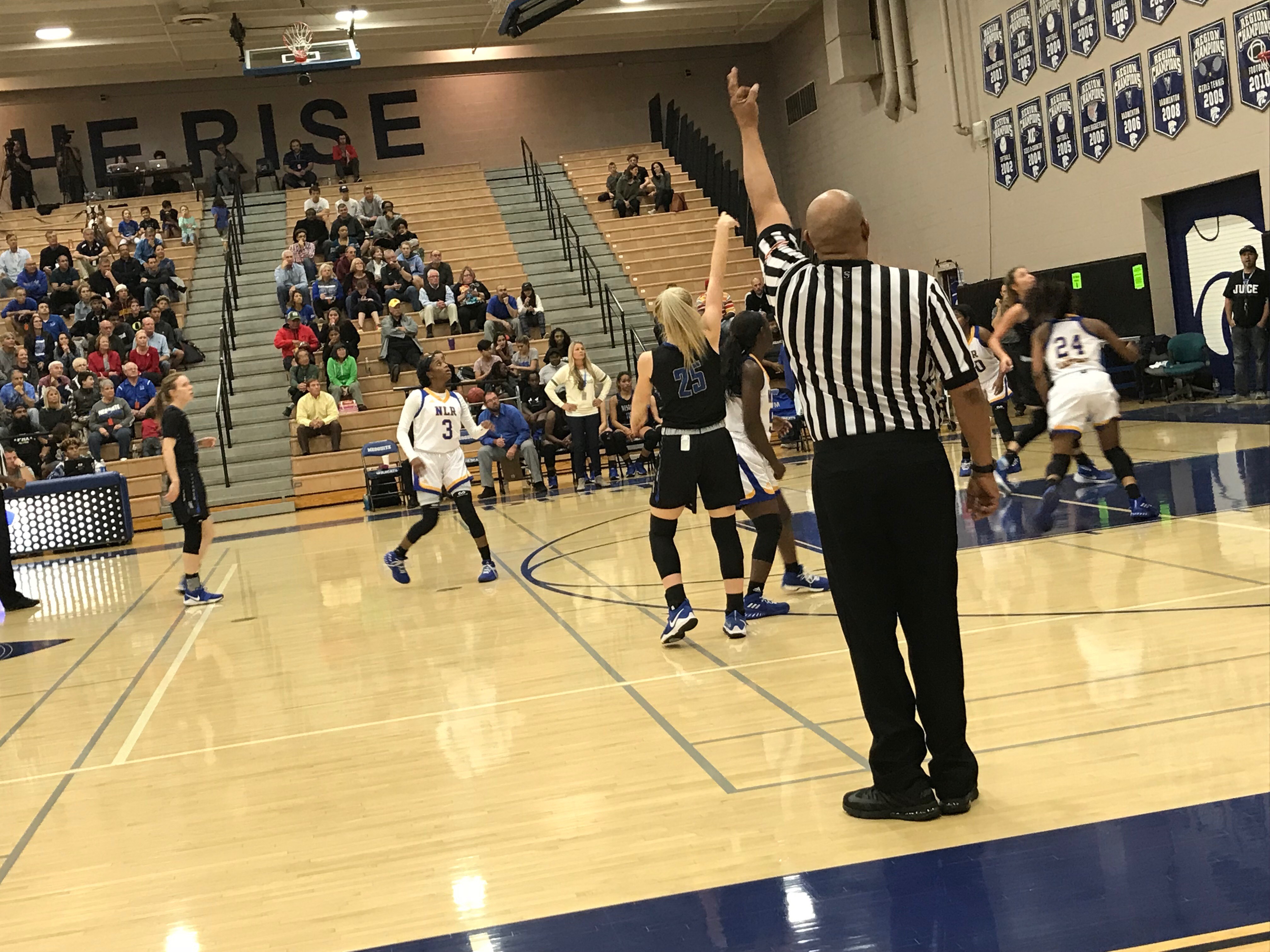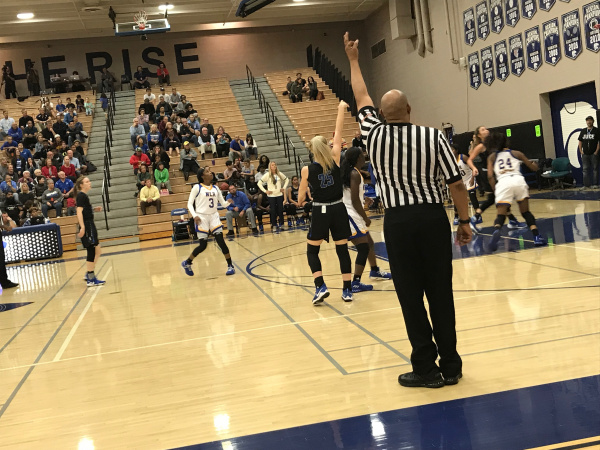 Mesquite's Hailey Walker lets go of a three-point shot attempt in Wildcats 38th win in a row (AzPrep365 photo)
It''s not how you start, but how you finish. Not always true as Mesquite's girls basketball team proved Tuesday night at the 21st Nike Tournament of Champions.
Mesquite, a bracket winner last year as part of its now 38-game winning streak, dealt North Little Rock (AR) a 15-point deficit after one quarter and managed to prevail via a 61-57 win on opening-day play of the elite (Joe Smith) bracket at Mesquite High School. Mesquite advances to the bracket quarters Wednesday against No. 2 St. Mary's (Stockton, CA) at 5 p.m. at Mesquite.
Mesquite (12-0) brought a No. 23 rankling from MaxPreps most recent Xcellent 25 rankings against 10th-ranked North Little Rock (6-1). A superb first quarter ignited by senior guards Shaylee Gonzales and Lindsey VanAllen was the impetus. VanAllen made 3-of-4 shots (all three-pointers in the quarter) and Gonzales was 4-of-5 that translated to a 21-6 lead after eight minutes. Gonzales and VanAllen scored 22 points apiece and Hailey Walker added nine, including two late free throws.
It was the up-tempo, quick passing game Mesquite is known for and how it plays best. Mesquite made 9-of-15 field goals (60 percent) while North Little Rock canned just 3-of-16 (19 percent). That lead was shaved by only one point over the next two quarters and a comfortable win seemed inevitable.
"We came out with a lot of perimeter play and they were looking to pound it inside," Mesquite coach Candice Gonzales said. "We shot it well and were comfortable in how we played. We got more timid, especially in the second half rather than be the go-getters we usually are."
Mesquite took a 50-36 lead to the fourth quarter and still led 53-43 with four minutes left. North Little Rock power forward Yomyris Morris, who was too much for Mesquite to handle most of the game, finished with 22 points. She was able to overpower double teams after bit of slow start in the first quarter. But NLR pulled Morris out of the post enough to let their guards do some work in the final quarter. With 2:33 to play Mesquite's lead was cut to 53-49. Mesquite shaky from the line over the next two minutes making just 2-of-5 shots and missing the front end of a 1-and-1.
Finally, Walker made two free throws with 13 seconds left to boost the lead to 59-54, but NLR's De'Myla Brown netted only her team's second three-pointer to make it 59-57 with six seconds to go. NLR fouled VanAllen with 5.8 seconds left and she sealed it making both.
Amber Hawkison added 11 points for NLR and Kennaday Tucker came off the bench to for 11 more to give Morris help on the offensive end in the second half.
Arizona teams had a tough day overall going 3-9. In those other games involving Arizona teams, Millennium ran into a buzzsaw in No. 4 Archbishop Mitty (San Jose, CA), falling 84-43 in the Joe Smith Bracket. It was Millennium's first loss of the season after opening with nine wins. Millennium got 12 points from Dominque Phillips and 11 from Shyann Heredia. Archbishop Mitty had four players score in double figures. The only Arizona team in the John Anderson bracket, Valley Vista, lost to La Jolla Country Day (CA), 49-43.
In the Mike Desper bracket, Gilbert defeated St. Mary's (Manhasset, NY) 58-27; Mt. Lebanon (Pittsburgh, PA) edged Hamilton, 63-59 and Sacred Heart Cathedral (San Francisco, CA) topped Perry, 70-50. In the Dan Wiley bracket, Chaparral beat Christian (El Cajon, CA) 86-21; Farimont Prep (Anaheim, CA) over Basha 84-34; Clovis (CA) over Chandler 42-29; Canyon (Anaheim, CA) over Desert Mountain 55-47 and Bonita Vista (Chula Vista, CA) over Highland, 62-52. In the Derrill Kipp bracket Granada Hills Charter (CA) beat Westview, 54-34.
---