PUHSD honors its past at third annual HOF ceremony
December 19, 2017 by Jose Garcia, AZPreps365
---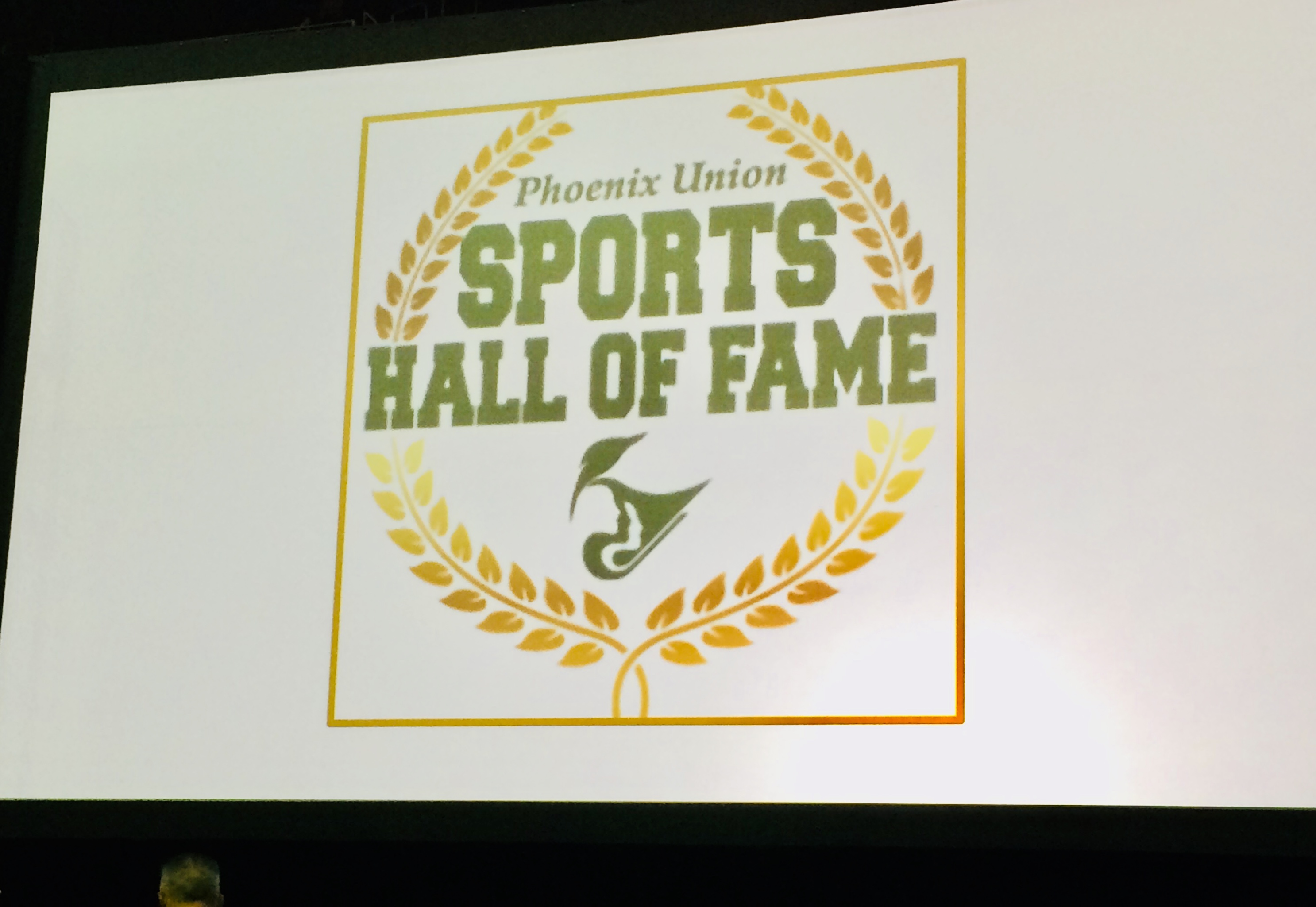 They stepped into the arena again not to battle or draw up plays but to get recognized as some of Phoenix's all-time high school greats.
Some of them went on to become household names in the professional ranks. On Tuesday, they returned to where it all started.
It still means a lot to them and the Phoenix Union High School District that, all these years later, they were an Alhambra Lion, a South Mountain Jaguar, a Trevor Browne Bruin, or a Carl Hayden Falcon or one of the other 10 PUHSD schools that were represented Tuesday at Talking Stick Arena. About 70 former athletes and coaches each proudly stepped up to the stage on the arena's floor to be welcomed back home as the newest members of the PUHSD Sports Hall of Fame.
That's a lot of folks to honor, but the event's coordinators, Phoenix Union district athletic director Dr. Zachary Munoz and his staff, also deserve recognition for how smooth the annual event ran with about 700 guests in attendance. The PUHSD Hall of Fame ceremony is in only its third year and has a lot of catching up to do, as it sifts through its 120-plus years of rich sports history.
"I was amazed at the quality of athletes that have come through (PUHSD), and what they've done after high school," said South Mountain legend, PUHSD Hall of Fame inductee and Minnesota Vikings tight end great Steve Jordan. "It's really special to me, because my dad was awarded as well. To go up and accept for him was really, really special.
"This is really cool, because my love of sports started when I was young and high school was my first entree to play multiple sports (football, basketball, tennis)."
Leon Edward Jordan, Jordan's father, worked in the PUHSD, beginning with all-Black high school Carver, from 1951-83.
Leon won two basketball titles at Carver, but he was better known as one of PUHSD's teaching stars, becoming the first ever chair of Trevor Browne's science department in 1972. Steve's son, Cameron, plays for the New Orleans Saints and is one of the NFL's better defensive ends.
Among the PUHSD Hall of Fame 2017 inductee list of who's who included:
JoElyn Boone. Boone is the first Female Athlete of the Year at Central High, earning the title in 1977 after picking up 14 varsity letters in four sports. She is currently the head strength coach for Perry's football team.
Carole Clark (Camelback). Clark was a 4-time All-American in archery and 4-time Women's National Championship team member at Arizona State.
Jesse Parker. The Arizona high school coaching football legend won the first of his five state titles at Camelback High in 1974.
Fred Nelson. The former West High baseball All-Star worked in professional baseball for 36 years, 27 with the Houston Astros.
Ron Polk. The Carl Hayden alum is the SEC Conference's all-time leader in career baseball wins with 1,139, which he won at Mississippi State.
Former PGA golfer Howard Twitty (Central High).
Bob Breunig. Breunig played for the Dallas Cowboys for 10 seasons and is considered one of the greatest linebackers to graduate from an Arizona high school, Alhambra.
Dwayne Evans. The South Mountain great won a bronze Olympic medal in the 200-meters in 1976.
Brothers David and Gary Rajsich (Central High). David coached for 16 years with the San Diego Padres, and Gary is the director of scouting for the Baltimore Orioles.
Mark Whipple (Camelback). Whipple is a former NFL assistant coach and current coach of the University of Massachusetts.
(Mark Whipple)
2017 Phoenix Union Hall of Fame class
Alhambra
Brad Anderson-Football/Basketball/Track*
Bob Breunig-Football/Wrestling*
Chuck Faubion-Football/Basketball/Baseball*
Don Mabry-Wrestling*
Steve Malovic-Basketball*
David Ohton-Football/Track & Field*
Jim Rice-Basketball
Carver High School
Ira J. O'Neil-Football/Track
Charles Christopher-Football/Baseball/Basketball/Track
George Diggs-Track/Football
Hadie Redd-Basketball
Camelback
Carole Cheuvront Clark-Archery*
Patti Iske Kimpler-Archery*
Randy Palmer-Football*
Pat Roessler-Baseball*
Mark Whipple-Football/Baseball*
Ray Woolery-Cross Country/Track*
Carl Hayden
Ernie Kullos-Gymnastics/Wrestling/Football
Ron Polk-Baseball
Howard Wharton-Football/Wrestling
Central
JoElyn Boone-Volleyball/Softball/Tennis/Track*
Travis Holcombe-Football/Wrestling*
Eric Kruljac-Football/Wrestling*
Patrick McCormick-Football*
David Rajsich-Baseball*
Gary Rajsich-Baseball/Basketball/Football*
Bruce Nichols-Tennis*
Howard Twitty-Golf/Football
East
Roland Campbell-Basketball*
Michael Villegas-Basketball*
Bill Wallace-Basketball*
Mike Welsh-Basketball*
Jay "Flo" Wesley-Basketball*
Maryvale
Rob Babcock-Basketball*
Jack Housley-Football/Wrestling*
Kenny Hansen, Baseball
North
Gil Blanco-Baseball
Rennie Crittenden-Baseball/Football/Basketball
John Hill- Football/Baseball/Wrestling
Duff Lawrence-Golf
Bill Owsley-Football
Gerhard Schreur-Basketball
Steven Vaughn-Football/Baseball
Phoenix Union High School
Mike Barrick-Track/Cross Country
Loren Hooper LaPrade-Football/Basketball
Albert Nealey, Basektball/Baseball/Track (Carver & Phoenix Union)
Reynaldo "Shorty" Rivera-Football/Basketball/Baseball
William Warner-Basketball
South Mountain
Larry Copeland-Track & Field/Cross Country*
Dwayne Evans-Track & Field*
Stephen "Rudy" Moreno- Track/Cross Country*
Trevor Browne
Jeff Conner-Baseball*
John Quijada-Baseball*
West
Paula Miller Noel-Badminton*
Terry Coyle-Basketball
Nancy Larremore Funari, Badminton/Softball
Fred Nelson, Baseball/Cross Country
George Rountree-Basekball/Football/Track
Coaches
Carver High School
Leon Edward Jordan-Basketball, Football, Track
Augustus Shaw-Football/Track
Camelback High School
Jesse Parker-Football*
Janet Shaler Westcott- Badminton/Tennis*
Carl Hayden
Pet Tuccio- Basketball*
Maryvale
Wayne Kindall- Basketball*
Osborn "Shack" Shackelford- Girls Basketball*
North
Dr. Catherine Wilkinson-Tennis
Special Inductees
Don Baniewicz-West-Baseball; Coach-Carl Hayden Football/Basetball/Golf/Baseball
Senon "Baldy" Castillo- Phoenix Union- Track & Field, Basketball, Football
John Roth-Alhambra-Baseball Coach
Rudy Sanchez- West; South Mountain Athletic Trainer
---