Mesquite rally falls short at Nike TOC
December 20, 2017 by Les Willsey, AZPreps365
---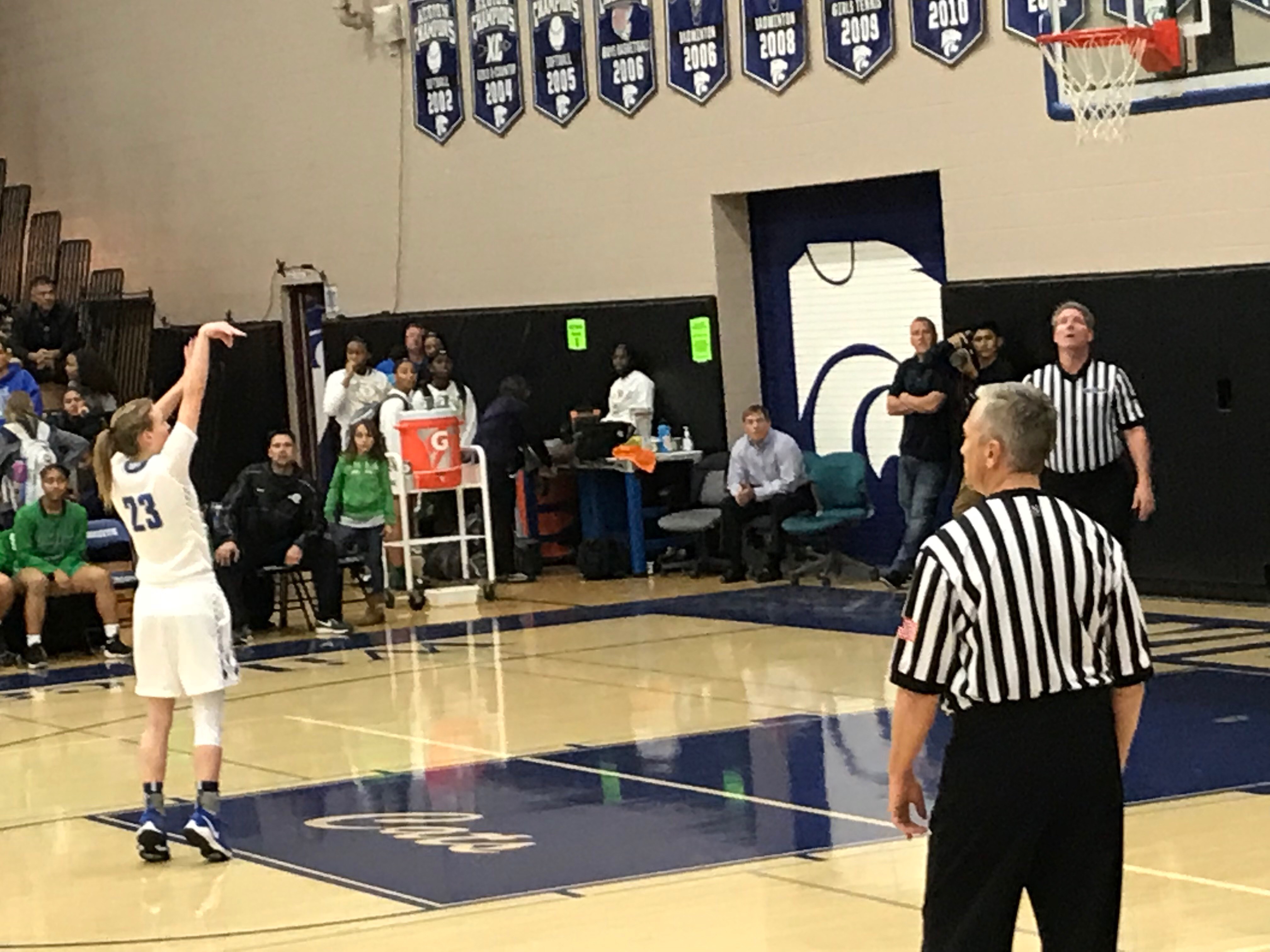 Mesquite's Lindsey VanAllen shows shooting form that led to 34 points Wednesday. (AzPreps365 photo)
Spotting one of the nation's consensus best teams a 16-point lead after the first quarter put Mesquite's girls basketball team on the short end of a would-be rout it has handed many a foe over the last couple seasons.
Though the final score read St. Mary's (Stockton) 80, Mesquite 66, the Joe Smith (elite bracket) quarterfinal on Wednesday at the 21st annual Nike Tournament of Champions was much closer. A two-possession game with two minutes left, especially as well as Mesquite was shooting from 3-point range. That can be attributed to the Lady Wildcats' tenacity and desire. There was a lot of pride taken in the 38-game winning streak that ended with the loss.
The gritty effort was personified in senior guard Lindsey Van Allen, who reached back for some extra in scoring 34 points and putting on a dazzling three-point shooting display that often pulled Mesquite with three of the multi-talented Rams.
St. Mary's (7-0) advances to face Riverdale Baptist in one of Thursday's elite bracket semifinals at 5 p.m. Mesquite (12-1) plays in the consolation bracket against Sacred Heart Academy (KY) on Thursday at 11 a.m. at Mesquite.
"If you're going to lose you might as well lose to the best," Mesquite coach Candice Gonzales said. "A lot of people, one, didn't think we could win, (or) No. 2 even be close. The way we played we won in our hearts."
St. Mary's bolted to a 26-10 lead after the first quarter, firing up loing threes in front of Mesquite's 2-3 zone. Not many of those 3-pointers connected initially, but second chances were plenty and the balanced attack the Rams possessed showed it would make a huge difference in the outcome.
Mesquite played half of fhe first quarter without BYU-bound senior guard Shaylee Gonzales as she picked up two quick fouls. That didn't help the Wildcats cause.
Mesquite had no answer for 6-foot-2 post Aquira Decosta, a Baylor signee, who finished with 25 points. Acosta was a go-to player in the second half along with senior guard Ariel Johnson (Florida signee). Acosta scored 20 of her points in the second half. Johnson 12 of her 14 in the second half.
Senior Neenah Young (21 points) and junior Jada Moss 12 points) joined their teammates in double figures.
Gonzales returned to the floor late in the first quarter and Mesquite got continuity going mostly in the form of VanAllen. VanAllen, who is headed to Santa Clara next fall, made 8 of her first 11 3-point shots and finished connecting on nine. When Van Allen fell off in the final quarter forcing some threes, teammate Haliey Walker chimed in with three - two in the final period.
Gonzales finished with only 10 points - half her average. Walker totaled 11 points. Gonzales is just four points shy of the rare 2,000-point mark in her career. Van Allen is on tap to join Gonzales in that regard in the next few games.
---