Nike TOC: Gilbert High advances to Desper bracket final
December 21, 2017 by Les Willsey, AZPreps365
---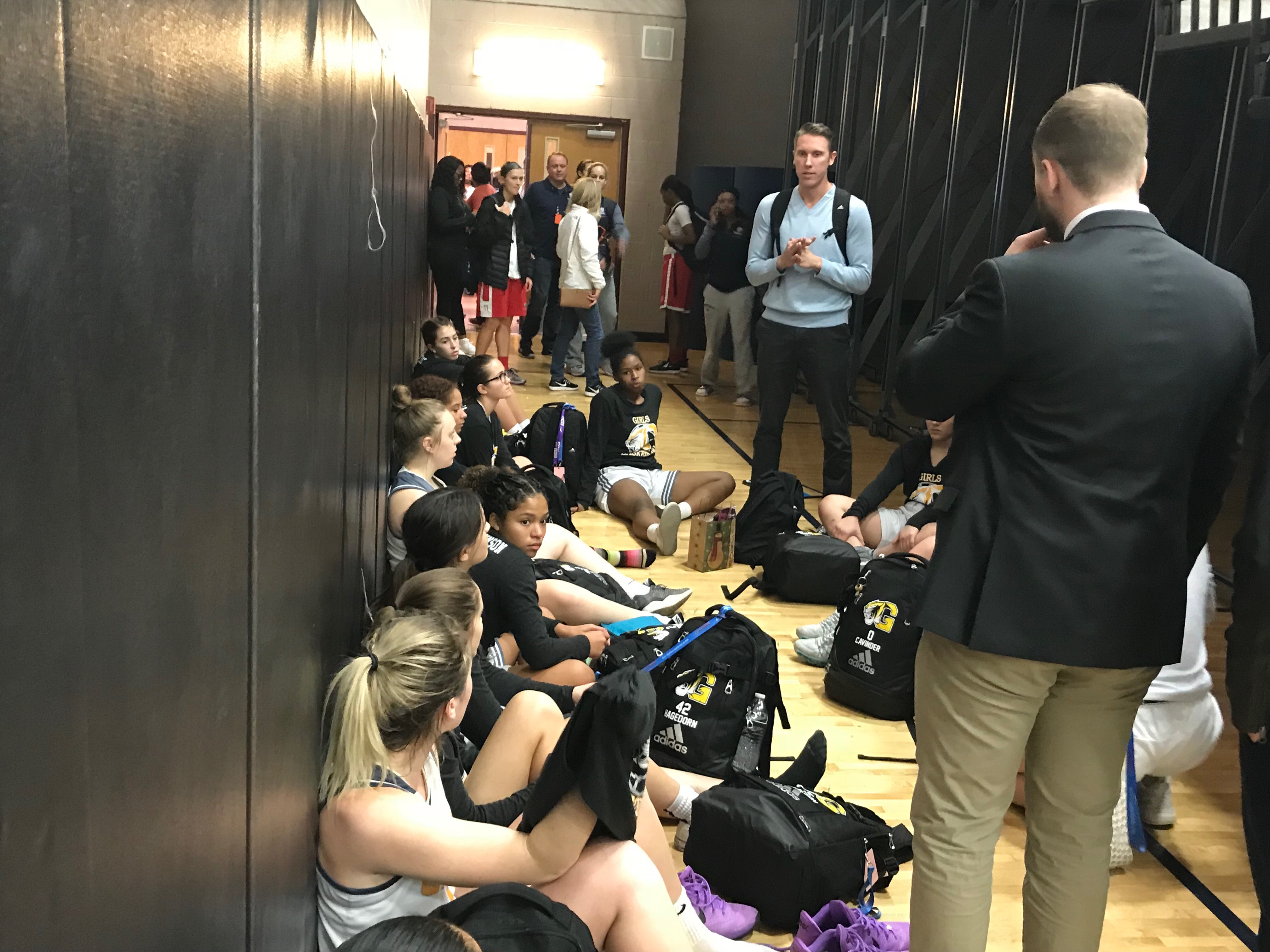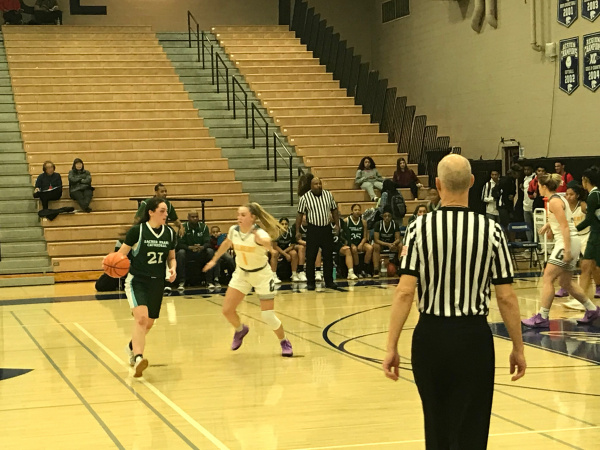 Gilbert's Haley Cavinder (1) defends Sacred Heart's Gianna Silvestri (21). (AzPreps365 photo)
Gilbert girls basketball coach Kyle Pedersen didn't have to look at the first-half stats of the Tigers semifinal contest with Sacred Heart Cathedral (CA). in the Mike Desper bracket of the Nike Tournament of Champions. He knew they were dismal.
"I wasn't sure how bad, but it had to be close to our worst shooing ever," Pedersen said of what was a 6-for-30 effort the first 16 minutes. "We were lucky to only be down by 12."
Gilbert (14-2) never led in the first half. Or through three quarters. In fact, the Tigers led only once -- with five seconds left and thanks to two free throws by Hanna Cavinder those provided the 56-55 margin of victory over Sacred Heart Cathedral at Mesquite High School. Gilbert takes on Clovis West CA for the bracket title on Friday at 11 a.m. at Mesquite. Clovis West defeated Lake Highland Prep FL, 81-58, in the other semi.
"Seeing us the first half today and the level we played at (Wednesday) against Highlands Ranch, this just wasn't us," Pederson said. "I don't know if it was coming off the high of that game, but we were flat."
Gilbert awoke in the second half thanks to a sizzling third quarter from the other Cavinder, twin sister, Haley. Haley Cavinder made 5 of 6 shots and scored 12 points in the third period to pull the Tigers within 44-39 heading to the fourth. Haley Cavinder finished with a game-high 26 points -- 20 in the second half. Gilbert made only 2 of 13 3s in the first half and 5 of 10 in the second to key its comeback. Haley Cavinder also added eight rebounds and eight assists.
The Tigers cut the deficit to three several times in the final quarter, but it looked like the rally would fall short after Sacred Heart's Jayden Benitez made two free throws for a 55-48 lead with 2:25 left.
Threes by each Cavinder brought Gilbert within 55-54 after Benitez missed the front end of a one-and-one and Rainah Smith missed two free throws.
Gilbert got a final possesson with under 20 seconds left and the ball ended up with Hanna Cavinder in the paint where she was fouled. She swished both, but Sacred Heart still had a chance after a timeout.
An inbounds violation abruptly ended Sacred Heart's last chance and Gilbert was able to run out the clock.
Hanna Cavinder was the only other Gilbert player in double figures with 10. Gianna Silvestri led Sacred Heart with 12 points and Smith added 12.
---