Gilbert claims Desper bracket title at Nike TOC
December 22, 2017 by Les Willsey, AZPreps365
---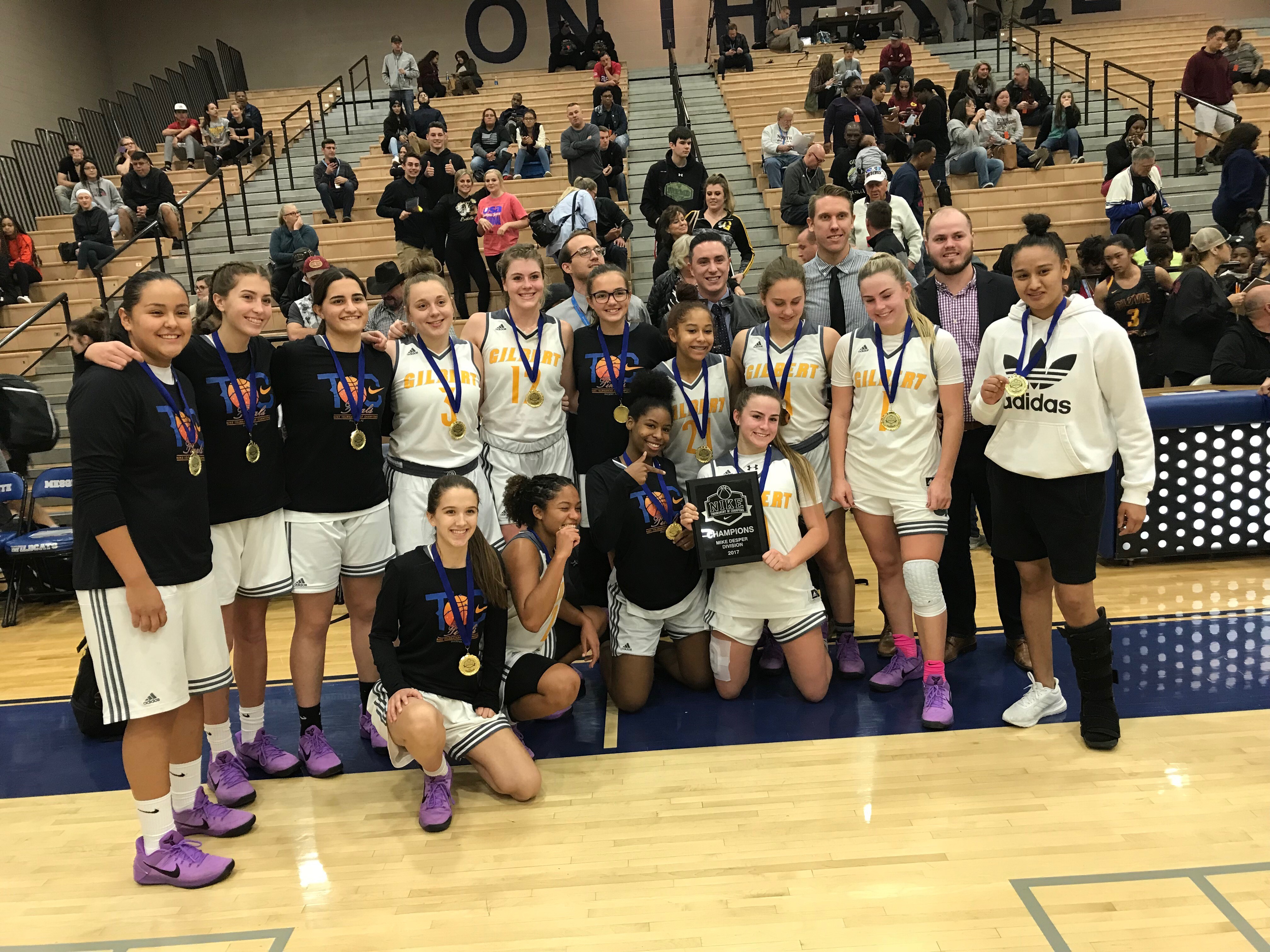 Gilbert's girls hoops team displays the bounty at the Nike TOC on Friday. (AzPreps365 photo)
Gilbert High didn't need late-game heroics Friday afternoon to nail down a fourth win in as many days and the championship of the Mike Desper bracket at the annual Nike TOC girls hoops invite at Mesquite High School.
The Tigers applied the damge needed much earlier, using second quarter domination to post a 70-62 victory Clovis West (CA). The win was Gilbert's 12th in a row overall and accomplished essentially by outscoring Clovis West 23-3 in the second period.
"Coach Kyle (Pedersen) prepared us for their press and we did the job breaking it," Gilbert junior guard Haley Cavinder said. "When we broke it, we were able to hit some big shots and get a good lead."
Gilbert led 12-11 after one quarter, but some things didn't bode well for the Tigers at that stage. Gilbert's other ball-handling guard, twin sister Hanna Cavinder, had to sit the final 1:20 of the first period after drawing her third foul. Two-plus minutes into the second period another starter sat with three fouls -- AJ Johnson.
Gilbert was well-schooled and managed to negotiate Clovis West's pressure defense even without key starters. They scored four layups in the quarter and Haley Cavinder found her shooting touch sinking a trio of threes in the period. Clovis West did not make a field goal in the second quarter (three free throws) and shot just 2-for-17 from the field (12 percent) in the first half. The lead at halftime was 35-14.
Haley Cavinder, who was named Mike Desper bracket most valuable player, capped a big tournament with a triple-double -- 25 points, 13 rebounds and 11 assists. She made six 3-pointers for the game. Junior post Brynn Wade has made a difference with the post play she's brought from New Mexico. Wade tallied 11 pioints and grabbed 21 rebounds (12 on the offensive end). Leah Millman scored 10 points off the bench and Hanna Cavinder managed 10 points -- all in the second half.
"We did study film and it was simple, we had to execute," Gilbert coach Kyle Pedersen said. "For us to do as well as we did in the second quarter without one of the best players we had others step up."
Clovis West (10-2) won the elite Joe Smith bracket at last year's NIke TOC. That team graduated five players with D-I scholarships. The main holdover from that squad, junior guard Madison Campbell, scored 32 points to lead the Golden Eagles before fouling out in the final two minutes. Aar'yanna Sanders added 16 points for Clovis West -- all of those in the second half.
---