Chandler's offense ends season with another statement performance
December 24, 2017 by Jose Garcia, AZPreps365
---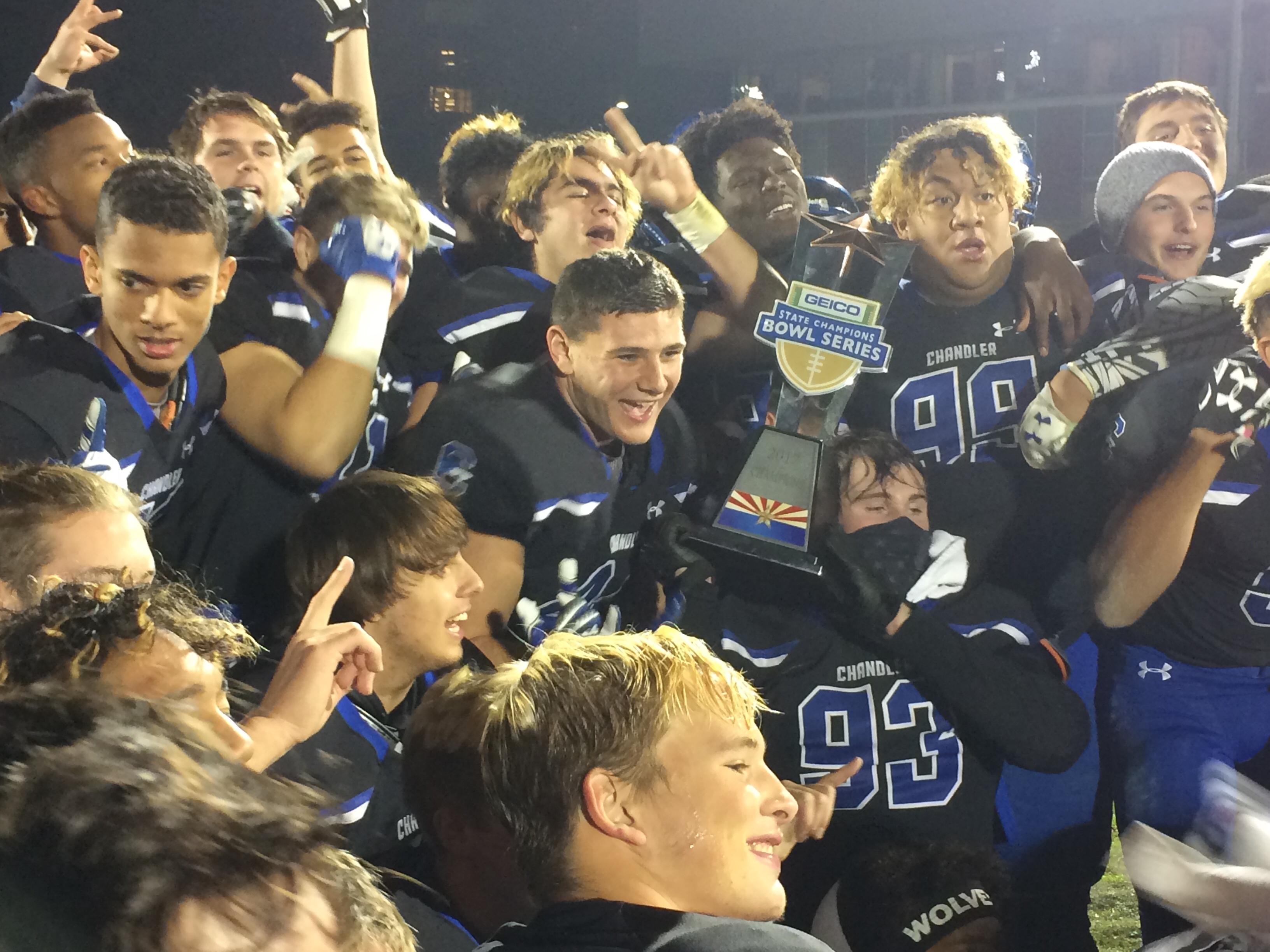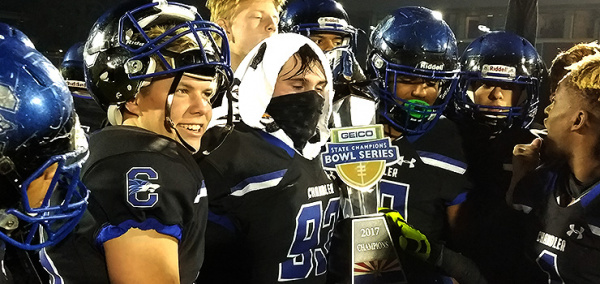 (Chandler ended its football season with another trophy. Photo by Jose Garcia/azpreps365.com)
Chandler hadn't played in 21 days.
Running back Drake Anderson was sidelined.
Not a problem.
There were no signs of cobwebs in Chandler's offense Saturday, when it had the scoreboard and Miami Northwestern's defensive backs spinning. Northwestern couldn't contain every Chandler weapon, as Arizona opponents learned this season during Chandler's state title run.
Even without Anderson, the explosive running back who suffered a left hand injury in the 6A Conference championship game, Chandler still overpowered Northwestern, 55-20, at Grand Canyon University in the nightcap of the Geico Bowl Series. The Bowl Series is in its second year and pits state champions from different states during a nationally televised broadcast.
The Bowl Series was held in Texas last year but moved to ever-growing GCU this year. The victory marked the second win a row in the Bowl Series for Chandler and that Chandler quarterback Jacob Conover took home Game Bowl Series MVP honors.
Conover (341 yards passing, 5 TDs) picked apart a defense that starts a pair of SEC-bound corners, Divaad Wlson (Florida) and Richard Wildgoose (Georgia).
Northwestern was this season's Florida's 6A champ, the third highest classification in the Sunshine State, but gave up a season-high 55 points Saturday. Conover's top target, Gunner Romney, capped his final high school game of his career in style.
The tall senior wideout had a game-high 129 receiving yards. Romney flexed his muscle after scoring on an 13-yard reverse play in the second quarter in which he broke away from two would be tacklers to help put his team up 27-7 in the second quarter.
Romney ended his high school career fittingly, scoring the final touchdown of Chandler's 2017 season with 11:49 remaining in the game, when he hauled in a Conover 42-yard touchdown pass.
"Everything turned out the way I dreamed it would be," Romney said.
Chandler's defense did have trouble stopping Northwestern's quarterback Chatarius Atwell, however. Atwell scored on runs of 45, 71 and 76 yards, mostly up the heart of Chandler's defense.
But Chandler's offense also was difficult to keep up with. With Anderson on the sideline, junior Decarlo Brooks rushed for 188 yards on 24 carries and one touchdown.
Chandler scored 48 or more points in each of its final 11 games this year. Like last year, defending state champ Chandler (13-2) finished this season with an 11-game win streak.
"We came in focused as a team, and that was so different this year," Conover said. "We didn't play as one offense or one defense. We played as Chandler.
"It's all about family. Family is huge. This is the closest team I've ever played on."
Maryland St. Frances defeated Utah Bingham 41-3 in the first game at GCU. Kwincy Hall finished with 203 all-purpose yards and St. Frances teammate Jalon Jones rushed for 185 yards and two touchdowns.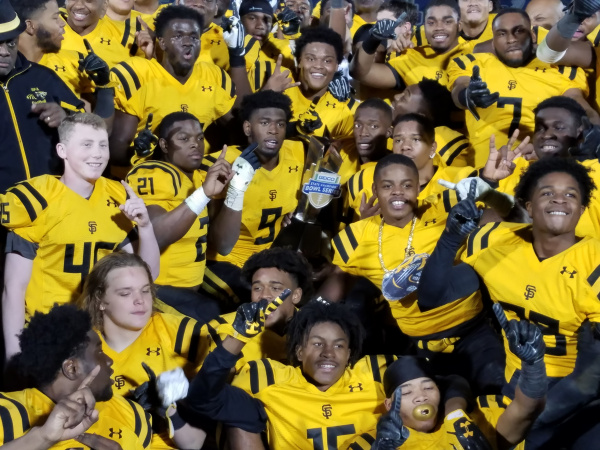 (St. Frances football. Photo by Seth Polansky/azpreps365.com)
---