Boys hoops: Mountain Pointe slips by Mesa
December 30, 2017 by Jose Garcia, AZPreps365
---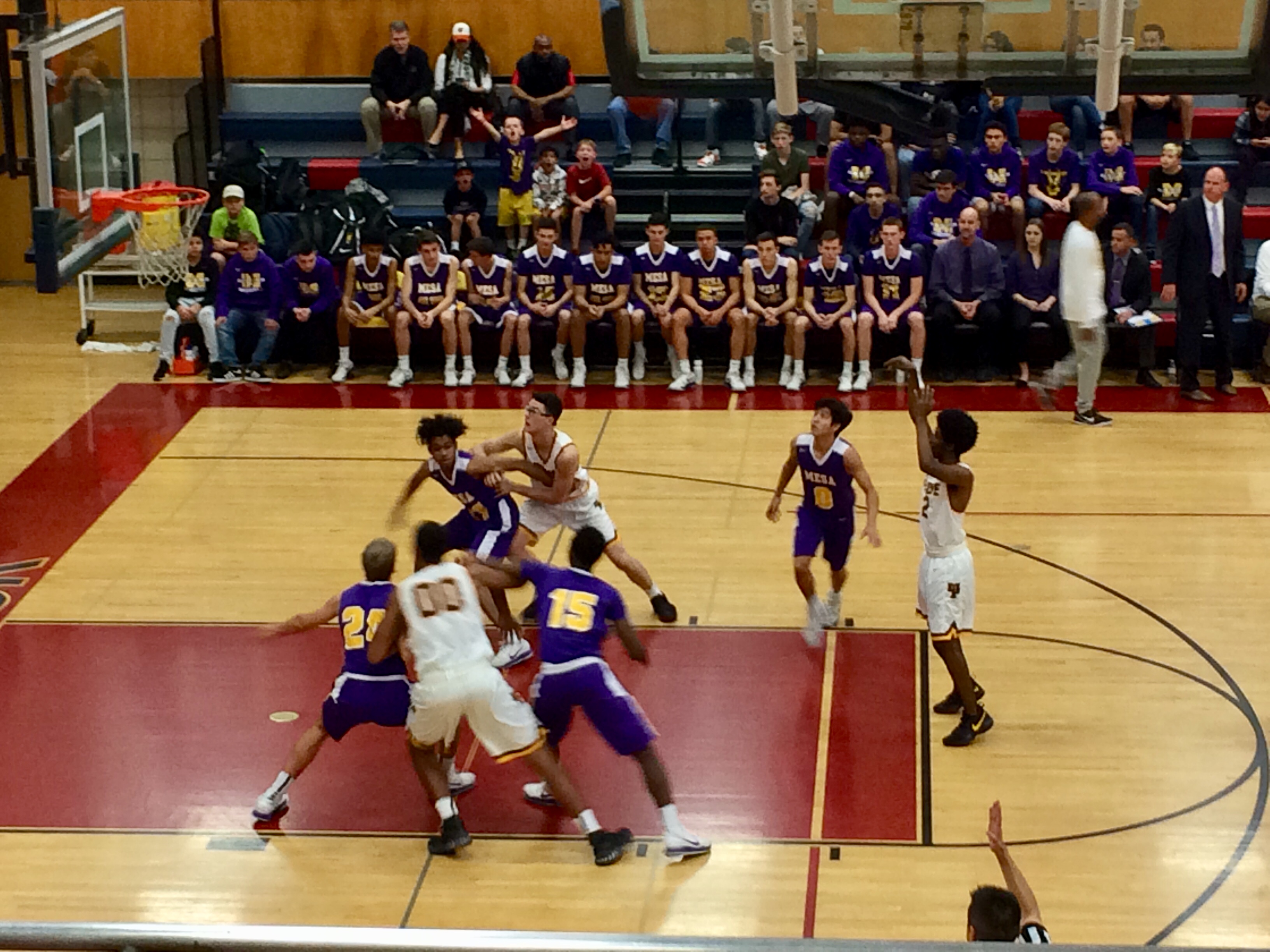 Mountain Pointe and Mesa met for the first time in this regular season, but they've crossed paths before.
In fact, Friday's encounter was the third time they've shared the floor in a championship setting this year, having first competed for two summer tournament titles this year. After Mountain Pointe eked out a 60-59 victory in their latest championship encounter, Mountain Pointe's first place trophy lead versus Mesa is now 2-1.
The next time the two might duel for another trophy could be for the 6A Conference crown. But they aren't the only ones that are trying to kick and scratch their way to the top.
It's really darn competitive in the 6A this season. Brophy is the lone undefeated team in 6A but only snuck out with a 1-point win against Mountain Pointe on Nov. 28.
Mesa almost handed Mountain Pointe another close defeat but didn't execute in the final seconds of Friday's McClintock's Holiday Shootout 16-team tournament final. Mesa led for most of the game and was ahead 59-57 after two Xavier Fuller free throws with 22.3 seconds remaining in the game.
But, after Mountain Pointe's Jalen Graham made a free throw, Mountain Pointe rebounded Graham's missed second free throw, eventually leading to an And 1 attempt by DeAndre Henry. Henry's basket in the paint gave Mountain Pointe only its fifth lead (60-59) in the game.
But Henry missed his free throw, giving Mesa a final shot. Mesa raced down the court, with guard Zach Hobbs positioned in the right corner for a good look at the basket, but his shot clanked off the rim.
"We didn't finish the deal," Mesa coach Shane Burcar said.
Mountain Pointe will head into region play with a 15-1 record under first-year coach Duane Eason.
Eason was an assistant coach at Phoenix College last year and prior to that coached 15-plus years in New Jersey.
"For us to even get back in the game and then close it out is remarkable for us," Eason said. "He (Burcar) is such an excellent coach, and we were able to take advantage of a couple of mistakes. We put ourselves in a hole. We fumbled passes and blew offensive rebounds."
Mesa, whose tallest players are 6-4, was patient on offense and kept Mountain Pointe's bigs (6-7 Henry and 6-9 Graham) from taking over. Mesa went to its 4-corner offense often with success after finding the open man, including Hobbs.
But Hobbs' threes missed the mark for most of the night. Hobbs, however, did make a three with four minutes left to give his team a 54-53 edge.
Mesa (13-4) opened the game with a 7-0 run, capped by a three-point play by captain Mark Hatch, for the biggest lead in the game.
McClintock Shootout All-Tourney team
Amarion Cash, MVP Mountain Pointe
Brandon Kron, Desert Mountain
Mark Hatch, Mesa
Aidan Weber, Arcadia
Khalid Price, Mountain Pointe
Naseem Vigil, Tempe
---