Boys and girls hoops get down to business
January 8, 2018 by Les Willsey, AZPreps365
---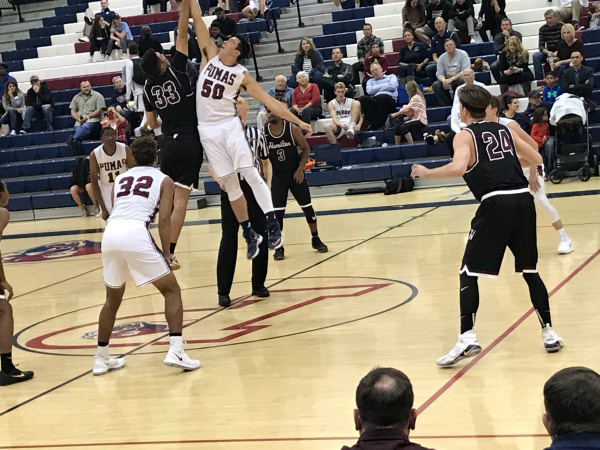 Hamilton (dark jerseys) is eager to face Brophy Prep this week for 1st in Premier Region (AzPreps365 photo)
Boys and girls basketball engage for games that count and almost exclusively to region play for the next five weeks. Here are games to consider this week for your viewing pleasure:
TUESDAY JAN. 9
BOYS: Hamilton at Brophy Prep - Both are unbeaten in power-ranking games (8-0 apiece). Brophy is 3-0 and Hamilton 2-0 in 6A Premier Region. Brophy is No. 1 in current power rankings and Hamilton is No. 4. Brophy won a pair of close region games last week with Basha and Chandler. The Broncos have shown a propensity for winning close games (four of eight power-ranking wins by five points or less). Hamilton has matured into a team ready to join the title fray. Desert Mountain at Pinnacle -- Pinnacle (No. 3 in the power rankings) hits the court running with three region games in four nights -- Boulder Creek (Thursday) and home rematch with Sandra Day O'Connor (Friday). The Pioneers will debut junior guard Trent Brown on Tuesday, who has been idled by injury the first 16 games. He averaged 15 points a game last year. None of Pinnacle's top six players are seniors GIRLS: Pinnacle at Desert Mountain - Pinnacle has run the table so far in power-ranking games, won an invitational and finished runner-up in another. The Pioneers lone defeat is a quality one to Arcadia in the Lady Titan Classic. They defeated Arcadia the first week of the season. Pinnacle hasn't faced the toughest of schedules, but have gained confidence. Desert Mountain is the other region title contender along with Pinnacle in the 6A Desert Valley.
THURSDAY JAN. 11
BOYS: Desert Vista at Gilbert - Desert Vista has cemented its spot as a 6A title contender with its performance to date -- losses to Mountain Pointe and Findlay Prep. It owns a No. 5 standing in the current power rankings. Gilbert doesn't inspire awe at No. 14, but has the ability to play with anyone on a given night. The Tigers have defeated Mesa, lost in overtime to Mountain Pointe and to Westview. All are top-10 in the power rankings. Gilbert and Desert Vista traded three-point wins in region play last year.
FRIDAY JAN. 12
BOYS: Mesa Mtn. View at Mesa - Mesa (3-0 in region) has the chance to take the upper hand in the first round of 6A East Valley Region play with a win over Mtn. View (2-0 in region). Mesa knocked off the other region title contender -- Red Mountain -- in an early December region battle. Mesa is No. 7 and Mountain View No. 10 in current power rankings. Mountain View has run hot and cold thus far. The Toros can shoot, but the consistency hasn't been there. Mesa won its tournament in late November and fell on a last-second shot to Mountain Pointe in McClintock's Holiday Shootout. Sandra Day O'Connor at Pinnacle -- Pinnacle won mid-December meeting 82-76. GIRLS: 6A Xavier Prep at (5A) Mesquite. Xavier in No. 6 in 6A power rankings and Mesquite is No. 1 in 5A. Jennifer Gillom has returned as coach at Xavier and so far, so good. The Gators have a size edge in this interconference battle of title contenders. Mesquite remains as good as it gets in the state regardless of conference. The Wildcats had trouble with teams at the Nike TOC that had size and legitimate post play. But those were some of the top teams in the country. A good test for Xavier and perhaps the last competition Mesquite will face before state begins in late Feburary. Chaparral at Arcadia: The best two teams behind Mesquite in 5A play in the Northeast Valley Region. Both are unbeaten in power-ranking games (7-0). Chaparral is No. 2 in power rankings and Arcadia is No. 3. Arcadia has one loss overall in an inviational final to Pinnacle, but avenged that loss in their tournament 10 days ago. Chaparral and Arcadia split two meetings last year and shared the region title. Like Mesquite, neither will be tested much the rest of the way other than their meetings Friday and the regular-season finale Feb. 6.
SATURDAY JAN. 13
GIRLS: Holbrook at Valley Christian (4:30 start) -- Two top-5 teams in 3A. Valley Christian (No. 2) is the defending 3A champ and returns one starter from that squad -- senior Anna Gorman. Gorman won the 2017 title for VC with two clutch free throws vs. Page in the final seconds in last year's final. Gorman is having a huge season, averaging 21 ppg. VC's only power-ranking loss is to Leading Edge Academy -- the No. 1 team in 2A power rankings. Holbrook, No. 5 in power rankings, has a busy week with games at Snowflake (Tuesday), home Winslow (Thursday) and weekend roadie at VC. Holbrook's only power-ranking loss was to Page last Saturday.
---