No. 1 Notre Dame appears ready for defending champ
January 10, 2018 by Jose Garcia, AZPreps365
---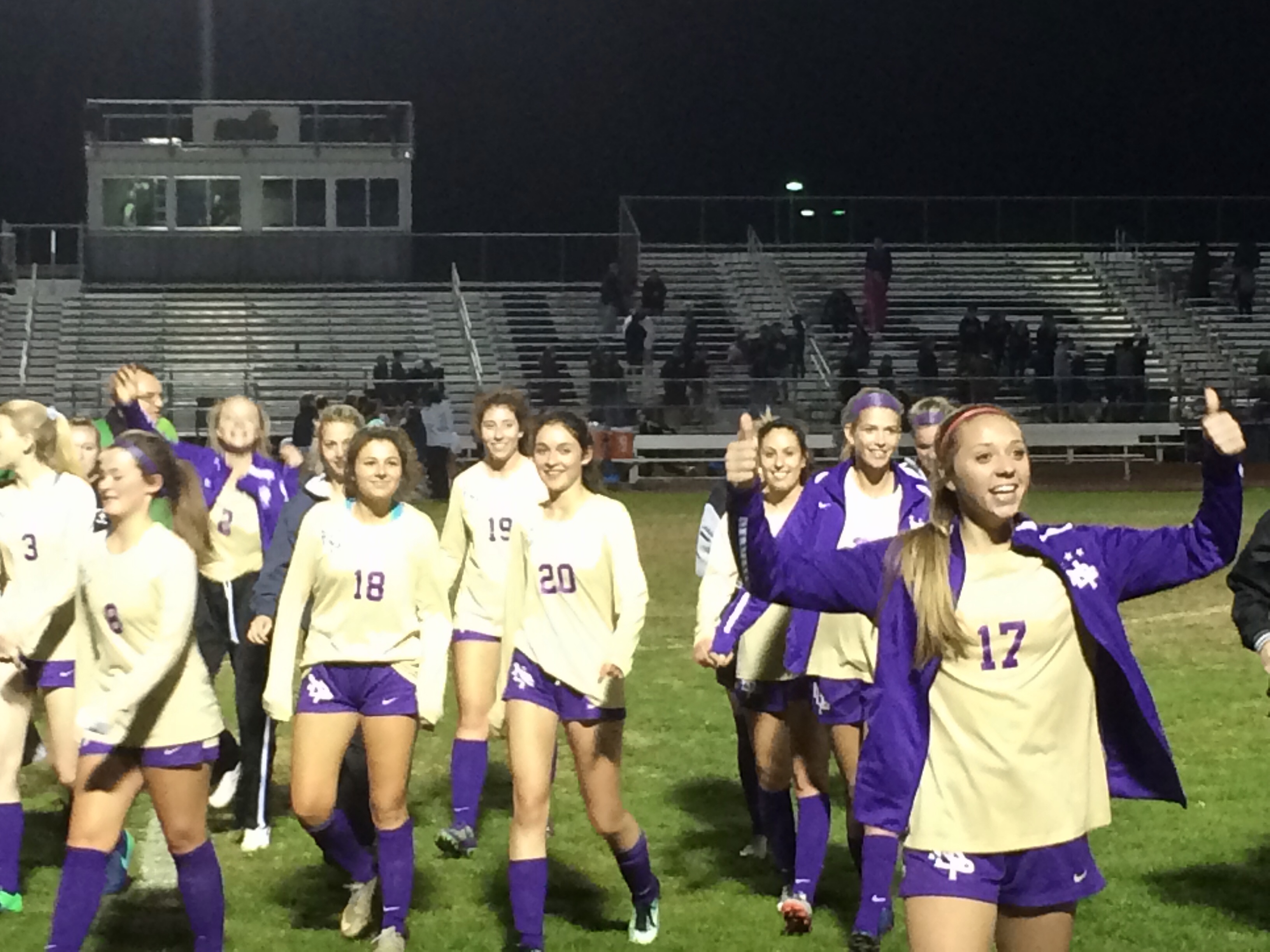 Watch out 5A Conference girls soccer teams.
Notre Dame, Chaparral and Arcadia once again want to turn the playoffs into a Northeast Valley Section semifinal and championship reunion. The Northeast Valley Section trio are in the top-10 in the power rankings with less than two weeks remaining in the regular season.
Last year, Chaparral defeated Arcadia 1-0 in the championship match. The rematch between the two was held Wednesday, when Chaparral won 5-2.
Across the Valley, 2017 state semifinalist Notre Dame figured to be in a tough match Wednesday against top-10 Willow Canyon.
It was close, scoring wise, for a while in the first half but Notre Dame grabbed control as soon as the second half started to pick up a 5-0 road victory. Campo Verde, a common opponent of Notre Dame, Arcadia, Chaparral and Willow Canyon, gave Notre Dame, Chaparral and Willow Canyon a tough time this season.
But Notre Dame's senior laden squad proved that it's a step or two ahead of Willow Canyon.
"We didn't take quality opportunities against Campo Verde in a physical match and didn't handle the pressure well and got rattled," Notre Dame coach Tom White said. "We got three yellow cards (on Wednesday) but played much more composed in another physical match. I was really happy with how the girls responded in general."
Forward Lindsay Shipley helped set the tone early for Notre Dame from the right flank.
Shipley, one of 10 seniors who start for Notre Dame, set up Luciana Garcia-Reifkohl with a cross for the first goal within the first three minutes of the match. Notre Dame controlled most of the possession in the first half, but Willow Canyon had some chances to score as well.
Willow Canyon's aptly named Allison Veloz made some promising runs toward Notre Dame's net, but they didn't end the way she wanted. Veloz's last name means fast in Spanish, and she used her quickness to break free a handful of times.
But in the 31st minute Notre Dame began to break away from Willow Canyon when Julia Strangler got behind a defender and found the upper part of the net.
Most of Notre Dame's 14 seniors have helped the program win two state titles, and six of them are college bound. But, despite all that talent and experience, White wants his girls to play with more confidence when they attack.
"I don't want them to hold back and say, "Oh I need to pass, or I need to find my teammate,'" White said. "That's great, but when we put our forwards and our wingers into the attack. I want them to go after them, and I want them to have confidence in doing that. I don't care if they mess up."
Notre Dame did most of their damage off of set pieces in the second half, highlighted by captain Hannah Osland's in-swinging corner kick goal that went off the hand of the goalkeeper for Notre Dame's final goal.
White's goalkeepers, Brooke Taffuri and Maddie Stolper, recorded their eighth shutout of the year.
Section play is up next for Notre Dame, and its first section match is on Friday against none other than the defending champ, Chaparral. No. 1 Notre Dame (10-2-1) will end section play against Arcadia in its final regular season game.
Arcadia defeated Notre Dame in penalty kicks in the 5A semifinals last season.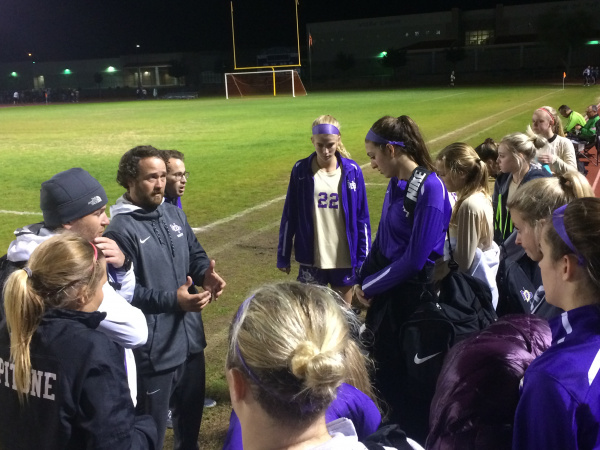 (Notre Dame coach Tom White talks to his team after Wednesday's 5-0 win at Willow Canyon. Photo by Jose Garcia/azpreps365.com)
---