Boys hoops: Desert Vista rally tops Gilbert
January 11, 2018 by Les Willsey, AZPreps365
---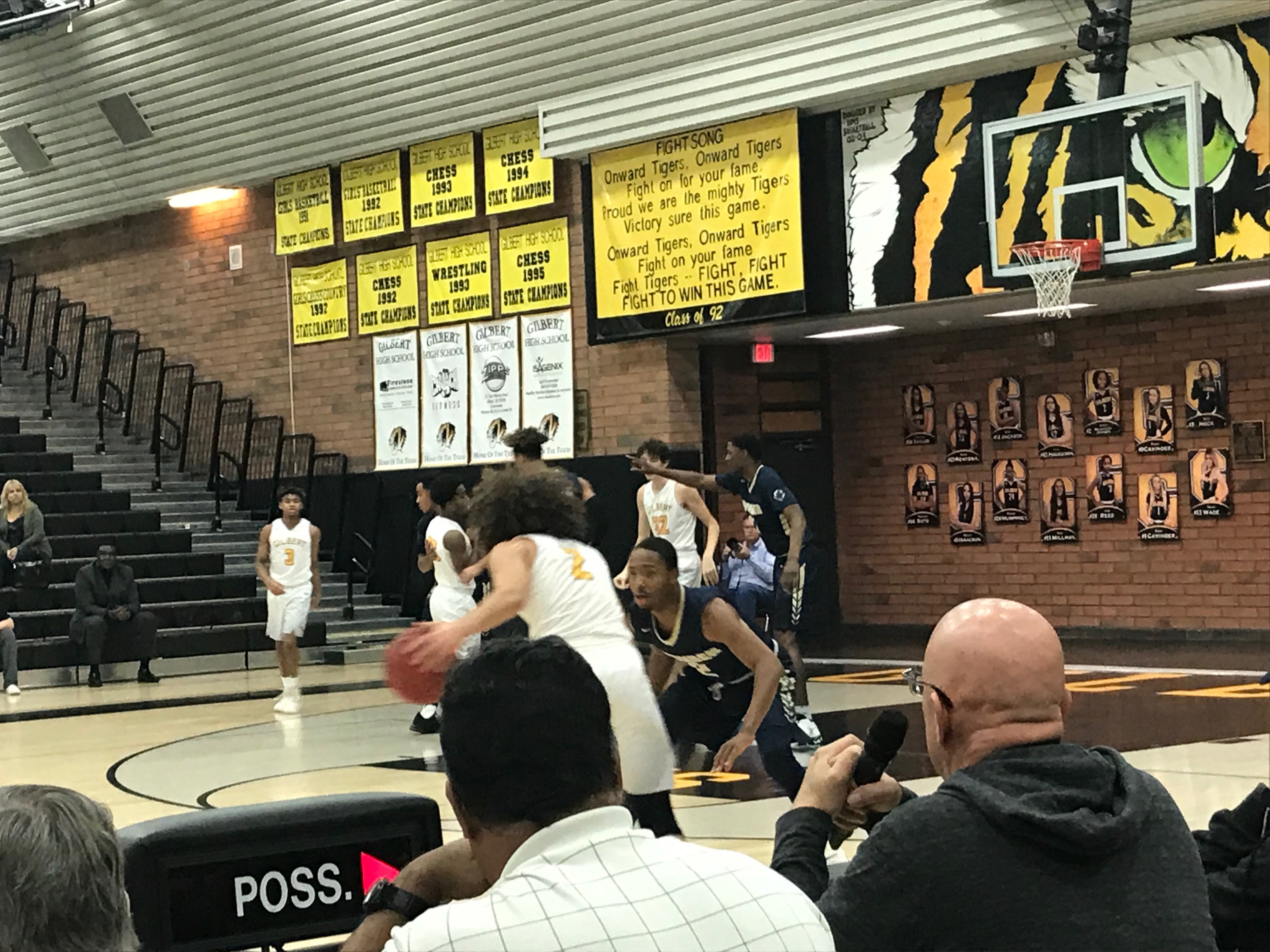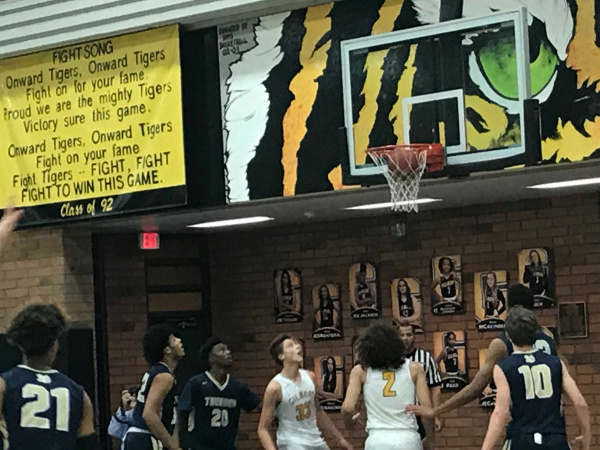 Gilbert's Brycen Long's 3-point FG connects to end the 1st half., but Tigers fell to DVista, 55-54. (Azpreps365 photo)
Last year Desert Vista and Gilbert traded five-point wins in see-saw battles. Nothing changed in the manner of contest Thursday when they met for the first of two meetings at the Jungle.
Tyrek Chambers took 13 seconds to answer Gilbert's final salvo in the final 30 seconds providing No. 5 Desert Vista a 55-54 win over the No.12 Tigers in a 6A Central Region game.
Desert Vista improved to 15-3 overall and is now 2-0 in 2-1 in Central Region play. Gilbert, after notching a 10-point win on Tuesday over Corona del Sol, dropped to 10-8, 2-1 in region. Both are a game behind region leader and top-ranked Mountain Pointe. Gilbert's loss was its fifth by four points or less this season.
Chambers and Alijah Gammage led Desert Vista with 12 points apiece and center Christian Anigwe added 11 points -- nine in the second half. Gilbert led most of the game and held a 52-45 lead with 3:41 left after a basket by Brycen Long. The Tigers controlled Desert Vista's size advantage most of the game, but the 6-foot-8 senior Anigwe was a factor late at both ends. He disrupted shots in the paint down the stretch and scored a pair of baskets in the final two minutes to key the Thunder's rally along with Chambers.
Anigwe's putback dunk with 54 seconds gave Desert Vista its first lead (53-52) since midway through the third quarter. Gilbert broke a three-minute scoreless streak with 28 seconds left as Trajon Hawkins capped a brilliant, hustling effort with a decisive drive in the lane for a 54-53 advantage. Hawkins finished with a game-high 22 points and was dazzling in the third period with 12 points.
Desert Vista didn't seek a timeout after Gilbert took its final lead. Chambers controlled the possession and made a nifty move in the paint to net for the game-winner with 15 seconds left.
Gilbert called time with 8 seconds left to set up a final shot. Long got off a perimeter shot that caromed off the front of the rim. Teammat Doc Self tracked it down but his off-balance toss at the hoop went awry. Self scored 12 points and Long chipped in 11.
---